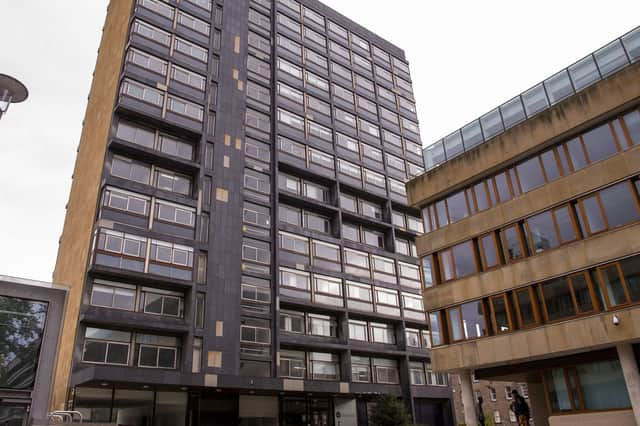 Reason, David Hume once wrote, is the slave of passions, and can never pretend to any other office than to serve and obey them. It was an observation which noted that logic, for all its virtues, was a weak motivational force. It is sad to see that his alma mater has seemingly misinterpreted this thesis to act on its own ill-judged impulses.
The University of Edinburgh's decision to rename a building honouring the 18th-century philosopher has sparked some thoughtful discussion and articulate criticism, yet there has been a notable lack of scrutiny of the bizarrely inchoate statement announcing the news.
It went into great detail about the university's intentions, referencing an upcoming "detailed review" of its links to the past and offering laudable promises of research, engagement and reflection to come. But if you were looking for a substantive assessment of Hume's racist comments and their impact on his legacy – a not unreasonable expectation, given the statement's purpose and ambition – it was decidedly threadbare.
It alluded to Hume's "comments on matters of race", and their capacity to cause distress among contemporary students. Nowhere, however, did it explicitly reference, let alone engage with the views expressed by Hume, to be found in a footnote to his essay, 'Of National Characters', which gave voice to his suspicion that negroes were a "naturally inferior" race.
These are the only documented racist remarks Hume committed to paper. Even so, they are foul and reprehensible, and provide irrefutable evidence that he possessed opinions about black people that could most charitably be described as troubling.
Sadly, Hume was not alone in this. Several great Enlightenment thinkers believed concepts such as liberty and equality were beyond the capabilities of indigenous and enslaved people.
Montesquieu, for instance, wrote of Africans as "barbarians", while Voltaire – a polygenist who held shares in a company which trafficked slaves – dismissed black people as "incapable of great attention" and possessing only "a few more ideas than animals".
Yet both wrote forceful denunciations of slavery. Few arguments are as powerful as that put forward by the maimed, half-dressed mill worker in Candide, who informed Europe that his horrific injuries were "the price we pay for the sugar you eat".
Hume, a part of this curious paradox, published abhorrent racist views and encouraged his patron to purchase a plantation in Grenada, all the while making impassioned arguments against slavery.
In 'Of the Populousness of Ancient Nations', he argued that all those who participated in slavery were reduced to the status of petty tyrants. The essay's focus may have been trained on ancient civilizations, but it provided foundational arguments for the abolitionist movement.
This view does not excuse Hume for his racist remarks, but if we are to act as judge and jury over his character, it is impossible to arrive at a fair assessment without appreciating his wider writings, beliefs, and the fact that the Enlightenment's intellectual winds of change sometimes blew cold. This context is vital, and more nuanced than many might suppose.
For example, the university's statement points out that Hume's views were "not uncommon at the time". Which is broadly true, but ignores the fact that some of his contemporaries, such as James Beattie, provided adroit rebuttals of his footnote, much to Hume's anger.
In any case, as has been succinctly pointed out by Jonathan Hearn, a professor of political and historical sociology at Edinburgh, the totality of Hume's writings gave the world an enduring insight into the dilemmas of modern moral order and the natural roots of human morality. He argues that such contributions do not absolve Hume's prejudice, but do outweigh it. He is right on both counts.
It is a shame that the university did not seek out opinion from Professor Hearn and many others who have expressed misgivings at the renaming of the building. Had it done so, it would not necessarily have resulted in a different decision, though that is hardly the point.
The key here is that if one of Scotland's most respected institutions is prepared to wrestle with the legacy of one of its finest, critical minds, it is surely not asking too much for thoroughness to form part of that process. We are speaking, after all, of a university which continues to bill itself to prospective undergraduates as the home of Hume and Smith, and which prides itself on having taught philosophy since 1583.
It has undermined that venerable tradition by abandoning the fundamental tenets of philosophical study – namely, lucid, disciplined and systematic thinking. It is hard to disagree with Professor Sir Tom Devine, who has accused the university of the "intellectual sin of anachronistic judgement", by imposing the values of today on those of the past.
The issue is more important than Professor Peter Mathieson, the university's principal and vice-chancellor, perhaps realises. The decision has been weaponised. Far-right news outlets in the US are reporting that the Hume tower is being renamed after George Floyd, the African American man who died after being restrained by US police.
This brazen falsehood was invented by those who seek to sow unrest and divisive culture war narratives. The university is not to blame for this. Equally, the ambiguity and intellectual frailty of its position does little to discourage such exploitative hatred.
It would be beneficial for it to offer a fuller analysis of its decision making, and detail what, if any, work was done to consult its academic and student communities about the renaming. It may also wish to explain why the new name is a temporary measure, and how it will be reassessed as part of its promised wider review.
The university is entitled to ask difficult and challenging questions about Hume and its ties to the past. Indeed, it should be encouraged to do so. But in prizing bureaucratic managerialism over the old traditions of participatory governance and intellectual curiosity, one of Scotland's ancient seats of learning is doing itself and its alumni a disservice.
A message from the Editor:
Thank you for reading this story on our website. While I have your attention, I also have an important request to make of you.
The dramatic events of 2020 are having a major impact on many of our advertisers - and consequently the revenue we receive. We are now more reliant than ever on you taking out a digital subscription to support our journalism.
By supporting us, we are able to support you in providing trusted, fact-checked content for this website.
Joy Yates
Editorial Director