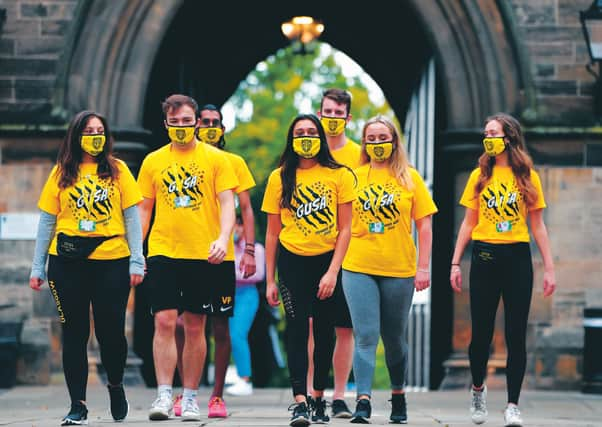 The first few weeks of term, too. Stuck out at Wolfson Hall on the Garscube estate, just far enough from Byres Road to feel on the periphery, we lived in blocks, everyone in their hatches, sharing a communal bathroom. Intense friendships blossomed, perished. Some weekends, you felt so high you could conquer the world, others so low all you wanted was to go home. Those were the weekends I stayed put for fear, if I boarded a train, I would never go back.
So, yes, I accept, when I think about what's happening to this latest crop of first years, there's a degree of projection. Young people today may be less sheltered, more streetwise, than I was when I pitched up in the mid-1980s.
And yet look at how they've been treated: lured as cash cows to campuses they had no need to be on; charged over the odds to stay in shared accommodation where social distancing was impossible; blasted as irresponsible once Covid-19 began to spread; banned from the pubs in which many of them work; then told not to whine because "when we were lads we were down t'pits". You'd need a reservoir of resilience to come out of that unbowed.
Some of these students will already have been through the SQA shambles, their marks downgraded by algorithm, then upgraded by political capitulation. Having gained a university place by the skin of their teeth – phew! – scrabbled to find digs and secured themselves some menial job to help pay for them, they discovered most of their teaching was online anyway, rendering this risky mass movement unnecessary.
And now – what d'you know? – there are hundreds of Covid-19 cases across 20 UK universities. Students incentivised to leave their families are stuck in a confined space with strangers, segregated and stigmatised, and subject to greater restrictions on socialising than the general population. Though some of them will be struggling with depression, they have been told they cannot go home.
Of course, they can't. That would spread the virus. Keeping them in situ is the only sensible response to this crisis. But it's a crisis that only exists because of a wilful lack of foresight and because the marketisation of Higher Education has turned students into commodities, fought over and milked for the fees and rent money that keeps universities afloat.
It's a crisis that has come about because those who run these institutions couldn't work out – or didn't care – what would happen if you put a lot of new students in close proximity to alcohol and one another; if you stuck large numbers into cramped accommodation with shared facilities.
Cue a chorus of middle-aged people pontificating about selfishness; as if they were never young; as if the link between youth and irresponsibility was pioneered by Generation Z. Most students were not irresponsible. Many are now self-isolating with no fuss and little support. But even the ones who drank fecklessly and mingled recklessly were behaving in a way that could have been predicted by any armchair anthropologist.
None of this is apparent from Universities Scotland. Far from accepting responsibility, its knee-jerk response was to produce a list of Dos and Don'ts.
Some of its diktats – while acceptable as advice – feel draconian when issued as orders. Every student shall download the track and trace app; no student shall go to the pub this weekend. Are we OK with a section of the population being mandated to download a piece of software (even were that technically possible, which it isn't)? Especially when some universities have been running classes at which face masks are not mandatory. As for no student going to the pub: did anyone think this through? None of the country's quarter of a million students? Not mature students? Those doing Open University courses? Those who work in those pubs?
Despite the fact mental health campaigners are warning about the impact of quarantining, the statement contained only a passing reference to pastoral care. Instead it majored on the disciplinary measures it plans to impose. "We will take a strict 'Yellow Card/Red Card' approach to breaches of student discipline that put students and others at risk," the statement read. "While we first want to advise students about breaches of discipline, we will not hesitate to escalate this to disciplinary action including potential discontinuation of study."
Being thrown out of university would be a tough penalty even if the restrictions were proportionate and clearly defined, but they are not. It must be particularly galling to be threatened with expulsion from a course you signed up for under false pretences.
First Minister Nicola Sturgeon was more compassionate in tone, but she backed the Universities Scotland stance (presumably because the Scottish Government drafted/sanctioned it). She emphasised that students were not to blame, but reiterated the need for them to follow the rules or face the consequences.
There are few people, I suspect, who wouldn't recognise the need for some plan to deal with the spread of Covid-19. But I can't be alone in feeling uncomfortable about the way in which the rules appeared to be plucked from the air and applied within 24 hours without consultation or external scrutiny.
Perhaps the chaos of the last few days will make the Scottish Government think again about the way in which – in the words of Glasgow University law professor James Chalmers – coercion was "outsourced to a press release" – and about the need for more meticulous drafting.
It should certainly throw a light on the broken model of Higher Education which is at the heart of the unfolding crisis, and has failed hundreds of thousands of young people.
With universities reliant on income from students for their survival, of course they felt under pressure. And so they appear to have told the Scottish Government everything was under control. And the Scottish Government appears to have accepted that at face value.
And so we can add the universities crisis to the SQA crisis and the care homes crisis as debacles that will need further investigation once the pandemic subsides, and which may – if we are lucky – spark an overhaul of failing systems.
For now, however, the students are stuck where they are, wondering what the immediate future holds. Sure, the pub ban is only for one weekend at the moment, but Sage (Scientific Advisory Group for Emergencies) has warned that the end of term will be a bigger trigger for the spread of Covid-19 than the beginning, so a ban on going home for Christmas is not unthinkable. As for the long-term future? A wrecked economy; diminished opportunities.
While they are struggling to cope, older people, who came of age in an era of grants and housing benefits, and a more buoyant jobs market, will continue to call them mollycoddled and entitled. Who would be young in 2020?