Dani Garavelli: Pandemic of mistrust in lying leaders goes global
Panic over the spread of COVID-19 is made far worse by the agendas of populist politicians, writes Dani Garavelli.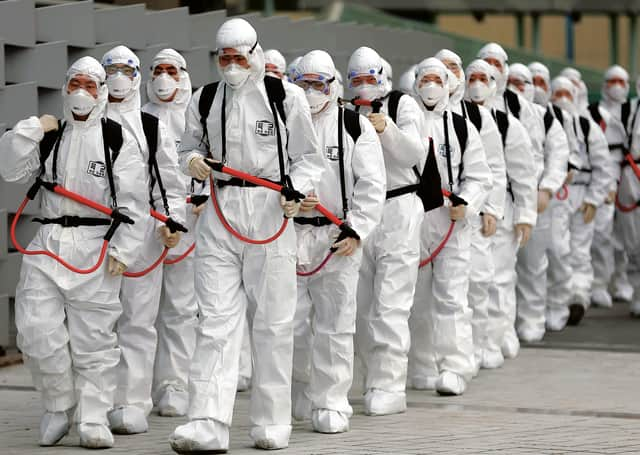 South Korean soldiers on a disinfectant patrol in Daegu, South Korea. Photograph: Yonhap/Getty
At first, when news about the coronavirus (COVID-19) started circulating, the World Health Organisation praised China for its speedy response. But then doubts about country's handling of the early cases began to creep in. A shocking story that seemed to point to a cover-up emerged. A doctor, Li Wenliang, had raised the alarm about a new SARS-like virus spreading in Wuhan province in December, but was detained with several others for "rumour-mongering". Li went on to become one of the 80,000 Chinese citizens who have contracted the virus, and one of the 3,000 who have died from it.
Those are the official figures. However, after a day in which the number of new cases leapt by 15,000, the US government said it didn't have any confidence in the official figures and claimed the Chinese government had rebuffed offers of help from its Center for Disease Control and Prevention.
But then the US government would say that, wouldn't it? And director-general of WHO Tedros Adhanom Ghebreyesus has not retracted his claim that the way the Chinese authorities had effectively locked down Wuhan may have saved hundreds of thousands of lives.
Whom should we trust? That is the question. How do you navigate your way through a health crisis when misinformation has gone viral? How do you implement effective containment policies when so many governments are already in turmoil and operating in a climate of mutual hostility?
Pandemics are not uncommon. According to the WHO, there have been three a century for the past 300 years. The most recent one, the 2009 swine flu pandemic, affected 11-21 per cent of the population, but had a fatality rate of just 0.01-0.08 per cent. The coronavirus is scarier, because it seems to be spreading much faster and to have a fatality rate of between 2 to 3 percent.
It is also scarier because so many of our current world's leaders have such a poor track record in crisis management. If Boris Johnson shows no leadership when parts of the country are flooded; if he hides in a fridge to avoid difficult questions, how do we expect him to respond to a prospective pandemic? Not by taking back control, that's for sure. On Friday, the number of people infected in the UK stood at 20. One of those people had caught COVID-19 here. Friday was also the day the disease claimed the life of its first Briton, who had been aboard a cruise ship in Japan. Yet Johnson refused to interrupt his weekend at Chequers for an emergency Cobra meeting, which will not be held until tomorrow.
If Donald Trump can tell barefaced lies about the wall with Mexico, trade tariffs with China, and space trips to Mars, why would anyone believe what he has to say about either the incidence of coronavirus in the US or the measures being put in place to contain it?
The US president has already embarked on his usual "nothing to see here" approach. Last week – as the virus spread, leading to flights being cancelled, schools closed and towns placed on lock-down – he told a White House briefing: "One day it's like a miracle, it will disappear." But also: "It could get worse before it gets better." And then again: "But maybe it will go away. We just don't know."
It's a given that Vladimir Putin thrives on chaos for chaos' sake, and that Russia has a track record of meddling in the American elections. The thought of how much mayhem a pandemic will add to the volatile US political climate must gladden his heart. $5 trillion wiped off global stocks and he hasn't had to lift a finger.
As for the power of fake news, well. In a world where 38 per cent of Americans say they wouldn't buy Corona beer because of the coronavirus, where do you even start? How can you run an effective public health information campaign when large numbers of people cannot be persuaded by evidence that vaccines are not linked with autism, and many people have more faith in Facebook and Twitter posts than politicians? Already, last week, people were mocking medical advice not to touch your own face.
A pandemic is also likely to throw up weaknesses in existing systems and policies and make us reflect on the way we live. Take the American healthcare system. Around 30 million people in the US do not have private medical insurance. Could Americans find themselves less hostile to Bernie Sanders' Medicare-For-All proposal once the intimate link to the physical wellbeing of individuals becomes impossible to ignore?
Closer to home, the coronavirus will test an NHS that already struggles with demand. Here in the UK, we expect healthcare on tap, day or night. There are many patients who will turn up at their GP surgery with a sore throat and at A&E with a chesty cough. Unless those who fear they may have the coronavirus are self-disciplined enough to phone up before attending a hospital or surgery, the health service will be overwhelmed and the virus will be passed to medical staff and patients with underlying conditions.
Yet the gig economy militates against people who suspect they might be infected doing the sensible thing and staying at home. The self-employed, the freelancers, those on zero hour contracts may be tempted to carry on working rather than lose their rent money. Some may be doing public-facing work such as cutting hair or waiting tables.
Nor does our culture of instant gratification equip us for long periods of confinement. You could see the impact of quarantine on those trapped for days in a Tenerife Hotel. Parents with children in small spaces. Eating pasta out of metal containers. Many of them were going stir crazy. This is not to diminish their experience. It must have been both claustrophobic and frightening. It's just that having lived without war or famine, we are singularly ill-equipped for even the smallest privations.
And those privations are likely to extend to those who are not ill. With much of the workforce off, public services will almost certainly be disrupted. Large gatherings such as concerts and football matches will cancelled in coronavirus hotspots, so there will little to distract us from our travails.
No-one wants to scaremonger, but the virus has now infected tens of thousands in 56 countries. It seems increasingly unlikely we will avoid a pandemic; indeed according to some metrics we are already in the grips of one
Nor do our leaders appear to be prepared. Last time I looked, Mick Mulvaney, the White House Chief of Staff, was accusing the media of stoking fear over the coronavirus as a plot to bring down Trump. Johnson was talking fierce, but acting lazy.
None of this is positive. People will die, the economy will suffer. But perhaps we will come out the other side of this with a different perspective. Perhaps the appetite for populist politicians whose chief appeal is that they are willing to overturn the boat will have vanished. Perhaps we will crave stability and serious leaders who have the best interests of their country at heart.
Want to join the conversation? Please or to comment on this article.