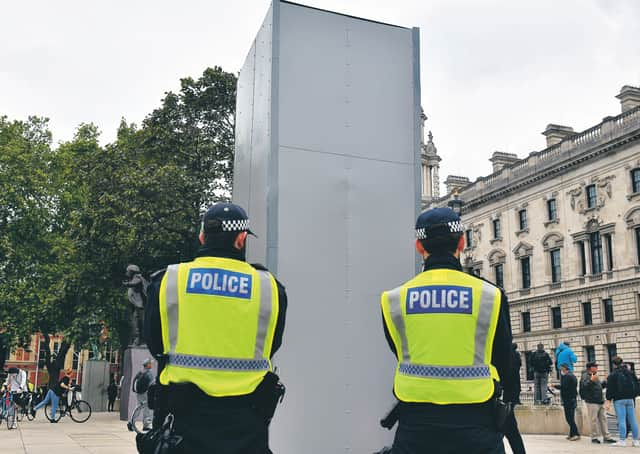 Police guard the boxed statue of Churchill in Parliament Square, London. Picture: Dominic Lipinski/PA
What Johnson, and others who support the status quo, fail to acknowledge is that history is malleable and shaped by the victors. Churchill understood that perfectly. He may never have said: "History will be kind to me," but he did express his intention to write it. And history has been kind to him; until now.
Johnson accuses the protesters of trying to erase the past, while simultaneously peddling a narrative which plays up Churchill's role in fighting the Nazis and plays down his support for the world's first concentration camps, his racist views, and the fact that he ordered the Black and Tans into Ireland. It is a narrative that serves the interests of privileged men like Johnson well, and those on the flipside of colonialism poorly.
Nor does the Prime Minister do this inadvertently. The whole Brexit project was founded on a nostalgia for a faux Golden Era when Britannia ruled the waves, its subjects secure in the knowledge they never, never would be slaves. That "Britannia", in as much as it existed, was built on the backs of African slaves exported to plantations in the Caribbean is an inconvenient truth glossed over by the Brexiteers. The boarding up of London monuments, then, is less a response to the hijacking of a peaceful movement, than the shoring up of a myth that should have been jettisoned long ago.
This is what grates when Johnson and others call threats to statues "shameful." Perhaps the vandalism is sub-optimal, especially when it extends to figures such as Robert the Bruce. But it is happening, not because violent protesters want to erase the past, but because men like Johnson have consistently rejected calls to confront it in all its ugliness.
In Bristol, civic leaders had 125 years to decide erecting a statue of slave trader Edward Colston's statue was a mistake, but did nothing, despite campaigns to have him removed. So, when protesters decided to take matters into their own hands, it was not before time or without provocation.
Just as tendentious is the argument that these statues should be used to educate. On a superficial level it seems reasonable. A plaque on a plinth might provide some redress, although it is hard to see how a couple of paragraphs could counter the triumphalism of a bronze warrior sat astride his horse, surveying his colonial plunder (see Field Marshal Frederick Roberts lording it over Glasgow's Kelvingrove Park).
Either way, it hasn't happened. Despite this debate having raged for years, there is no plaque beneath Roberts' horse, nor one beneath the statue of Henry Dundas in Edinburgh's St Andrew Square, explaining the role he played in slowing the abolition of slavery.
As for carting statues of discredited figures off to a museum – well, yes, fine, if people have an appetite for wandering round galleries full of old imperialists, and cities have the money to build them. Glasgow has been investigating the possibility of a Slavery Museum, but – at a time when the economy is in freefall – can it be more than a pipe dream?
Whether rendered in bronze or stone, statues are no more incorruptible than the figures they represent. In Shelley's Ozymandias, the ruined monument is a symbol of man's hubris along with the transformative effects of time. In real life too, statues – like ideologies – rise and fall, their coming down as significant a statement as their going up.
When we look at other countries, we have no problem with this concept. More than a dozen tributes to Stalin were demolished in the late 50s/early 60s; their destruction a reflection of the way history ebbs and flows. Today, you can stand on the former Stalinallee (now Karl-Marx-Allee) in Friedrichshain and read about the clandestine operation to remove his statue and the street names in 1961, two months after the building of the Berlin Wall began.
Everyone understands why people in the former eastern bloc should not have to share their public spaces with a tyrant who had nearly a million of his own citizens executed. Nor would we tolerate a statue of Hitler.
Why, then, do so many balk at the campaign to remove the statue of Cecil Rhodes – a racist said to have prepared the way for apartheid – from his position above Oriel College, Oxford?
If statues are a set of values on a plinth, then the act of removing them is a symbolic divesting of those values. The toppling of Colston was historical karma, the slave trader rolled along to the harbour his ships berthed at, and tossed into the water.
In other places, monuments have been altered to reflect a historical shift. In Paraguay, a statue of deposed leader General Alfredo Stroessner was dismembered and his body parts crushed between two slabs of concrete to create a new artwork, more in tune with the times. Last week, the image of George Floyd was projected on to the pedestal of a statue of Confederate General Robert E Lee in Virginia, while the letters BLM were projected on to his horse.
In the same way, the boarding up of the London monuments adds a layer of historical resonance. Trapped in his steel box, the wartime prime minister becomes Schrödinger's Churchill – simultaneously hero and villain. A cityscape peppered with such boxes speaks of a moment when the established narrative is no longer unassailable.
For some, this obsession with statues is a distraction from more fundamental issues, such as discrimination in employment, health and education. But our civic spaces are a reflection of the way we see ourselves; and if we still see ourselves through a colonial lens, then what hope is there of properly tackling racism in any other arena?
At some point, we will have to decide how we want to proceed. Mayor of London Sadiq Khan has announced a commission to "review and improve diversity across London's public realm". In addition, more than 100 Labour councils in England and Wales are to review the appropriateness of their monuments. Glasgow City Council is waiting for the outcome of a major academic study so it can decide what to do about statues and street names. It plans to save and display the placards from last weekend's Black Lives Matter protest. This suggests its leaders believe what is happening now is not a flash in the pan, but a catalyst for enduring change.
The UK government has no such conviction. On Friday, Home Secretary Priti Patel told the Daily Mail she would fight to "liberate" Churchill from his steel jail. This is why statues are being attacked. Not because Churchill was 
evil incarnate; but because the governments here and in the US cleave to this language of militarism and supremacy; because they refuse to engage in a now inevitable historical reckoning. They are reaping what they have sown.