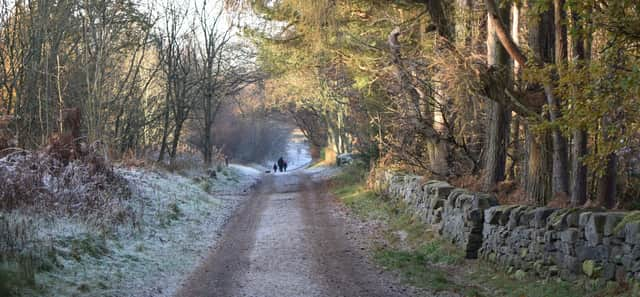 The Daily Mile, dreamed up by the headteacher of a Stirling primary school eight years ago, has been taken up by nearly 1,000 schools and nurseries across Scotland and another 11,000 elsewhere.
More schools are likely to have joined them after Covid restrictions prevented indoor PE.
However, I've heard children complain that it's all very well for them to jog round the building, but what about their teachers?
The joy of movement
I was reminded of that when the Scottish government's active nation commissioner Lee Craigie mentioned on a webinar that she would be challenging the country's leaders to walk, run or cycle daily themselves.
Sounds like a Daily Mile for our doyens.
Lee told the En Route to COP26 event that the focus should be on celebrating the joy of movement, and not seeing travel as just getting from A to B.
She said who better to champion that, by being active every day outside, than political leaders, senior civil servants and health board chiefs.
Lee told me later her approach was to praise the exemplars of that rather than shaming those who weren't.
In the former category, she highlighted Professor Nanette Mutrie, chair in physical activity for health at the University of Edinburgh, who inspired me to buy a standing desk by telling me sitting down was effectively killing you.
Lee's other stars include Ian Findlay, chief executive of Paths for All, who I saw urging attendees at another webinar to watch standing up.
Coincidentally, the Scottish organisation which promotes walking launched a Walk Once a Day this Winter campaign this week "to help maintain physical and mental well-being".
A peril of home working
Lee, a former champion mountain biker, also holds in high regard Lesley Macinnes and Anna Richardson, both keen cyclists and the councillors in charge of transport in Edinburgh and Glasgow respectively.
She also name-checked Transport Secretary Michael Matheson for riding an electric bike round his Falkirk constituency, while First Minister Nicola Sturgeon has been known to jog round Holyrood in the past.
So, if you're a public sector chief, you might be getting a quiet word or nudge from Lee.
Best to start dusting off those trainers or finding your bike in the shed – although the beauty of walking is you need nothing but what you're wearing.
Underpinning Lee's idea is a serious point that physical activity is still not central to Scottish government policy across the board.
She told the webinar there was a mismatch, and change was painfully slow.
In that, she was echoing Bronwen Thornton, chief executive of the Walk21 Foundation, which promotes walking globally, who told the webinar that modes of transport were evaluated using measures such as journey times rather than their contribution to improving health.
Lee also warned of the downside of the Covid-enforced switch to greater use of technology.
Working from home meant less commuting and less activity, but she was particularly concerned about the impact of increased screen time on children, which "we have to keep in check".
If you or your youngsters are not already doing the Daily Mile, or similar exercise, it's a great opportunity to introduce them – and who knows which high-profile figures might join those leading it?
A message from the Editor:
Thank you for reading this article.
We're more reliant on your support than ever as the shift in consumer habits brought about by coronavirus impacts our advertisers.
If you haven't already, please consider supporting our trusted, fact-checked journalism by taking out a digital subscription.