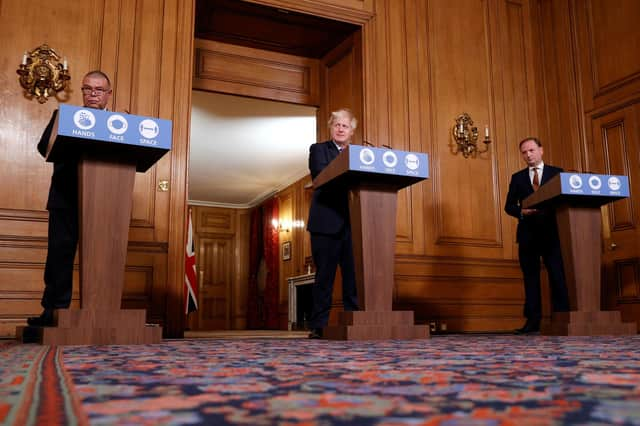 Nicola Sturgeon surely spoke for us all when she said it was "without a shadow of a doubt the best news we have heard since the pandemic started", but she also stressed that "we are not at the end of this pandemic yet".
And in London, the message from Boris Johnson about the approval of the Pfizer/BioNTech vaccine was much the same. No one should get "carried away with over-optimism or fall into the naive belief that the struggle is over, it's not", he warned, saying it would take months for the most vulnerable people to be vaccinated.
At the start of the pandemic, when both the Scottish and UK government responded to the crisis by introducing undeniably Draconian restrictions on our freedom, many had doubts about how long the public would put up with such conditions. Indeed, public acceptance of the lockdown's rules was a necessary factor in their design.
However, the vast majority of the public have abided by the official advice in order to save the lives of others, protect their communities, prevent the NHS from being overwhelmed, and minimise the economic damage to the country, and done for longer than perhaps the authorities expected.
If we had not, our governments would have almost certainly been forced to take even more Draconian measures to stop the spread of this deadly disease.
All those who have "done their bit" can congratulate themselves on their efforts to date. However, as our Conservative Prime Minister and SNP First Minister both made clear, we also need to stick to the task for some time to come.
The arrival of the vaccine may actually make this harder. There will be a temptation to let our guard down, to even subconsciously declare a premature end to the crisis and, therefore, relax a little. It's only human nature.
But to do so would be a mistake and quite possibly a fatal one.
Just under 60,000 people have lost their lives to Covid in the UK and hundreds of people continue to die on a daily basis. The imminent beginning of a mass vaccination programme is no consolation to them or their grieving relatives or to those struggling for breath in intensive care units across the country.
So it is imperative that we remain as resolute as we were at the start of the lockdown.
Like pretty much everyone asked for an opinion on the vaccine, the UK government Health Secretary Matt Hancock said he was "thrilled".
However, choking back tears in the House of Commons, he made an emotional plea for people to continue to work together to beat the virus.
"If it gets out of control, it grows exponentially, hospitals come under pressure and people die," Hancock said.
One of those people, he revealed, was his step-grandfather Derek who caught Covid in Liverpool and died on 18 November. Hancock said this "great city" had suffered a serious outbreak of the disease but had since managed to bring it under control, reducing the number of infections by four-fifths.
"That's what we can do if we work together in a spirit of common humanity. We've got to beat this, madam Deputy Speaker, we've got to beat it together," he said.
The end of this awful period in our history is in sight – indeed, Johnson said it was no longer a "mere hope" that life would return to normal next year but "sure and certain knowledge" thanks to the work of scientists.
But, quite clearly, we are not there yet. So, in the meantime, while we wait for the nation to be vaccinated and for the vaccine to take effect, we must not let our guard down, we must not cause avoidable deaths by taking risks or flouting the guidelines. And, when our turn comes, we should take the vaccine.
A message from the Editor:
Thank you for reading this article. We're more reliant on your support than ever as the shift in consumer habits brought about by coronavirus impacts our advertisers.
If you haven't already, please consider supporting our trusted, fact-checked journalism by taking out a digital subscription.