It began as a general feeling of unease that gradually grew as the debate about vaccine ID cards unfolded. And I use that term ID cards quite deliberately.
I have no problem at all with the idea of a stamp or certificate with my passport to allow me to travel abroad. I already have one for the yellow fever injection I had before visiting Kenya. But this is different.
ID cards are something that we have always resisted in this country and, in these circumstances, come with massive additional practical problems.
That is before you take into account the underlying threat to our civil liberties.
Significantly, it's an unease that is not an invention of 'woke' politicians but is being generated by ordinary people in the street.
One of the benefits of being an MP is that, even at this socially restricted time, people still tell you their concerns.
And this week, almost everywhere I turned someone wanted to talk to me about ID cards and the vaccine.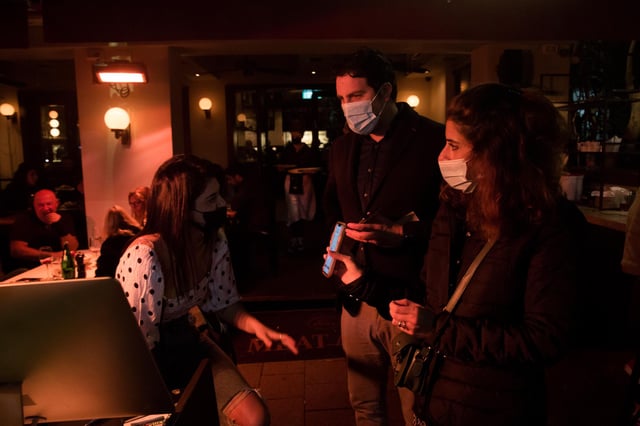 A couple present a 'Green Pass' vaccination certificate to staff at a bar in Tel Aviv, Israel, where a controversial Covid passport system has been introduced (Picture: Amir Levy/Getty Images)
Yes there were those who wanted to ask what I thought. But mostly people wanted to tell me their concerns and to make sure that government can hear them.
There was the taxi driver who wondered whether both governments had thought through the implications of policing it.
Would shops, cafés, pubs and cabs like his own have to install special electronic readers that recognised genuine cards?
Then there was the caller to the radio programme I was on who challenged whether an ID card would allow him into a football match, would he also have to use it for public transport to the ground or to meet his friends in the pub?
And what about those who hadn't had or couldn't have the vaccine?
For me those questions are the key. Even if there was some way we could be assured that this was not the thin end of the wedge to undermine our civil liberties, just exactly how can it be done? And done fairly.
There is perhaps no section of the population which has faced such a constant and widespread attack on every aspect of their lives during this pandemic as our young people.
So many of them are employed in the so-called gig economy, or are freelance workers who have not received the same financial support from the government as others.
If they are students, they have had two years of university disrupted while still having to pay for accommodation in which they were kept isolated during lockdown.
School leavers have had to embark on life amid chaos over grades and qualifications that has undoubtedly affected their job prospects at a time when we all fear the economic impact that is still to come.
Now both of our governments are suggesting we might deny them the social interaction that everyone else will finally be able to enjoy as the restrictions are eased. Simply because by virtue of their youth they will be the last to receive their vaccinations. This isn't their fault.
If this happens what it will bring with it is a two-tier society. Social distancing of a very different and more sinister kind.
We should also not allow our campaign against the virus to be blown off course by news reports of the minor risk in having the Oxford Astra Zeneca vaccine.
The regulators are showing an abundance of caution in switching the vaccine for younger people to the new Moderna version. The continued successful roll-out of all the vaccines is critical to protecting everyone.
There is no short-cut to that safer society through ID cards, or anything else for that matter.
Supporters of the vaccine passports will point to Israel as a success story. But it is not an entirely appropriate comparison.
The motivation there was to encourage young people to take up the vaccine. It worked, and reports say now they are barely even used.
However, Israel is also a very different society to ours. One where tight security and constant checks are part and parcel of normal life.
On each of my visits I have been struck at the extent to which the people of Israel accept the intrusions for security reasons.
A previous generation here did much the same during the Second World War with the introduction of National Identity cards. They were ended in 1951.
The current situation is wholly different. The role of government should be to empower people, to break down barriers to progress and help them to take part and be part of society.
We have been forced apart for over a year now. Why would we force further division when it actually isn't necessary.
Yes we are all becoming impatient. What we saw in the Meadows a few weeks ago is an example of both that tension, and of why vaccine passports won't work.
At the root of the vaccine ID card suggestion is the overwhelming, all pervasive desire to reopen society. To get the economy moving. To get our lives back on track. We all want it.
But what we need is a solution which will not mean allowing only some to return to a life as close to normal as possible.
We cannot go down a route which excludes those who have already been omitted from so much. One which insists that parents, grandparents and friends gather for celebrations in venues without them.
An essential part of getting us through this crisis has been the feeling that we are all in this together. To lose that now could be disastrous. Living is not a luxury. It is a right.
A message from the Editor:
Thank you for reading this article. We're more reliant on your support than ever as the shift in consumer habits brought about by coronavirus impacts our advertisers.
If you haven't already, please consider supporting our trusted, fact-checked journalism by taking out a digital subscription.