Covid vaccine passports could help kickstart the economy if concerns about fairness and civil liberties can be addressed – Scotsman comment
The proposal to introduce Covid vaccine 'passports' or 'ID cards' is a good idea – that could go badly wrong.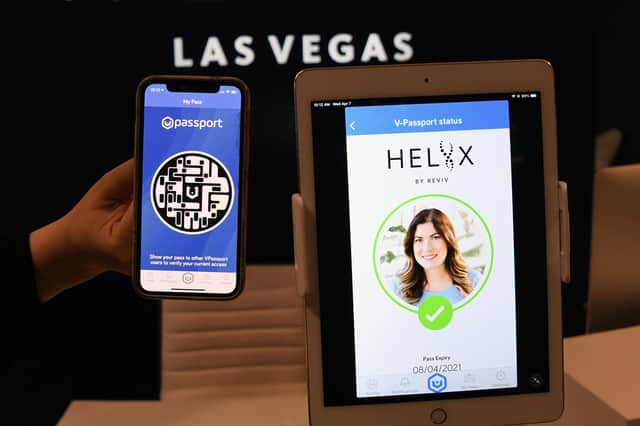 The main benefit is that it would allow our society to open up more quickly than otherwise would be possible, enabling people to go about their lives and businesses to trade in a much more normal way.
So those with the passports would be effectively released from the tightest of the lockdown's restrictions, while those without would be forced to continue to thole them.
This raises a question of fairness, particularly for young people, who are least likely to suffer the worst effects of Covid and, therefore, are at the back of the queue for the vaccine.
There are also concerns about civil liberties, with suggestions that such a scheme could turn into something more permanent and, potentially, sinister. Britain took several years to scrap the ID cards introduced during the Second World War, but did so for good reasons. "Papers please" may sound like a polite request, but when used by an agent of the state to a law-abiding citizen, it is the language of tyranny.
However, given the devastation of our economy will affect us all, there are strong arguments in favour of allowing those who can safely do so to return to relative normality as quickly as possible.
So, perhaps, some kind of compromise should be sought.
It is possible for smartphone passports to record whether someone has had a recent negative test result as well as if they have been fully vaccinated.
Clearly, there would be some extra risk involved – and that risk should be assessed by public health experts – but if people are to be tested twice a week, this could provide reasonable assurance that they do not have the disease. And, if combined with the test-and-trace system, clamping down on any outbreak should be much easier than in the past.
If this is practical, then it would mean some young people would be able to enjoy some of the freedoms that we have all been missing, but the absence of which have had a much worse effect on those just starting out in life.
And older people who have been vaccinated may find life is not quite the same without the younger generation; it's all very well gaining the right to go to the pub, but if the young bar staff are banned from the premises, it may be little more than a theoretical one.
Civil liberties are sometimes regarded as an esoteric subject, the concern of 'metropolitan elites' and so on. They are not. They are absolutely vital and it is a mistake to sneer at concerns about a Covid passport morphing into something else.
So if legislation to create such a scheme was to be introduced, it should only be done on a temporary basis with a sunset clause to ensure it would cease to exist unless renewed by parliament.
That said, if handled carefully and correctly – with particular regard to fairness towards the young and also to those who might miss out for financial reasons, as not everyone can afford a smartphone – it is possible Covid passports would be, on balance, a sensible way to kickstart the recovery.
A message from the Editor:
Thank you for reading this article. We're more reliant on your support than ever as the shift in consumer habits brought about by coronavirus impacts our advertisers.
If you haven't already, please consider supporting our trusted, fact-checked journalism by taking out a digital subscription.
Comments
 0 comments
Want to join the conversation? Please or to comment on this article.