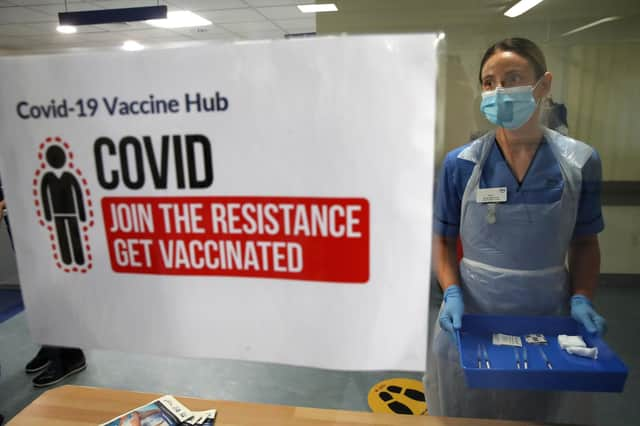 The NHS's finest appear thrilled to be figuratively taking a massive rolled-up Edinburgh Evening News to squash the bug called Covid, says Susan Morrison (Picture: Andrew Milligan/PA)
The Yorkshire husband and my own fair self got our draft papers together, with appointments within minutes. Steady, I thought. We'll get used to this level of efficiency even after the pandemic.
We set off for the vaccination centre hand-in-hand. It's not a sign of affection. It embarrasses the kids, and also, he's aware of my unfortunate habit of crossing the road without paying attention to the Green Cross Code.
We were to be jabbed in Leith, an area with a long history of needlework. An army of delightful volunteers is waiting to greet you. Perhaps it's the lockdown, but just talking to someone new was a joy. They steer you in, sanitise you and sit you down. I've encountered less cheery cabin crew.
My bahookie scarcely hit the seat before I was huckled before one of our finest NHS nurses. Despite the fact she'd repeated her spiel about the vaccine's efficacy, safety and side-effects at least a hundred times that day, yesterday and the day before that, she was obviously thrilled to be part of the team that was figuratively taking a massive rolled-up Edinburgh Evening News to squash this particular bug.
She slapped that needle into my arm and, bingo, I was done. Not even a twinge.
She gave me a leaflet. The NHS loves a leaflet. They've gone nuts with this one. Usually they use grainy recycled paper. It resembles that grim eco-warrior toilet roll, which is a good look on the 'What To Expect After A Colonoscopy' leaflet.
Not this. This has the hallmarks of a design agency. It's all funky and green with shiny new white paper. There's even a letter to complete the set. I might get it framed and put it next to my degree and my Tufty Club Road Safety Certificate (failed).
We got home and had the recommended cup of tea, and awaited the side-effects.
Would we be dizzy, would we be sick? Que sera sera, as dear Doris would have said, had she been freshly pierced with a needle in Leith.
There was a moment on the sofa, but mainly to catch up on Line of Duty. Anyway, I thought I deserved it. Must admit, had a craving for a French Fancy, but again, not absolutely sure that was the vaccine. I gave into it, of course. I feel certain that's the medical advice I would have been given, had I called the helpline, which they've also laid on.
My arm was a little bit achy, but since I wasn't playing championship darts, that didn't seem an issue.
Bill Gates doesn't seem to be listening into my conversations. Just as well, for him that is. Ten minutes of overhearing me and my mum on the phone about the state of next door's washing and he'd be regretting his plans for global snooping. Ten? Five.
When that love letter from the NHS arrives, take it and get needled. There's nothing to fear. Just make sure you get in some French Fancies.
A message from the Editor:
Thank you for reading this article. We're more reliant on your support than ever as the shift in consumer habits brought about by coronavirus impacts our advertisers.
If you haven't already, please consider supporting our trusted, fact-checked journalism by taking out a digital subscription.