Covid: Unpopularity of Nicola Sturgeon's new restrictions shows the alternative must be much worse – Kirsty Strickland
The eyes have it and sometimes it's disconcerting. A 2017 study by Cornell University showed that people interpret the emotions of others primarily by looking at the expression in their eyes.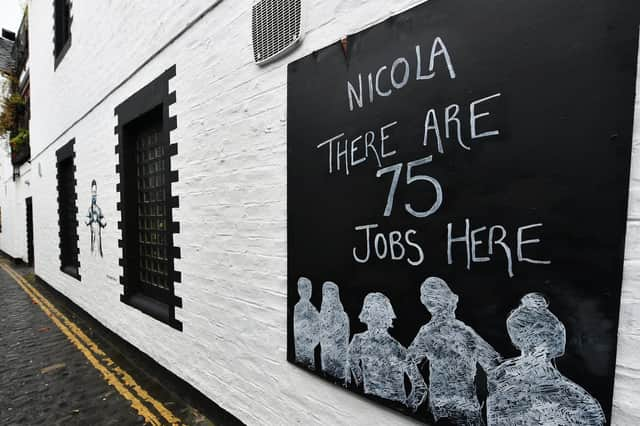 Participants consistently matched the correct eye expression with the six basic emotions – sadness, disgust, anger, joy, fear, and surprise. This might explain why the eyes are considered windows to the soul. It also explains why, despite mask-wearing being the new normal, it's easy to tell that a lot of people in Scotland are feeling pretty fed-up right now.
The new restrictions on hospitality announced this week did little to lift the sagging spirits of the nation. It looks and feels like we are going backwards: retracing our last steps as we edge closer to the lockdown we experienced in March.
It's a demoralising place to be after so many months of collective sacrifice, a place where case numbers, hospitalisations, and deaths are rising once more.
Even the most persistent optimist would struggle to maintain their equanimity in this misery. At least those who had signed up for Sober October now don't need to worry about missing out. Pubs and restaurants in the Central Belt have closed for two weeks and hospitality in the rest of Scotland will not be allowed to serve alcohol indoors.
You would think that epidemiologists would have very little free time at the moment but apparently, they're all on Twitter. That's the only possible explanation for the admirable confidence of those who condemned the new restrictions as disproportionate control-freakery before the scientific basis for them had even been published.
The chief executive of the Scottish Chambers of Commerce, Liz Cameron, said that the measures will ''sound the death knell'' for businesses in the hospitality sector. Some pubs and restaurants have already announced they will close permanently.
Giddy with a perverse euphoria?
Even so, perhaps, in an oddly masochistic way, we should be reassured by the unpopularity of these fresh restrictions.
The Scottish Parliament election, presuming it still goes ahead, is a mere seven months away. Coronavirus has rightly been prioritised over any formal campaigning, but all party leaders will be thinking ahead to May and the upcoming verdict of the electorate.
If Nicola Sturgeon is willing to put her name to measures that are potentially catastrophic to the economy, then the alternative – of not pursuing them – must be much, much worse. She would be the only political leader in history happy to wreck the economy before throwing herself on the mercy of the voters.
Yet there are those who insist that the power of the pandemic has gone to her head. They say she is getting a kick out of restricting people's freedoms and ruining their social lives. They ask us to believe that a moderate, centre-left politician – whose caution has often put her at odds with her own party – is suddenly giddy with a perverse euphoria.
This simply doesn't ring true, but it's indicative of how fear can lead us to reach for simple explanations and see bad faith where there is none.
Ascribing malice to legitimate worries
Over the last few days, it has become clear that the sense of goodwill and togetherness seen during lockdown in March and April has evaporated. This week's intemperate arguments over hospitality restrictions highlight the collective fatigue felt across the country.
Those who broadly support the measures are reviled for displaying callous indifference to the plight of hospitality sector workers who face devastating economic consequences from the closure of their work-place. Those who express resentment of, or disagreement with, the new restrictions have been branded selfish and impervious to the threat to human life.
In this, social media has become a platform for people to ascribe malice to what are only legitimate fears and worries.
Emotions right now are as conflicting as they are exhausting. There's great sympathy for the workers whose jobs were already precarious before Covid and which look perilous now. Supporters of the restrictions might not have 100 per cent confidence that these rules will make a significant dent in case numbers, but they are willing to follow them in the hope that they do. They broadly trust the scientific experts guiding the Scottish Government because the alternative means putting their faith in somebody on Facebook's-sister's-pal who is a nurse.
No monopoly on wisdom
Without a vaccine or a time-machine, we can't eliminate the risks of coronavirus, while living our lives as we were before. This means that, for now, we are stuck in this febrile state of discontent and uncertainty.
Winter will bring additional pressure on health and social care services. As the furlough scheme comes to an end, we await the devastating reality of what that will mean for "non-viable" jobs.
While Nicola Sturgeon deserves credit for how she has communicated with the public throughout the crisis, the weeks ahead will require something much, much more.
As the rules become ever-more complicated, as the decisions become more delicately balanced, opposition parties must be invited to participate in the decision-making process. Ultimately, Nicola Sturgeon and her Government call the shots. The Scottish Government will own the failures of this crisis as well as the victories. Yet, no party has a monopoly on wisdom. A more collaborative approach is in all of our interests as we head into winter.
Optimism is a rare and dangerous commodity in a world that has been forced to shrink beyond imagination to protect itself against coronavirus.
Nobody expects politicians to cast their party loyalties to one side, join hands, and start singing kumbaya. Let's aim for less and hope for more: that opposition parties are – and are seen to be – more involved. It would be a show of good faith from Nicola Sturgeon that might just serve as an example for the rest of us.
A message from the Editor:
Thank you for reading this article on our website. While I have your attention, I also have an important request to make of you.
The dramatic events of 2020 are having a major impact on many of our advertisers – and consequently the revenue we receive. We are now more reliant than ever on you taking out a digital subscription to support our journalism.
Subscribe to scotsman.com and enjoy unlimited access to Scottish news and information online and on our app. Visit www.scotsman.com/subscriptions now to sign up.
By supporting us, we are able to support you in providing trusted, fact-checked content for this website.
Joy Yates
Editorial Director
Comments
 0 comments
Want to join the conversation? Please or to comment on this article.