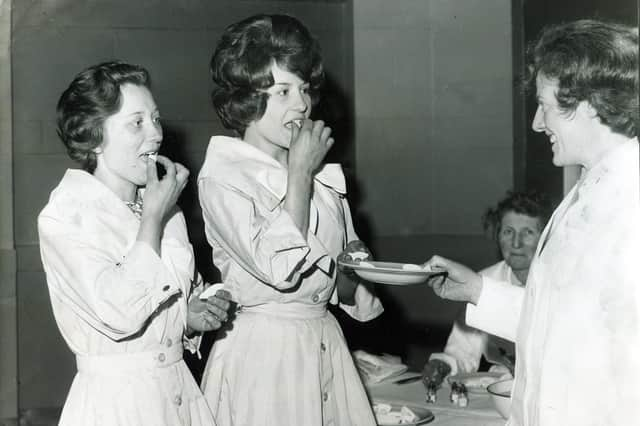 At the age of eight, I was curious as to why we would be going to a school on the weekend, however, I obeyed their order.
Five minutes later as the car pulled up to the parking lot, I noticed a long queue stretching from the front door of the school and continuing down the sidewalk for almost two city blocks. People in this queue were smiling, laughing, exchanging stories and they all seemed to have a hopeful attitude.
In my Jewish tradition, it is believed that to save one single life is in fact an opportunity to save the world. That is perhaps why so many Jewish people become doctors and have won so many Nobel Prizes for science. The scientists who discovered the Polio vaccine that we would soon receive, Drs Jonas Salk and Albert Sabin, were also Jewish men.
My sister and myself soon entered the school and we were offered sugar cubes. The small sugar cube contained a new miracle drug that would vaccinate me and millions of others. Recently I have learned that the Mary Poppins song entitled A Spoonful of Sugar Helps the Medicine Go Down was actually inspired by the distribution of life-saving sugar cubes to the son of one of the composers of this popular Disney song. The sugar did indeed help the medicine go down and it also saved millions of lives.
One of the last iron-lung patients in the US
Next door to our home, there lived another child who was around my age. One evening, Papa took me to see him and his parents. Upon entering the living room, I remember hearing the sound of a large breathing device with giant pumping bellows and then seeing a giant cylindrical metal container where at one end only the boy's small head appeared.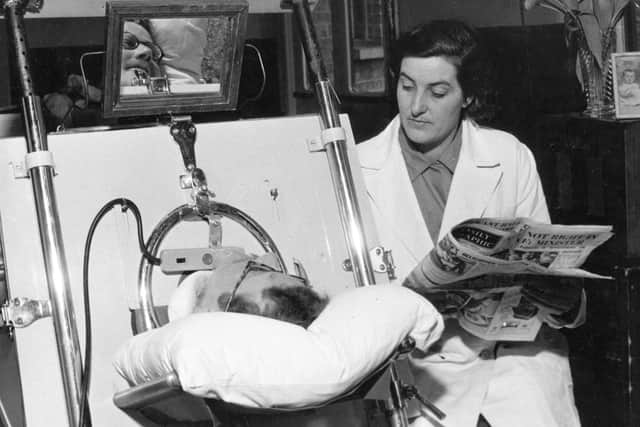 Above his head was a mirror that allowed him, while on his back and looking toward the ceiling, to see and communicate with me and others. This young boy was Paul Alexander who today, at 74 years of age, is one of only two people in the United States still being treated in an iron lung.
Paul Alexander had previously suffered from a high fever and breathing difficulties followed by aches and pains throughout his body. His parents rushed him to the local hospital and just as the doctors confirmed he had polio and were about to give up, a surgeon performed a life-saving tracheotomy so that he could breathe. When he awoke from the operation, he was soon placed in an iron lung along with dozens of other very sick children, also in iron lungs.
Paul was eventually able to return to his home and that is where I first met him. Later in life, he applied to attend law school and, due to his personal determination and supportive parents, he was finally admitted and subsequently became a successful lawyer.
Cringing at political rows
He has recently written his memoir entitled Three Minutes for a Dog. The title is based upon the challenge a friendly and determined therapist gave Paul as a child. She encouraged him to learn how to breathe on his own for three minutes outwith the iron lung and, if he succeeded, she give him have a new puppy. Paul got his puppy.
The Guardian newspaper published a touching profile about Paul's struggles last year. I trembled when I discovered this story because the last time I saw Paul was as a boy in his iron lung. His story brought back many memories of how, during an earlier age, communities actually worked together to try and eradicate disease and as a result of this work, the lasting impact was that a stronger community evolved from these efforts.
As I cringe when the political parties in Scotland argue about the speed of delivery of the Covid-19 vaccine, I am reminded of a better and gentler time when parents, still grateful that their children were alive and healthy, queued up together and created a brief community-bonding experience.
While they sought this miracle vaccine, they also sought and received something just as important. The ritual of coming together to protect everyone brought them all closer together as one human family.
As Paul Alexander told the Guardian, "the lesson of polio – and of every time we are confronted by our own terrible fragility and survive – is that sometimes we need to remember."
An unexpected reunion
Today, others should consider their sense of duty when they receive their letter to report for their vaccination. My wife and I received our precious letters recently and my first thought was, at 68, is there anyone else who may need this more than me right now?
I thought, if there is such a person, they may take my place. However, I understand it is not in my gift to do this, so I shall proudly join the vaccination queue tomorrow as have more than one million of our fellow citizens.
I wonder if, when I step into that queue, I shall have similar feelings of pride and communal hopefulness as I experienced 60 years ago?
Last week, I emailed my old friend Paul Alexander. He immediately replied and this very day we shall be reuniting for the first time in six decades using Zoom.
I am sure we will have lots to catch up on as he and I remember that time, many years ago, when citizens stepped forward together to serve their country through the noble act of receiving a new vaccine. Because after all, to save one life may also save the world.
Joe Goldblatt is an emeritus professor at Queen Margaret University and was born in Dallas, Texas, in 1952, the same year that polio vaccine was first discovered
A message from the Editor:
Thank you for reading this article. We're more reliant on your support than ever as the shift in consumer habits brought about by coronavirus impacts our advertisers.
If you haven't already, please consider supporting our trusted, fact-checked journalism by taking out a digital subscription.