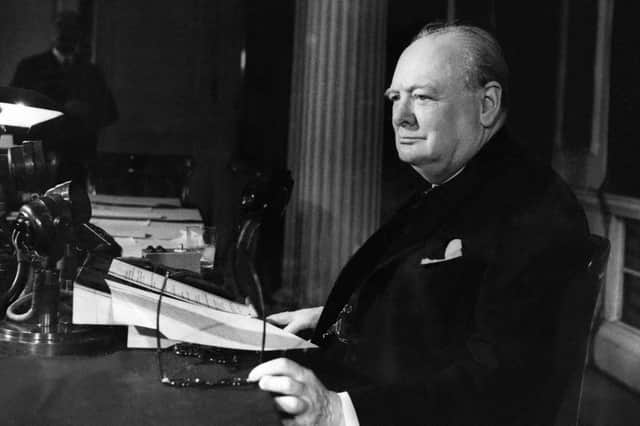 And here we are again as Covid-19 rages. Not since 1945 has 'morale' been as crucial. The problem is our leaders have forgotten this, and the cracks are beginning to show.
There's a profound feeling in the air that there is nothing to look forward to. The end is not in sight. Even the vaccines will take months, if not years, to reach everyone globally. Yet the streets are still busy. There's a lack of the same urgent dread that went with the first lockdown in March 2020.
And it all started at Christmas. The rug was pulled out from many when it was all but cancelled at the Scottish and UK level.
We were told the year-long challenge was to be met with a five-day reprieve. The warning signs were always there, and it should have been cancelled in November. Christmas was always the perfect combination of everything we've been told not to do since March: travelling, socialising, drinking, mixed households and close contact.
Still, hopes were raised and, even if we were naïve, they were dashed at the 11th hour. The rationale – 'people will break the rules anyway, so we better try and work around it' – was mad. When unemployment has soared, with lives lost and businesses destroyed (and will be decimated again), the argument never held water.
Rightly or wrongly, the Christmas reprieve felt like a slap on the back. Job well done, the vaccine is on its way – be careful, be responsible, but Merry Christmas.
Skip to January, and the issue is not the people who never gave a damn about the rules. It's the folk who did and are now losing their motivation. The spread of Covid variants is impacting the public morale problem.
One can debate all day the merits and failures of our governments in battling the virus. That over 100,000 people have died is a chilling milestone. More than 6,000 people are dead in Scotland. However one feels about the logistical response; improvements must be made to buck up the public morale if governments expect compliance.
For one, politics needs to be triaged. Brexit couldn't have happened at a worse time. Businesses have another layer of stress. Now the Scottish government is looking into a second independence referendum before Christmas of 2021.
Are we in the fight for our lives or not? Yes, life goes on. But the messaging is inconsistent if it's party politics as usual. Any proposals for a second independence referendum should be shelved indefinitely. How can it possibly be deemed a good idea to add seismic constitutional disruption to our woes when getting to the shops for milk is a challenge?
Whatever the Holyrood results are in 2021 (presuming those elections go ahead), the time has come for a serious discussion on establishing a national 'wartime' coalition to unite efforts.
At a UK level, the Prime Minister and his government desperately need to abandon talk of "global Britain". It's a painful juxtaposition when a simple holiday abroad is off the table. Both the Scottish and UK governments are nationalist, but whoever thinks boasting of global credentials when localism has been forced on us all has made a serious error.
And we come back to Churchill. Comparisons between wartime leadership, the Blitz and Dunkirk spirit need to stop. It was not some big happy family where everyone got along. That generation did a remarkable thing. But there were malcontents, there was still crime, and leadership faltered at times. But there was a national government that tried to pull together.
During the Second World War, Britain's total mobilisation proved successful in winning the war by maintaining strong support from public opinion. They also had the Ministry for Information, which was really a ministry for propaganda. When social media and some news outlets are replete with nonsensical vaccine conspiracy theories today, governments should have a department dedicated to combating them.
In both world wars, the British government knew that public mood affected productivity, resistance, the economy, rationing and adherence to safety precautions like blackout regulations. It also encouraged people to report their neighbours for non-compliance and breaches were backed up with severe penalties. Even Brendan Bracken, the Minister for Information, was keen for domestic propaganda to stop "lecturing" the public.
When news outlets run with the story that the First Minister will deliver a message the next day it sinks everyone's mood. It is seldom good news. Candour without reward has its limits. There needs to be a clear trajectory of when we can expect an easing of restrictions.
Our NHS workers are heroes and needlessly demoralising them is a terrible thing. A demoralised public whose compliance is key to stopping Covid-19 must be kept afloat. People who've self-isolated and stayed safe, helped their neighbours and supported vulnerable family members are close to breaking. In wars past, collapsing spirits were as serious a concern as bullets and soldiers. This is a new development in the battle since March.
"Churchill won the war with words" because he "inspired" people are weary cliches. His words were supported by a comprehensive system to achieve goals and aims. We need a minister for morale, a department that combines the mental health and general well-being portfolios but on a war footing.
After a year of Covid, we can see just what was meant by morale in the Second World War. Our governments are close to losing it and they need to act – quickly.
Alastair Stewart is a freelance writer and public affairs consultant. Read more from Alastair at www.agjstewart.com and follow him on Twitter @ agjstewart
A message from the Editor:
Thank you for reading this article. We're more reliant on your support than ever as the shift in consumer habits brought about by coronavirus impacts our advertisers.
If you haven't already, please consider supporting our trusted, fact-checked journalism by taking out a digital subscription.