Covid pandemic is a warning about the effects of climate change – Professor Harry Burns
The rate of Covid-19 infections is falling and fewer people are seriously ill in hospital. The present lockdown and the vaccination programme are effective. There is, at last, light at the end of the tunnel.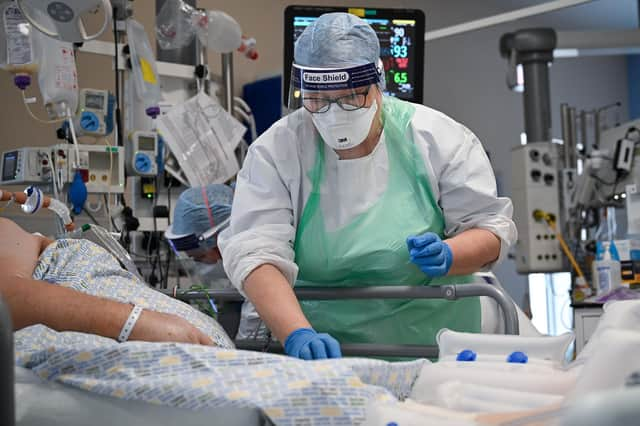 A possible return to normality has been outlined and people are rushing to book summer holidays. I hope their optimism is not misplaced.
The Scottish approach of moving forward on the basis of "data, not dates" is prudent but there may be some obstacles on the way. I hope not. We all need a break. However, even if we are seeing the end of the present pandemic, the one thing we can be sure of is that there are others on the way.
Human history has been shaped to a large extent by major outbreaks of infection. Diseases such as leprosy, tuberculosis, malaria and smallpox emerged with the transition of humans from being hunters to being farmers.
Deforestation allowed infested animals to escape their usual habitats and infect domestic animals, exposing humans to organisms from which they had previously been sheltered.
Outbreaks of infection often altered history. In the 14th century, the Black Death probably killed half of Europe's population. It produced a shortage of workers. Pay and conditions improved and serfdom was ended.
Life for the poor was better and technological innovation began to be seen as an important way of reducing reliance on human labour. When Europeans invaded the Americas in the 16th century, they took with them smallpox.
The Europeans had developed immunity but it has been estimated up to 90 per cent of the indigenous Inca and Aztec populations died from the infections.
The emergence in the past century of infections such as polio, Spanish flu, Aids, Ebola, Sars and Zika virus should be a sign of the precarious relationship between the natural environment and humanity.
The environment not only plays a part in determining who gets Covid-19 but it also has a role in determining who dies from it.
Those with chronic illnesses such as obesity, diabetes, heart disease and respiratory illnesses are more likely to die following infection. Such problems are unequally distributed across society with the poorer more likely to be chronically ill. We are seeing a synergy between the virus and the socioeconomic environment in which many people live.
Deaths from Covid-19 have been unequally distributed across society. Probably, poorer families have suffered disproportionately from the economic consequences of lockdown. Will the education of children in poorer families have been affected more more than in wealthier families?
As part of the "build back better" response following the pandemic, we need a new effort to build the health and resilience of those at the lower end of the social gradient.
But let's not forget the basic cause of pandemics. The World Health Organisation's director-general Dr Tedros Adhanom Ghebreyesus recently said: "The pandemic is a reminder of the intimate and delicate relationship between people and planet. Any efforts to make our world safer are doomed to fail unless they address the critical interface between people and pathogens, and the existential threat of climate change, that is making our Earth less habitable."
Is this one for discussion at the Cop26 UN climate summit?
Sir Harry Burns is a professor at Strathclyde University and a former Chief Medical Officer for Scotland
A message from the Editor:
Thank you for reading this article. We're more reliant on your support than ever as the shift in consumer habits brought about by coronavirus impacts our advertisers.
If you haven't already, please consider supporting our trusted, fact-checked journalism by taking out a digital subscription.
Comments
 0 comments
Want to join the conversation? Please or to comment on this article.