Covid: NHS nearly buckled under first wave. Exhausted staff are now battling the second one – Dr Lewis Morrison
It's been quite a fortnight, with almost half of Scotland plunged into level-four lockdown just a few weeks before Christmas.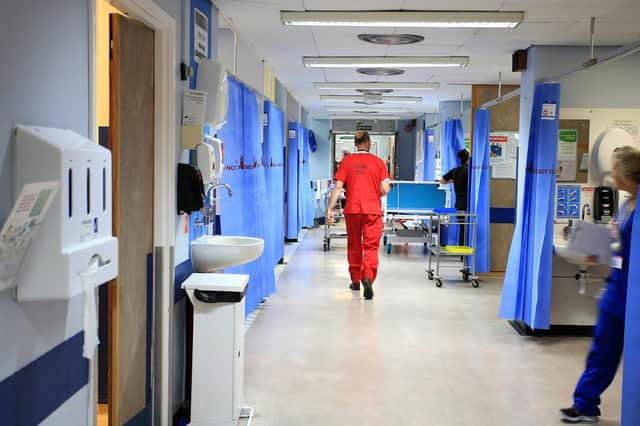 Having to make those decisions is not an enviable task, but at the heart of it is a need to protect our NHS and its staff.
I'm not exaggerating, or trying to garner sympathy, when I say we almost buckled under the first wave of Covid-19. It's simply a matter of fact.
Doctors, nurses, healthcare workers are exhausted. Winter 2019 into 2020 was hard. Then Covid-19 hit us with no knowledge of what was to come, and we had no time to recover.
Cases may have dropped during the summer, but that didn't mean rest and relaxation for the NHS: it meant a battle to get everything else moving again. A battle to get those patients who were forced to wait even longer for treatment due to the pandemic off the waiting lists. A battle we are still very much fighting, only now we are fighting it alongside the second wave of Covid-19.
Visiting at most hospital sites is, understandably, off the cards right now. But if you were to be a fly on the wall you would see the exhaustion – but determination – on the faces of those on the frontline. The well-being of healthcare staff – whether that's hospital doctors, GPs, nurses, reception and admin staff – is crucial.
Obviously as a doctors' union, first and foremost our priority is to protect the rights of Scotland's hard-working clinicians – but above and beyond that I believe at times like this we need to look out for everyone.
That's why our BMA Care Boxes that we distributed throughout hospitals at the end of last year and have restocked regularly this year are for all staff members.
It's why we are calling for all NHS boards to provide free access to menstrual products in all of their staff toilets, free parking to continue, access to hot food and drinks on nightshifts, quiet areas for healthcare staff to rest on their breaks during busy shifts. None of this is a luxury – they are basic, essential comforts that can potentially make a huge difference to the day-to-day working lives of our healthcare staff.
Behind the scenes, there are healthcare workers suffering from long-Covid – a long-term effect of the virus that no one anticipated back in March. Numbers are down as many members of staff fight to get back to full fitness that will allow them to return to work.
Someone recently described the feeling of long-Covid to me as constant physical and mental exhaustion – that walking their children to school meant they would have to lie down in their beds for the rest of the day.
We recently agreed special leave guidance with the Scottish government that will give healthcare workers long-term security if they are affected by long-Covid.
Masks and PPE hide weary faces, but make no mistake, healthcare workers are exhausted. My plea to any NHS workers reading this is to take care of yourselves and your colleagues – it's much easier said than done at times, but maintaining mental and physical health is how everyone – healthcare workers and the public alike – will get through this.
Dr Lewis Morrison is chair of BMA Scotland
A message from the Editor:
Thank you for reading this article. We're more reliant on your support than ever as the shift in consumer habits brought about by coronavirus impacts our advertisers.
If you haven't already, please consider supporting our trusted, fact-checked journalism by taking out a digital subscription.
Comments
 0 comments
Want to join the conversation? Please or to comment on this article.