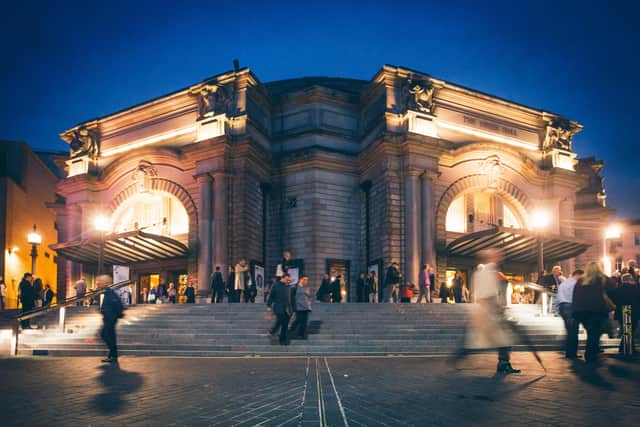 The Usher Hall is one of Edinburgh's busiest year-round cultural venues.
I spent most of Friday trying to get my ahead around, and seeking reaction to, a new analysis of what the events sector can expect for the rest of 2021 and beyond by the Scottish government's most senior events expert.
It would be generous to describe Paul Bush's outlook as downbeat. I got the impression it will be nothing short of a miracle if major events as we knew them go ahead within the next 12 months.
Bush bluntly warned that event organisers and supply chain companies faced the grim prospect of two-and-a-half years without any income.
He made it clear that "longer-term support" will be needed over and above the £13 million package recently announced by the Scottish government if they are to survive beyond the vaccine roll-out.
And he cast serious doubt on the prospect of events returning with reduced capacities, while social distancing is still with us, saying they would be commercially unviable.
All of this was undoubtedly a reality check for venue operators, promoters and performers.
But Bush's analysis did beg several questions.
Are all events really unviable with significantly reduced capacities given the huge growth in online broadcasting and streaming since last March?
If venues have received public funding to help them withstand the pandemic why can some of this not be used to subsidise events with socially distanced audiences?
Can publicly funded festivals and events not join forces with commercial venues to get audiences back through their doors?
Perhaps most importantly, has a decision already been taken with the Scottish government to rule out the return of events for the foreseeable future?
Now, there are several sectors of the Scottish economy in a similar state of limbo, not least retail, tourism and hospitality. Given the tightening of restrictions over the festive period and the fact that schools will be nowhere like full capacity if and when they are loosened later this month, it is hard to imagine when they will be able to reopen, even partially.
But it strikes me as essential that the live events industry is given the opportunity to reboot at the same time as these other sectors.
It baffled me completely last summer as to why hotels, bars, restaurants, cafes and shops were all able to resume trading when lockdown restrictions were lifted last summer while concert halls, comedy clubs and theatres were forced to remain closed.
Even if they been allowed to open, it may well not have been worth bothering for many given the impact of social distancing. But given the creativity many venues have shown in reinventing their output for online audiences, they should at least get the chance.
After all, performers, technicians, front of house staff and backstage crew are no less important than retail, tourism and hospitality workers.
The reopening of arts venues in villages, towns and cities could also play a vital part in ensuring they not only have a secure future but can also help other local businesses survive and thrive when they are given the green light to bring their customers back.
A message from the Editor:
Thank you for reading this article. We're more reliant on your support than ever as the shift in consumer habits brought about by coronavirus impacts our advertisers.
If you haven't already, please consider supporting our trusted, fact-checked journalism by taking out a digital subscription.
Joy Yates
Editorial Director