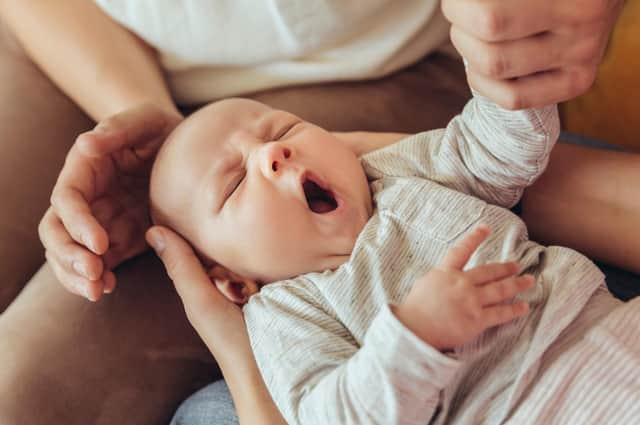 Parents with newborn babies should be allowed to form a lockdown 'bubble' with another couple with a baby so they can help one another, says Alex Cole-Hamilton (Picture: Shutterstock)
In a heartbeat you go from spontaneous and sociable to pyjama-wearing servant, who battles a constant, grinding exhaustion. Whilst in most cases becoming a new parent brings with it a kind of love that is overpowering, it's much harder than anyone can prepare you for.
I can't imagine what it must be like to go through all of that under the enforced social isolation of lockdown.
In an effort to understand what it's like, I hosted a virtual coffee morning for over 50 new mums and dads who live in my constituency of Edinburgh Western on Friday. It was one of the most moving meetings I've been to since the pandemic began.
Right out of the traps, it became blisteringly apparent how much strain these people are under, especially the mums. It's not just that they've missed out on the baby showers, the christenings, the NCT classes and the play dates.
Most of them spent lockdown shielding, in near total isolation and adrift of the traditional lines of support provided by friends and family.
Small wonder then, that several people who were brave enough to share their experiences were reduced to tears. They're doing amazingly, but the isolation and concern for the socialisation and development of their babies is really beginning to take its toll.
Everyone's mental health is fragile when you're that sleep deprived, and over ten per cent of new mums will suffer post-natal depression on top of that. But consider also that none of them, not a single one has had anyone other than their partner to offer them practical support or in person comfort for many months.
It doesn't need to be like this. In England, the extended household policy has been expanded to allow new parents to bubble up with another couple with a baby under one for support.
As with other extended households, they can come and go from each other's homes free from the confines of social distancing. There is no such allowance in Scotland.
All of the public health measures across our family of nations are underpinned by the same science and the same specialist advice.
As such, any variance between our countries is up to those making the policy decisions. Put another way, there is nothing in science to suggest that Scotland should resist broadening the extended households policy to include support bubbles between two sets of new parents.
So, I'm asking the First Minister to do just that this week in parliament.
It is a matter of profound importance for the well-being and development of young babies that their parents have a network of support around them.
With the possibility of several months of lockdown still ahead of them, we just need to give these mums and dads a bit of hope and the society of their peers.
I learned on Friday that zoom catch-ups just aren't cutting it any more. As the old African proverb goes: "It takes a village to raise a child." That village cannot exist solely online.
Alex Cole-Hamilton is Scottish Liberal Democrat MSP for Edinburgh Western
A message from the Editor:
Thank you for reading this article. We're more reliant on your support than ever as the shift in consumer habits brought about by coronavirus impacts our advertisers.
If you haven't already, please consider supporting our trusted, fact-checked journalism by taking out a digital subscription.