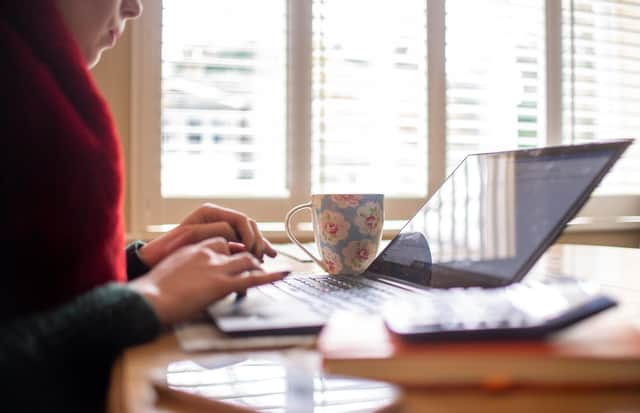 Rigid nine-to-five, office-based jobs have prevented many women from returning to the work for too long, says Nathalie Agnew, but the lockdown has seen a rise in more flexible practices (Picture: Joe Giddens/PA)
As we grapple with the latest lockdown, not knowing when it will end, I'd love to see a movement of change in Scotland to support women wanting to develop their careers whilst supporting their families.
Rigid, office-based, nine-to-five mindsets have prevented many women from returning to the workplace for too long. Now that teams have, admittedly, been forced to work from home, the opportunity exists for those returning to work to help shape a new way of operating that embraces flexibility, capitalising on the skilled talent of returners.
Many potential returners settle for ad hoc freelance roles, without job security or sense of team, feeling this is all that's available to them without the commitment and stress of taking on more than they can cope with.
Supportive businesses, however, are now offering more flexibility – to males and females – such as shorter days or agreement of rota systems to share childcare. I'd urge firms to ensure they are offering this to men too, avoiding the impact on women's capacity to work. Being flexible with deadlines and moving internal meetings are other simple steps that can make working life easier.
Our team supported each other through the last lockdown, at home and work. Children and animals were welcomed to team calls and we adapted quickly to ensure work was delivered to a high quality without undue stress.
For those many businesses that can't afford company-funded time for childcare, flexible furlough, for those who qualify, could be a lifeline to allow employees to split their time between work and family without a large financial penalty.
Another opportunity is those whose partners are furloughed. This could be the perfect time to test the water in the career you've loved and left, while your partner has extra time for family commitments.
In unfortunate circumstances where family income has dropped, many mums are having to return to work faster than they planned to.
Above all, we need more flexible opportunities for women and if we can break down the additional barriers being faced just now then all the better.
That's why we're working with the Scottish government to deliver the 'Returners to Communications' programme, using the Women Returners fund. Our innovative, first of its kind programme, will bring at least ten women back to the communications, digital and marketing industries, with a fully supported, part-time, flexible returnship and a coaching and training programme.
We hope this pilot project will show the returners how much value their life and work experiences can bring to organisations, whilst building their confidence and showing them perceived advances in technology are not as daunting as they may think.
I know that the tough reality is that many families are struggling just to get through the day, so offers of employment may not be welcomed by everyone. But let's embrace those with the capacity who'd like to try, and open the door to the many others in the background for when situations improve.
Nathalie Agnew is MD at Muckle Media and an ambassador for Women's Enterprise Scotland.
A message from the Editor:
Thank you for reading this article. We're more reliant on your support than ever as the shift in consumer habits brought about by coronavirus impacts our advertisers.
If you haven't already, please consider supporting our trusted, fact-checked journalism by taking out a digital subscription.