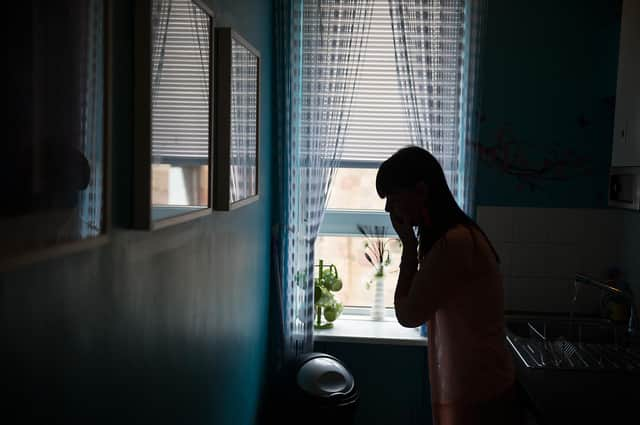 Many people have been struggling with mental health problems during the Covid lockdowns (Picture: John Devlin)
The roads, the rooftops, the neat little gardens, big gentle trees and their spindly branches. Everything I can see beyond my cold windowpanes, as I write this after nightfall, is overlaid with white.
At some point yesterday, when I wasn't looking, it turned from a dusting of icing sugar to a thick layer of royal icing. Now the snow reflects all available light, what little of it there is at this hour, casting a mild glow across the landscape.
At this point in winter, the phenomenon provides a welcome guide to what is out there, obscured only by my breath on the glass. The nighttime snow is a ghostly map which serves as a reminder that no matter how difficult it is to see through the darkness, everything is in its right place, waiting peacefully for the morning, content for the moment to be still and calm.
The writing of columns, generally speaking, must strike the balance between being started early enough to do justice to their subject, but late enough so as still to appear timely when they are published.
Sometimes they are written right up to the wire, but the seeds are sewn days before, when something is on my mind. When the column concerns events still unfolding, political or otherwise, there is always a risk that the piece will be out of date even before it comes off the printing press.
Mental health crisis
Snow in the night-time can make city streets appear to glow by reflecting any available light (Picture: Raffaele Pontrandolfo/AFP via Getty Images)
We try to write these things in a way that doesn't automatically date them as yesterday's news; as going backwards, not forwards. That requires a bit of forecasting as to what might happen in the time between sending in the copy and readers seeing it.
It tickled me, when I started writing this column two years ago, that it might end up wrapped around a bag of chips the next night (salt and lots and lots of vinegar, please, and a pickle on the side). To hold on to this fantasy I must ignore that chip shops, in another of modernity's casual heartbreaks, mostly now use featureless white sheets of wrapping paper. But the point is that life reliably moves on from yesterday's cares. First comes work, and then comes dinner.
But I want to share with the reader that as I write this, it is after 2am on Tuesday morning. Quite a bit after, in fact; 3am is on the horizon. Snow is forecast to fall through the night, but it has paused for the moment.
I am suffering one of my periodical bouts of insomnia, sparked by one of my periodical bouts of depression, which has dogged me, on and off, for all of my adult life. Having managed so far during the pandemic, I have finally lost the battle of staving off the lockdown blues. I am just one of many, many, people experiencing a mental health crisis exacerbated by this tough year.
Depressive fog will pass
Although I can feel OK for long stretches, sometimes years, employing tactics to manage my additional PMDD (premenstrual depressive disorder, which strikes five days before my period, and which is still abysmally under-recognised by doctors), priding myself on my enjoyable professional life and the accomplishments I've thrown myself into achieving, I know, from personal history, that how bad I feel right now (acutely), and how persistently (it is constant), I must handle myself carefully until I feel stronger.
Although it doesn't feel, in this moment, there's a way out of this depressive fog, I have been through the bleakest, blackest days enough times to acknowledge that I have felt like this before and it has always eased up in the course of time. This is something I will always have to manage, through a combination of medication and determination, environmental impact and therapy. One day at a time, I try to convince myself.
But for now I want to cocoon, so as to try and pin down my wriggling thoughts, and work out my latest strategy for wrestling the malevolent octopus clinging to me. I have developed a new phase of routinely turning on the television and letting whatever is on run at a low volume, something, in this age of streaming specific programmes, I haven't done for years and years.
But I will try anything that offers a comforting sense of normalcy. My preference is for the daytime TV vibe of BBC1 and 2, which lingers beyond strictly daytime hours. I want to temporarily inhabit worlds I know nothing about, absorbing their alien atmospheres, like industrial antiques or the farming of garlic plants.
An unlikely source of comfort
As a schoolkid protester during the Iraq War, I wouldn't have sought it out, and yet as I slumped on the sofa letting it play I took comfort from seeing Campbell visit a series of researchers working on new treatments for chronic depression. These included psilocybin (the active ingredient in magic mushrooms), a modern form of electro-therapy which juddered the brain, and pill-free talk therapy.
Understanding of the illness seems to have come a long way since I first approached a doctor, at the age of 15, and was brushed off with instructions to take vitamin B.
For now, I will do what I have done before. Wait it out. Talk myself through it. Up my anti-depressants and book a session with a therapist. I will look out of the window at the snow, reminding myself that tomorrow exists, and I can just about see its outline.
A message from the Editor:
Thank you for reading this article. We're more reliant on your support than ever as the shift in consumer habits brought about by coronavirus impacts our advertisers.
If you haven't already, please consider supporting our trusted, fact-checked journalism by taking out a digital subscription.