Covid: Influencers who flocked to Dubai during pandemic to sell rubbish will get their comeuppance – Stephen Jardine
In years to come, it will be the great question of our time. "What did you do during the Great Covid War?"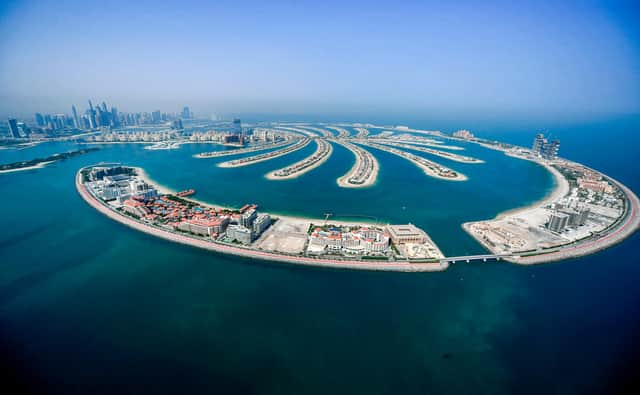 Some people donned full PPE and went into hospital wards to save lives. Others worked in supermarkets, on the virus frontline, keeping the nation fed. Most of us just stayed at home, complaining about Zoom meetings, baking banana bread and watching way too much Netflix.
But then there are the 'real heroes', the Instagram influencers who took their courage in both hands and flew to Dubai (business class of course) to hunker down in beachside hotels while a pandemic rages at home.
The rest of us aren't allowed to leave the house except for essential reasons and luckily, our online idols have the perfect justification. They are on business… that business being flogging diet pills, ghastly cheap drinks and fast fashion made in sweatshops in Asia.
Of course, none of this can be done at home. It all has to take place against the sunny backdrop of golden beaches and beautiful pools because that is part of the sell. The message is "buy these dodgy products and you could end up somewhere like this rather than sitting at the kitchen filling in spreadsheets while watching the rain outside".
And where better than Dubai, the bling mirage in the sand just eight hours flying time from the UK. For those of you who have never visited, think Harvey Nichols with the heating turned up and less human rights.
Since the start of this latest lockdown, it has become a home from home for every chancer, snake-oil salesman and dim footballer from the UK. Who can blame them? With relaxed restrictions, sunshine every day and the average temperature at the moment around 23 degrees, it offers an attractive alternative to the reality at home.
But we're in a pandemic. Our hospitals are nearly full and lots of people are dying every day. We are all making sacrifices to help each other get through this so jumping on a plane to Dubai to take cash for endorsing a tooth-whitening product just looks crass, insensitive and moronic.
Celtic felt the full force of the backlash this week when everyone from the First Minister to even some of their own fans questioned the wisdom of the now-notorious winter training trip.
The club has admitted it was a mistake but what about our motley crew of Love Island failures and The Only Way is Essex rejects currently sunning themselves in Dubai?
Their Instagram grift is based on a perfect world of product endorsements and positive interactions with their fans who can then be guided to part with their hard-earned cash. Unfortunately, that has now gone pear-shaped with the feeds of those currently in Dubai overflowing with angry posts from disillusioned followers.
It's hard to know what the Instagram influencers feel about their sudden notoriety. When another newspaper tried to find out from one, the inevitable reply was "would you pay a fee for this?"
However their comeuppance awaits. Dubai is now off the travel corridor list so on return, they will have to self-isolate and that is one thing they can't influence. Watch out for lots of toilet roll and tea bag endorsements coming our way soon. Not so glamorous, eh?
A message from the Editor:
Thank you for reading this article. We're more reliant on your support than ever as the shift in consumer habits brought about by coronavirus impacts our advertisers.
If you haven't already, please consider supporting our trusted, fact-checked journalism by taking out a digital subscription.
Comments
 0 comments
Want to join the conversation? Please or to comment on this article.