Covid: Hardline voices given undue prominence in schools debate – Martyn McLaughlin
It has been a little over six months since I last wrote about Us For Them, a vocal parents group forged during the early days of the coronavirus pandemic.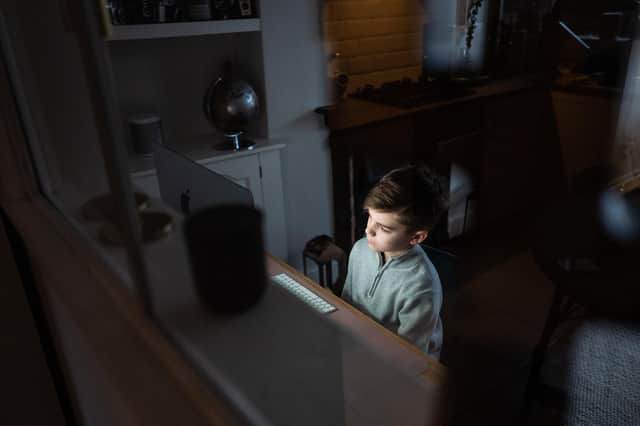 In the time since, its membership has quadrupled, expanding beyond the fringes of social media to enjoy media coverage so widespread that it is now routinely presented as a leading voice of concerned families across Scotland.
Some things, however, have not changed. At least some members of the group are prone to spreading harmful misinformation. One of its organisers has argued that the use of face coverings of schools is not just "ineffective", but "invasive".
This strand is explored further on Us For Them's website which, on a page headlined "Use Of Face Masks & Face Covering, A Summary Of The Science", links to articles with headlines including "masks are neither effective nor safe", "mask hysteria: are we going too far" and "face masks pose serious risks to healthy individuals".
Highly active on social media
It hardly needs saying that such observations are entirely without credibility. And this attracts other like-minded people whose comments on the group's Facebook page – which is open for all to comment on – are enough to make anyone feel that the standard of discourse is as depressing as it is concerning.
Us For Them, of course, is not the only parental campaign group with misgivings about the pandemic's impact on education, but it is the one which shouts the loudest. As a consequence, it is increasingly platformed as a representative body.
It is easy to understand why this should be the case, given they are a group with upwards of 12,000 members and a highly visible and active social media presence.
But it is worth remembering there are reasons why it has achieved such prominence. Us For Them is billed as a grassroots parental group. It is also, however, a political lobbying organisation. Its chapter in Scotland has made multiple submissions to Holyrood's education and skills committee, and its PR operations have been handled by a former director of communications for the Scottish Conservatives.
Of course, the group can fight its battles as it sees fit, and enlist who it wants to help. Yet if it wishes to play a central role in the debate over how Scotland's education system is responding to an unprecedented public health crisis – particularly when some of its more prominent members happen to be elected representatives – it would serve the public interest well to better understand its operations.
Well-drilled
For example, who is paying for its professional advice and services, and which individual or entity is the ultimate beneficiary of the several thousand pounds that have been pledged so far via a series of crowdfunding campaigns?
What purpose was served by one of Us For Them's co-founders, Michelle Kingsley – a former corporate lawyer – applying to the Intellectual Property Office to trademark the group's name for political lobbying activities?
No one is disputing that the majority of Us For Them's members are ordinary parents who are upset, scared, and confused by what is happening, or that the fears they have for their children are anything but genuine. But for such a well-drilled organisation, it has vehemently opposed school closures at all costs, instead of asking pertinent questions that might mitigate risks to education and well-being.
The National Parent Forum of Scotland is an example of an organisation which has taken a different tack. Instead of encouraging a mass template email campaign to MSPs, reminding them that we are four months away from the Holyrood elections, it has set out a series of measured and constructive points in the hope of influencing policy. They include a demand for assurances over the quality and consistency of remote learning, and specific questions over how children with additional support needs and their families are being helped.
Exhausted and apprehensive
Another parents group, 50/50, which has campaigned for a minimum of 50 per cent in-school time for pupils, has rightly highlighted the "huge inconsistencies" in the levels of online learning across the country, and points out that deep into the pandemic, it is nothing short of a scandal that there is still no recognised national standard which every school should be meeting.
This is one of several grave failures of government during this crisis, and it will take years to assess the damage caused, let alone repair it. But it would be even more catastrophic were ministers to acquiesce to the hardline demands of a group whose members can display contempt for scientific evidence and maintain an unyielding belief that anything short of a return to "normal" schooling is unacceptable.
The reality, however, is that for all the hard won progress that has been made in responding to the pandemic, normality remains almost as elusive a prospect as did six months ago. It is hugely dispiriting to confront this fact, but confront it we must. And talking of facts, here is another: my family, like so many others, is exhausted, deflated, and apprehensive about the weeks and months ahead.
As I write, my young children are glued to computer screens, crabby and agitated by our piecemeal attention as another working day fritters by and we try to juggle various demands. Upstairs, my wife, who works in education, is on a conference call trying to arrange shifts to look after vulnerable pupils and children of key workers who are returning to school. We try not to look to far ahead, or dwell on the price that is being paid. But one thing remains abundantly clear. If it helps save lives, that price is worth paying.
A message from the editor:
Thank you for reading this article. We're more reliant on your support than ever as the shift in consumer habits brought about by coronavirus impacts our advertisers. If you haven't already, please consider supporting our trusted, fact-checked journalism by taking out a digital subscription.
Comments
 0 comments
Want to join the conversation? Please or to comment on this article.