Covid crisis means we need radical reform of how the NHS is funded – John McLellan
This time next week the first Covid-19 vaccines should be coursing through the veins of front-line health workers and commentators could be poring over the implications of a Brexit deal agreed on Monday; maybe, just maybe, the all-engulfing chaos which has characterised the past three or four years is set to ebb. Stability is within grasp.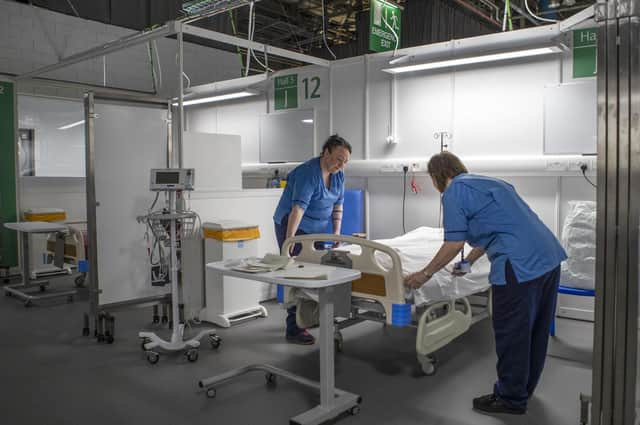 The Covid crisis means the UK needs a new contract with the public over NHS funding, which recognises the reality of an economy that will take years to recover and accepts the cost of an ageing population (Picture: Jane Barlow/PA)
As the Christmas holiday nears, thousands of people will be hoping for a new beginning in January… let's hunker down for December and things, as New Labour used to say, can only get better. If only it was that simple, even without the prospect of another independence referendum.
By April, the UK government is expected to be in hock to the tune of £394 billion, which it will have borrowed to cope with the pandemic, and, with the potential for 2.6 million people on the dole next year adding billions to the welfare bill and blowing at least a £100bn hole where the tax receipts from a thriving economy used to be, the consequences will be with us for years.
After all, wartime rationing didn't end until 1954 and Britain's war debts were only settled in 2006. In October, the Institute for Fiscal Studies warned of "all but inevitable" tax rises of over £40bn a year and that was nearly a month before Chancellor Rishi Sunak extended the furlough scheme to March.
The Scottish unionist problem
Pressure is mounting on Prime Minister Boris Johnson to produce a credible recovery plan which is more than can-do sound-bites and he is caught between honouring the manifesto promise not to increase taxes and knowing years of runway borrowing could destroy the Conservative reputation for strong economic management which saw off Labour at the last four General Elections.
A new analysis of last year's election in England and Wales by the right-wing research group Onward shows how what can loosely be described as the working-class vote swung behind the Conservatives to smash the so-called Red Wall while educated middle-class Metropolitan types coalesced around Labour.
The Scottish unionist problem is both are being drawn to the SNP. For anyone who knows the North of England, the deep social conservatism of traditional working communities is no revelation, nor is the resentment as they struggle to replace an identity lost in the collapse of heavy industry, maintained only by the local football or rugby league sides.
Of greater significance is Onwards' view that the centre-ground of British politics has shifted to the left, which will have hardened because of the massive state intervention needed to cope with the pandemic and its aftermath.
Perception is everything and the Conservative conundrum is that no matter how much money is thrown at public services, attitude surveys repeatedly show they are trusted less with them than other parties, defence excepted. They are trusted to manage the books, which explains the growing concern in Tory ranks that runaway spending and higher taxes could leave the party with no reputation for anything.
New deal for NHS and social care
Under Jeremy Corbyn, Labour refused to accept that a strategy based on what voters should believe rather what they actually want leads nowhere, so the challenge for Boris Johnson is to convince the party that because the cost of Covid will be felt for decades, so too must the party adjust.
There is no point railing against higher taxation when there is £400bn to repay or higher public spending when millions of people are out of work and the health service has a backlog of hundreds of thousands of delayed treatments. The party needs to accept the centre point has moved and argue from the right of where it is, not where it thinks it should be.
Nowhere is a new deal needed more than the NHS and social care, a hugely inefficient bureaucracy resistant to change, as is being played out now across Scotland with the integration of the two services mired in red tape, with few signs of improvement and now facing huge cash shortfalls.
Only yesterday it was reported that the Scottish government has spent £250m on a scheme to give patients access to pharmacists, physiotherapists and mental health workers in their GP practice by April, but nothing has happened.
But despite the death toll in care homes as infected elderly people were discharged from hospitals untested, the place of the NHS in national lore is stronger than ever, doorstep applause its most visible sign.
UK health spending more than doubled in the 20 years to 2018 but, according to newly published World Health Organisation comparisons, the UK's £3,205 per capita health expenditure lagged behind France's £3,484, Germany's £4,031, Ireland's £4,077, and Norway's £6,120.
Who gets more bang for their buck is harder to say, but of all those countries, only Ireland spent less than the UK as a percentage of GDP.
A third world war
Pre-Covid, global health spending was growing faster than economies, because people are living longer with conditions under treatment, and the need for better-resourced health services is as urgent elsewhere as it is in the UK to deal with the virus and treat patients who are more sick because their illnesses went untreated or undiagnosed.
Both World Wars saw huge change in British society and, if the pandemic is regarded as the Third, then another turn of the political dial is due.
It is time for a new Beveridge Report, a new contract with the public which recognises the reality of an economy which will take years to recover and accepts the cost of an ageing population.
Millions of people dutifully pay for a TV licence because they like the BBC, maybe now we need a new system of national health insurance, as in France and Germany, in which those who can afford it pay more and the NHS is distanced from party politics.
The NHS cannot be preserved in the aspic of 1945 when average life expectancy was 64 and hundreds of thousands of young servicemen would never grow old.
A message from the Editor:
Thank you for reading this article. We're more reliant on your support than ever as the shift in consumer habits brought about by coronavirus impacts our advertisers.
If you haven't already, please consider supporting our trusted, fact-checked journalism by taking out a digital subscription.
Want to join the conversation? Please or to comment on this article.