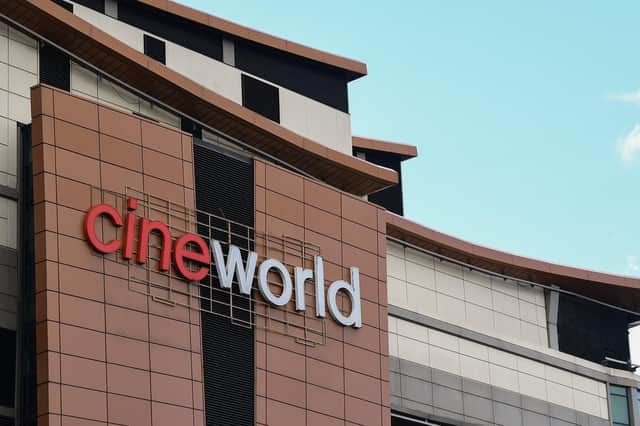 Some 127 Cineworld cinemas across the UK are to close indefinitely. (Picture: Jeff J Mitchell/Getty)
But if we cannot bemoan how we miss more ordinary events, we risk understating how seismic the changes have been. Each of us has our little routines and customs, and the disruption to them wrought by Covid-19 can feel profound at times. Just because they might be judged trivial by other people does not mean they do not matter to us.
That is why I have such a heavy heart at the dire straits the cinema industry finds itself in. Having allowed its staff to learn that their jobs are under threat via the Sunday newspapers, Cineworld confirmed that it is temporarily mothballing hundreds of its theatres.
With the studio system pipeline running dry, it took the decision that without a strong suite of films, it made no commercial sense to pretend business could go on as normal. The chances of a reluctant public returning to its cinemas were already slim, but with further postponements to big-ticket releases such as No Time To Die, Daniel Craig's final James Bond outing, Cineworld clearly felt they had become non-existent.
The indefinite closure of its UK cinemas is a major blow, and they are not the only ones to face up to the new reality. A quarter of Odeon's cinemas across the UK are moving to a weekend-only operating model, prompted by the same dearth of blockbusters and the growing threat of a second wave of the virus.
It will require the distribution of an effective vaccine before the cinema industry can return to normal, but with the prospect of no meaningful revenue for several months, if not longer, it may be too late by then.
The prospect of coming out of the Covid-19 crisis with a severely diminished network of cinemas feels very on message, given the way the retrograde step of Brexit threatens to transport us back a few decades.
I have not visited a cinema since the pandemic began, and despite Boris Johnson's appeals for people to flock back, I will not do so. This is not a lack of support. It is a personal decision, based on public health advice. In any case, even if the prime minister were to upscale his platitudes and mandate a back-to-back, nationwide triple bill of The Italian Job, Bridge On The River Kwai, and Four Weddings And A Funeral, the numbers would not make any difference.
And so cineastes look set to be stuck at home, where the bewildering choice of films afforded by streaming service algorithms should soften the blow. It doesn't though, does it? Even if you have a 4K television and a surround sound system with unrivalled technical specifications, it is impossible to weave the same illusion.
Sure, you can draw the curtains, make cute little admission tickets for the kids, and make fresh popcorn, but somewhere in the middle distance, you can still hear the washing machine embarking on its final spin cycle.
The blunt reality is that nothing compares to the shared experience of watching a film in a dark, cavernous space. Of marvelling at what some people find funny, or wondering why no one else is laughing along with you. Of eavesdropping on the instant staccato reviews offered up by your fellow audience members as they make their way back out into the world outside.
There is no substitute for these things. It is not so much about the film itself as the experience of visiting the cinema, an endless shifting portal into another place and time. For me, the big screen first exerted its inimitable pull on me one dreich afternoon in January 1986 at the ABC in Greenock. It has never quite let up since.
It was there that I saw my first movie proper – Back to the Future. A serendipitous choice, for sure, but even if the film in question had been a stinker, I don't think it would have changed much. The DeLorean lives long in the memory, but so does the thinning, stained red velvet balcony seating, the half-melted choc ices, and the impenetrable fug of Embassy Regal.
I did not know it at the time, but this rattling old picture house, which opened in the town's West Blackhall Street way back in 1921, had its days numbered. It would close a little over 18 months after my first visit, with the wrecking ball making way for another exotic import in the form of a branch of Burger King.
Its closure marked the beginning of a near decade long absence of a cinema in the town. In Thatcher-era Inverclyde, the denial of such an accessible form of escapism hit home hard, and forced filmgoers to venture east to Clydebank or Glasgow, where the rise of the multiplexes had begun.
In the years that followed, I gravitated towards smaller, independent cinemas – a particular highlight was a Q&A Wicker Man screening with the late Robin Hardy – but now that I have kids, the multiplexes are again my go-to, with late Friday night screenings making way for early Saturday morning ones.
One of my last pre-lockdown visits was a blissful solo trip to the IMAX to watch Apollo 11. If I close my eyes, I can still see the vast emptiness of space, and hear the roar of the Saturn V rocket under my feet. I wish I had known then how much I appreciated being whisked off to another world. I suppose I can always turn on the washing machine and pretend.
A message from the Editor:
Thank you for reading this story on our website. While I have your attention, I also have an important request to make of you.
The dramatic events of 2020 are having a major impact on many of our advertisers - and consequently the revenue we receive. We are now more reliant than ever on you taking out a digital subscription to support our journalism.
By supporting us, we are able to support you in providing trusted, fact-checked content for this website.
Joy Yates
Editorial Director