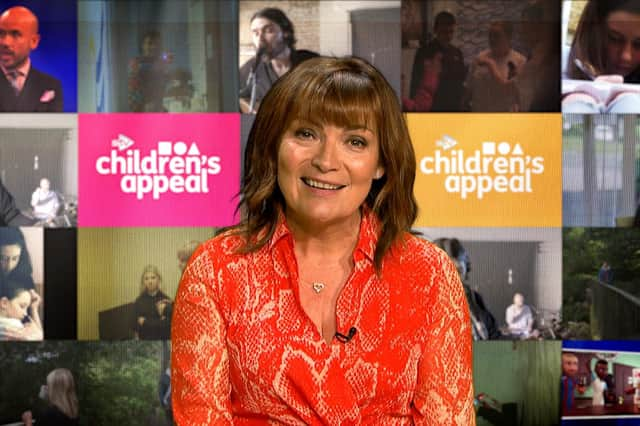 Lorraine Kelly presenting a telefundraiser for the Children's Appeal last Friday (Picture: STV)
The STV Children's Appeal, which works closely with hundreds of charities to support the one in four children who tragically live in poverty in Scotland, recently commissioned a report into the impact of the Covid-19 pandemic on the Third Sector – and its findings were stark.
There's no question the pandemic has been a painful and hugely challenging experience for voluntary organisations across the country. That was, rather unsurprisingly, the unanimous view of all the charities that contributed to the report.
However, we've also seen charities at their very best during this crisis, swiftly adapting to unprecedented change and doing whatever it takes to support communities in need. The report indicated that, amidst the hardship, Covid-19 has highlighted important opportunities for learning that must be captured and shared.
When this awful pandemic struck back in March, many organisations doing crucial work within communities were simply forced to shut up shop. Some funding streams began to quickly dissipate too.
When faced with such a quandary, Scotland's Third Sector didn't wait around and nurse its wounds. Instead, it diversified – and fast. We saw organisations step up to the challenge and develop innovative solutions at a grassroots level.
For example, charities that offer face-to-face counselling and therapy services in normal times have instead focused their attention in recent months on delivering basic food parcels to families in desperate need of them.
The Stirling Carers Centre, one of the charities that the STV Children's Appeal helps to fund, provided care packages to Ismay, Lachlan and mum Rachel during lockdown (Picture: STV)
This is the kind of quick-thinking and adaptability that has made the Third Sector such a critical force throughout the pandemic. The sector's efforts should not only be recognised, but lauded – and its ability to respond to extraordinary crises like Covid-19 should not go underestimated or ignored in the future.
Disappointingly, the STV Children's Appeal report suggested that most organisations feel their above-and-beyond work this year has not been sufficiently valued. That's something that needs to change. We need to develop a greater understanding of the Third Sector's extensive capabilities.
Furthermore, the constructive relationship fostered between the Third and statutory sectors during the pandemic should continue to strengthen and evolve. The former eagerly stepped in when local authorities became overstretched, and the collaborative working between the two has been one of the great positives to come out of this crisis. Post-Covid, the Third Sector still very much requires a seat at the table, and clarity and support from the public sector will be more important than ever for charities as they start to rebuild.
For all its tremendous efforts, the Third Sector is undoubtedly facing an uncertain future. Charities are anxious that smaller organisations are going to be driven out by their larger counterparts, corporate support is going to dwindle and, fundamentally, an increasing demand on the services of the voluntary sector will coincide with a continued reduction in funding.
These are all valid concerns, and ones that we must overcome in order to move forward, cultivate a thriving Third Sector, and, in turn, improve the lives of the most vulnerable in society.
Baroness Margaret Ford is chair of the STV Children's Appeal, which has distributed over £24 million to support vulnerable children and young people in Scotland since its formation in 2011.
A message from the Editor:
Thank you for reading this article. We're more reliant on your support than ever as the shift in consumer habits brought about by coronavirus impacts our advertisers.
If you haven't already, please consider supporting our trusted, fact-checked journalism by taking out a digital subscription.