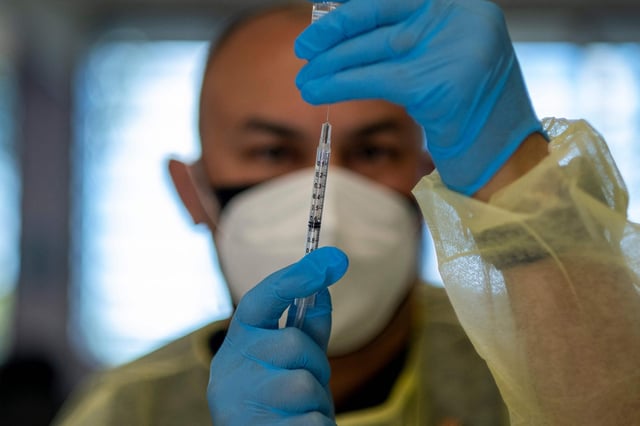 People who are more vulnerable to Covid should be given priority in the queue for vaccination (Picture: Ricardo Arduengo/AFP via Getty Images)
For example, in Scotland a decision was taken to prioritise the vaccination of people in care homes in particular, even though this meant that initially the total number being inoculated was lower than it otherwise might have been.
However, even if it slowed down the process, it was still the right decision to protect the most vulnerable as quickly as possible.
Now comes evidence from research by scientists at King's College London and the Francis Crick Institute that some cancer patients may need to be given a higher priority.
The study found that, three weeks after being given the first Pfizer vaccine dose, only 39 per cent of people with solid cancers and just 13 per cent of people with blood cancer had developed an antibody response.
However, if given a second dose three weeks after the first – as recommended by Pfizer – 95 per cent of patients with solid tumours had detectable antibodies.
In the UK, Covid vaccines which require two doses are being given up to 12 weeks apart to enable more people to have one dose more quickly.
The research has not yet been peer-reviewed and involved a relatively small group of people – 151 with cancer and 54 healthy controls – but should be viewed as a significant warning sign.
The researchers called for an urgent review of the vaccine strategy for extremely vulnerable groups and the authorities must respond quickly to this new information.
It could be the difference between life and death.