Covid: Are you with Boris Johnson or Jonathan Van-Tam on face masks? – Aidan Smith
Ach, he'd been doing so well. Jonathan Van-Tam had just been nominated the nation's favourite scientist thanks to a combination of straight-talking, quirky metaphors and the sneaking impression that despite his solemn countenance he might know one or two rude limericks.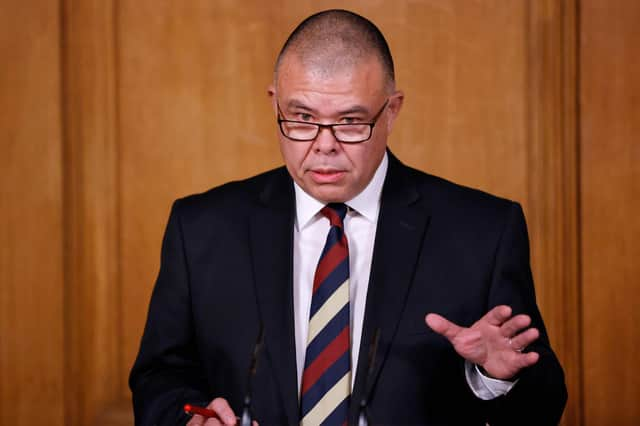 Indeed, it was probably the latter which had enabled Van-Tam, England's Deputy Chief Medical Officer, to shoot up the roll-call of the esteemed, the renowned and the cerebral: the "Chart of Lust" in women's mag Grazia.
But then he had to go and say that thing about masks. If you missed it, Van-Tam suggested at a pandemic briefing that we may never completely be rid of Covid and therefore will continue to wear face coverings. Boris Johnson, stood alongside him, was mildly appalled at the prospect and my first thought had been that this was Van-Tam's stink-bomb-in-the-chemistry-class moment. No more would the PM and his ministers be chumming up to the expert by calling him "JVT".
A sinister air
The Westminster government has shown they don't want too much boffinish circumspection and certainly not right now when they've got vaccines to boast about.
But, while unable to admit to ever agreeing with Johnson on anything, I share his consternation here. Imagine the world masked-up, at least part of the time, forever. What a horrible prospect that would be.
It's a look which suits the football yobs who've recently been bombarding their club's players with missiles at Celtic and those booing the honouring of Black Lives Matter at Millwall. Masks will be making identification of these culprits difficult but, on any street in any town, even a chocolate-boxy one in the Cotswolds beloved of weekending Tories, they will bring a sinister air.
Masks already make it impossible, in that neck of the woods, to smile at the owner of the outrageously overpriced general store following the purchase of an industrial vat of Hellmann's Mayonnaise – and for the rest of us shopping in Aldi to show similar gratitude.
Imagine, too, the harm masks worn indefinitely would do to children's schooling. Kids already struggling in class don't need their relationships with teachers becoming even remotely impersonal because they cannot see facial expressions.
Wild West gunslingers
In my wife's school, these are absolutely crucial. Her pupils all have profound and multiple learning disabilities. Under Covid, singing is banned in other schools but not among teachers here. Communication in many cases is non-verbal so the success of a day can hang on smiles and frowns. Staff had hoped to be supplied with clear masks but are having to battle on with the kind the rest of us wear, if we haven't left them at home or they've not been too scrunched up in the bottom of a pocket or bag.
Guaranteed to be 2020's defining image in sky-blue when newspapers and TV roll out their retrospectives of the year, what a change to our lives masks have wrought. Any child of the 1950s and 60s who spent their formative years in a cowboy outfit couldn't have anticipated having to don them again much later as a matter of extreme urgency.
I don't know if Johnson and JVT, both born in '64, had childhoods like mine but it is tempting to extend the Wild West analogy to them – not least because the latter likes extending his everywhere. In this, the PM is the hero running anti-libertarian varmints out of town, with the man of science as his sidekick.
JVT, since his face-off with the PM, has found support for ongoing mask use. Joe Biden is to ask all Americans to don one for the first 100 days of his presidency. Arguing this will see a "significant reduction" in coronavirus cases as a result, here is a pronounced shift in tone from the Trumpian bullishness which seemed to view the threat posed by compulsory mask-wearing to the tenets of the land of the free as greater than the risk to life from the virus.
Easily understood
The World Health Organisation are in tune with JVT as well. Wear a mask in the office, they insist, pointing out that it's not always easy to determine the quality of ventilation. If in doubt, they say, cover up.
Such a directive is unlikely to start a stampede back to workplaces. If my editor is scowling at me, I'd like to know this. But it seems like sound advice – for the time being at least.
Long-term, who knows whether we will become like countries where the wearing of masks is more commonplace. A friend – another teacher – tells me that while working in Hong Kong she was handed one by a pupil at the merest hint of a sniffle. It would be a big cultural leap for us to go that way and Johnson will believe his harrumphing at JVT the other day will chime with many. He thinks he knows "freedom-loving Brits" – him and Rita Ora.
But who doesn't reckon JVT talks the most amount of sense standing at one of these Downing Street lecterns? I like him and the other scientists, all the more when Johnson & Co, who'd been repeating daily "We're following the science", began to hide behind the mantra, eventually replacing it with the unspoken but clear sub-text: "Actually, we're blaming the science."
Van-Tam doesn't baffle us with it. His everyday terminology is easily understood. He likes his football analogies but not as much as his railway analogies. He wants this "wait for a train on a windy night" to be over as much as anyone. But as he's already told us, regarding the easing of restrictions: "Don't tear the pants out of it."
A message from the Editor:
Thank you for reading this article. We're more reliant on your support than ever as the shift in consumer habits brought about by coronavirus impacts our advertisers. If you haven't already, please consider supporting our trusted, fact-checked journalism by taking out a digital subscription.
Comments
 0 comments
Want to join the conversation? Please or to comment on this article.