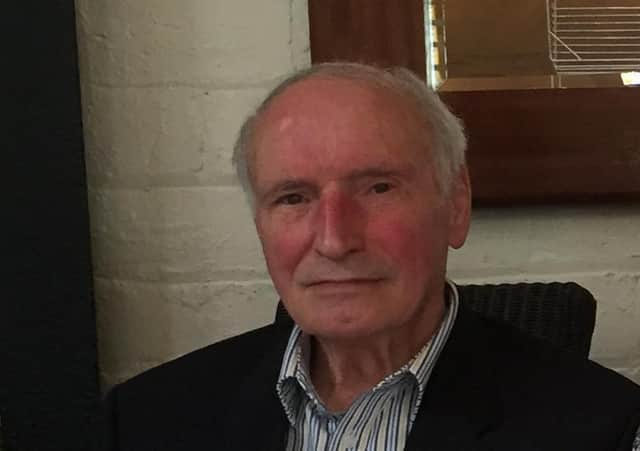 It would take a very hard heart not to be moved by 99-year-old Captain Tom Moore's sponsored walk for the NHS, or nurses applauding 106-yer-old Connie Titchen as she left a Birmingham hospital after surviving Covid-19.
She follows a 102-year-old in Aintree Hospital and several other centenarians around Europe who recovered, and it seems that for every depressingly tragic story like the death of heavily pregnant 28-year-old nurse Mary Agyeiwaa Agyapong there is another of an elderly person confounding the odds. But the statistics don't lie; the majority of coronavirus victims are in their 70s or older.
At 4.30am on Monday morning my phone rang, and without looking I knew it would be medical staff at Glasgow's Queen Elizabeth Hospital confirming my father would not be one of the apparently miraculous older survivors. He had died 20 minutes earlier.
Once again, as it had been all week, the invitation to visit was immediate and unquestioning; if I wanted to see him it was no problem. It would take me a couple of hours to get ready and drive over? Don't worry, we'll keep him here until you arrive.
Readers of this column last week might recall my quandary over whether to leave him to his fate or see him one more time in a ward pulsing with the Covid-19 virus and risk infecting my family. But when I took a call on Sunday afternoon to say he was approaching the end, it wasn't much of a dilemma at all.
The M8 was like the late-50s footage of the first cars driving on the M1, but security outside the hospital had tightened. Who was I, who was I visiting, which ward, asked the chap in the yellow jacket. My name wasn't on the list and maybe the Easter eggs I was carrying didn't look like I was there to see a dying man, but he took me to reception and was grateful I hadn't lost the rag. The desk lady asked if I was visiting or just delivering eggs and then couldn't get through to the ward. I called myself and straightaway the ever-cheerful Dr Megan answered. "Oh come on up, no problem," she said. The reception lady looked relieved.
The eggs duly handed over to the staff, and now masked and gloved, Megan took me in to where my dad lay, head arched back, mouth gaping and breathing intermittent, his body shrunken even further to his bones than the frail frame I'd seen the Wednesday before. There would be no line-up of clapping nurses when he left Ward 2A.
A complex, often troubled man
Another day on the ward, another Covid-19 victim. As she had clearly done several times before Megan quietly took me through the detail; the Vaseline around his lips to stop them drying out, the rattles, the moans, the sighs and pauses which might alarm the uninitiated but are all part of the natural process of dying, his life easing away with a steady lubrication of sedatives and morphine. The stuff they don't bother with in Holby.
Knowing the risks from a room with a coronavirus patient, she could have sung Bohemian Rhapsody, never mind two Happy Birthdays, so thorough was her hand and arm scrub before leaving. Then it was just me and my dad. I played him some music my mother said he liked, the Pearl Fisher Duet and the March of the Huguenots. He wasn't an Orangeman or a Mason because he thought anything religious or quasi-religious was hocus pocus, but he was an avowed Rangers man and, contradictory as it undoubtedly was, I think he liked the idea of French Protestants sticking two fingers up to the Catholic Church.
Ever since he saw Rangers play Moscow Dynamo in 1945, football was the only thing for which he had a consistent passion, but he was a complex, often troubled man and it rarely gave him much pleasure. The team was never good enough, the managers uniformly bad and only occasionally were players fit to wear the blue jersey; Brain Laudrup, Kai Johansen, Willie Henderson, Jim Baxter and Eric Caldow passed muster, but John Grieg and Davie Cooper were "too wan fitit". Only Puskas, who he saw play for Real Madrid at Hampden in 1960 was allowed to be one-footed. Ally McCoist was too fat and his face would harden at the mere mention of European medal winner Willie Mathieson. He took me to Ibrox as a little boy – never to Celtic games – with a folding stool to stand on, but heated arguments with other supporters always made it a nervous experience. As I'm sure has happened with thousands of Blue Noses in the departure lounge of life, the last music I played him was Follow Follow. Involuntary maybe, but he groaned.
He never regained consciousness and died ten hours later. Inevitably, pictures of centenarians waving as they leave hospital and doctors explaining on TV how they treat advanced pneumonia have made me question whether I let him down by not insisting more should have been done. His capacity to think for himself had gone, he couldn't be looked after at home without putting strain on my mother and he had a heart condition so when the consultant advised that tubes and wires would be distressing, the chance of success extremely limited, and a comfortable end was best for all concerned, I readily agreed.
In this crisis, I will be far from alone in facing this decision and its consequences, but each reply to the scores of extremely kind messages I received this week contained the same line; it's for the best.
My father's life was often tough, certainly in his formative years in the slums of Bridgeton, and his ambitions were thwarted. National Service in the army was blocked by TB and his apprenticeship as a draughtsman was cut short when his father died suddenly and he had to help my grandmother with her shop. The last 25 years of his working life were spent driving a taxi which he hated.
He loved my mother and was proud of me and my sister, but was infuriated by most of what he saw around him and often made his life more difficult than it needed to be. But in his last days, age and illness diminished the bitterness, the angry man raging against the storm replaced by a timid shadow of what was once there. Letting him go in peace was the best thing his son could have done.