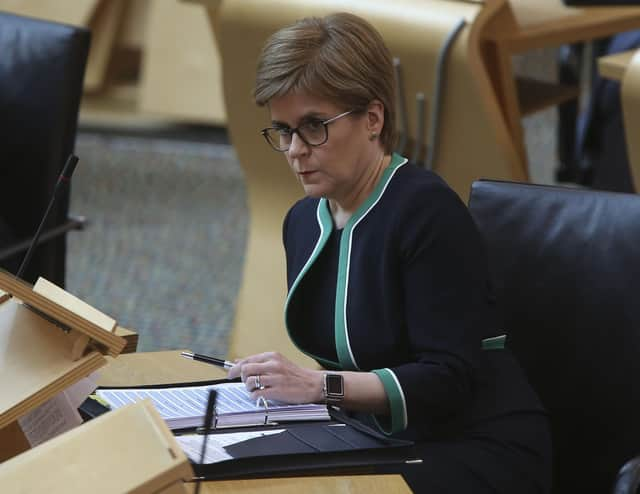 One of the cleverer songs circulating on social media includes the line: "I hope Boris Johnson recovers completely, so we can call him a d******* again."
Fair enough. However, the Sunday Times did not observe that courtesy and put the boot in hard with alleged insights into errors and confusion in the Government's handling of Covid-19 in February and March.
It consisted largely of unattributed quotes which experience has taught me to associate with grinding axes. One observer suggested: "The only thing it gives us insight into is hindsight."
I tend to agree. There will be plenty time for inquiries and much to inquire into. But is this the time for finger-pointing – unless it serves the urgent purpose of highlighting failings which demand to be addressed?
In a paper which is equally critical of Whitehall and Edinburgh governments for delays in responding, Scottish academics Professor Allyson Pollock and Dr Louisa Harding-Edgar say that big events should have been banned much earlier. They are probably right.
In conscience, I confess that my own last public outings were to Celtic Park and Murrrayfield on March 8 and 9 respectively. There was no public mood at that time that these events should be cancelled. So can we really blame politicians for not acting?
The impressive Pollock/Harding-Edgar paper also says there should have been far more testing and tracing in parts of the UK, including Scotland, before the virus hit, with powers devolved to local authorities and health agencies.
It is important to register these conclusions before they get lost in the mists of time but the primary objective should be to learn from them here and now. Or to have "grown-up conversations" around them, to adapt Nicola Sturgeon's quote of the week.
She was, of course, applying it to planning for an end to the lockdown. In PR terms, it gave the impression of frankness. In reality, it is a well-written statement of the current position which adds nothing to the sum of human knowledge. But let's have a conversation around it anyway.
By definition, conversations must have more than one participant and others involved must help choose the subjects. Once again, the objective should not be to recriminate or apportion blame but to learn lessons and do things better.
The best attempt at a "grown-up conversation" I heard this week came from Gary Smith of the GMB union who was allowed a BBC Scotland sound-bite of righteous anger to call out the "national scandal" of patients being discharged into care homes without testing for Covid-19. This reminded me of my fellow-columnist John McLellan's description of the same thing happening with his father, who was displaying a coronavirus symptom. So extraordinary did this seem, that John added: "Yes, you read that correctly..." That was two weeks ago.
Small wonder Mr Smith is bemused that it should still be happening, to the danger and detriment of residents and his members. The "grown-up conversation" required here is directly between those in the frontline and policymakers behind the podiums. Intermediaries cannot properly represent first-hand experience.
I have been puzzled for weeks by the Scottish Government's dismissive attitude towards testing, since 'testing, testing, testing' has apparently been key to success in Germany and South Korea. It is also advocated by Scottish experts like Hugh Pennington and Sir Harry Burns.
We need a grown-up conversation about why we have tested fewer than one per cent of Scotland's population. Is this a strategy? Is it a mistake? Can it be corrected? There are plenty people better qualified than MSPs or journalists limited to one question to inform that conversation, so let's engage.
Both UK and Scottish governments should embrace "grown-up conversations" but the agenda must be set from the frontline, not by politicians on their own very limiting terms.
This also applies to the "opening up" agenda. Getting it right is a daunting challenge but if the conversation is to be balanced, it must include those who see dangers in ultra-caution as well as in excessive optimism.