Covid-19 conspiracy theories pose a danger to public health that cannot be dismissed lightly – Martyn McLaughlin
A Scottish group protesting against wearing masks and the use of vaccines is couching its hardline conspiracy theories with moderate messages and familiar slogans. That should concern all of us, writes Martyn McLaughlin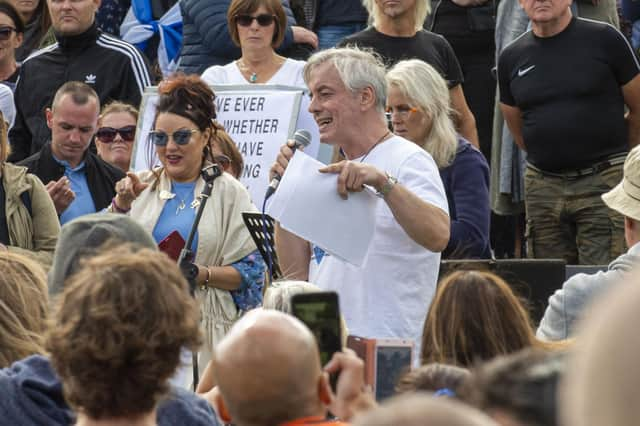 There is an understandable temptation to dismiss or downplay the anti-mask, anti-vaccine Saving Scotland demonstration held outside the Scottish Parliament at the weekend, which railed against so-called globalist hoaxes and sought to propagate conspiratorial tropes involving Bill Gates and the Rockefeller Foundation, which have been circulating online for months.
With lockdown restrictions tightening across swathes of the country, there is an appreciable fatigue and frustration at how Covid-19 continues to turn ordinary life upside down. People are seeking out respite from a chaotic reality. There will be several more detours and delays on Scotland's route map out of the pandemic before we can say with any confidence that the home straight is in sight.
The Holyrood protest, however, was not simply the symptom of public irritation. Several hundred people turned out to hear dangerous misinformation being peddled, with speakers attempting to refute the scientific evidence for social distancing. But more than that, it provided a platform for those who pointed the finger at Scotland's political class, and called for MSPs to be held to account at next year's Holyrood elections.
What made this particular rallying call striking was the fact it emanated from an elected politician who has held public office for eight years – Paddy Hogg, who represents the Cumbernauld East ward on North Lanarkshire Council. I ran a story on Monday detailing how Mr Hogg was the ringmaster of Saturday's event, during which he chided the mainstream media for refusing to give Saving Scotland's views prominence. At the time of writing, more than 24 hours have passed since I emailed Mr Hogg and left him a voicemail. He has yet to reply.
Perhaps he is too busy developing what he calls his "different narrative" around coronavirus. Or perhaps he is simply attending to his public duties. As well as promoting conspiratorial nonsense and alternative health theories, Mr Hogg is a member of North Lanarkshire Council's community safety partnership forum, and its education and families committee.
The fine people of Cumbernauld will have to wait until 2022 before deciding whether Mr Hogg is fit to continue to represent them. In the meantime, it is galling that the local authority has not condemned his reckless views, instead observing that councillors are free to express their own opinions. That is an established and valued protocol, but at a time when a pandemic is raging, with a sharp spike in cases in the very region Mr Hogg serves, it seems a meek and negligent response on the part of a public body with myriad statutory duties.
Like many who have passed through Motherwell, Mr Hogg may in any case aspire to greater things. He has promised that he and the Saving Scotland movement will be waging more "campaign battles" in the future, which is an interesting choice of phrase. What exactly is the end game of those who seek to harness the growing distrust among coronavirus 'truthers'. Could it mutate into, or inspire, a political force?
If the very idea seems laughably implausible, consider how absurd it would have sounded back in 2015 to air the notion that, in just five years' time, the president of the United States would be praising the followers of QAnon, a group which claims 5G mobile networks are spreading the coronavirus, and insists a cabal of Satanic politicians and A-list celebrities are working with governments the world over to engage in child sex abuse.
Much is made of the role of the internet and social media in furthering disinformation and conspiracy theories, and while that is one of the defining dilemmas of our age, the Covid-19 example is not exceptional. The psychological trigger for such nonsense is as old as the hills.
A key element is what is known as group attachment; in other words, people side with factions, believing their group's aims to be just and right, and those of the opposing side to be malicious and deceitful. It's a simple enough conceit, and a recognisable one in the hyper-partisan battleground of Scottish politics.
It has been interesting – and concerning – to see the language with which anti-mask and anti-vaccine groups have been amplifying their messages. Buzzwords and well-worn rallying calls from the independence movement have been co-opted and weaponised. 'Freedom over fear' is one slogan mentioned on the Saving Scotland Facebook page.
The familiarity – and indeed, the power – of such phrases can garner unthinking support, particularly among those already inclined to turn their backs on our shared reality at a time when there are no straightforward answers. There is also a danger of conspiracists using more moderate messages to draw in an audience and create the illusion of credibility.
The Saving Scotland group is a good example. On its newly launched website, it makes a series of demands of the Scottish Government. The mix includes a slew of suitably vague and middle-of-the-road behests, such as a national reconstruction plan for jobs and the economy, and a national campaign of food independence, realised through the creation of thousands of allotments. Granted, the last one sounds a bit like on-the-hoof, Thick of It-style policy plucking, but it could sit easily in a mainstream political party's manifesto without raising an eyelid.
Which is not to say they would obscure the group's primary motivations – an insistence that there be no mandatory wearing of face masks or Covid-19 vaccinations, and a call for an independent inquiry into "WiFi radiation health damage in schools" – but they certainly serve to sugar the pill.
It may be that Mr Hogg and Saving Scotland do not seek to field candidates joining their chorus of moon howling. It may be that they don't have to. Conspiracy narratives are being shoehorned into the mainstream political discourse across established democracies, and we should not be so complacent as to presume that we are somehow immune.
There is no simple solution to countering this, but those peddling wild, conspiratorial views which endanger others must be explicitly and repeatedly condemned, especially if they occupy public office.
A message from the Editor:
Thank you for reading this story on our website. While I have your attention, I also have an important request to make of you.
The dramatic events of 2020 are having a major impact on many of our advertisers - and consequently the revenue we receive. We are now more reliant than ever on you taking out a digital subscription to support our journalism.
By supporting us, we are able to support you in providing trusted, fact-checked content for this website.
Joy Yates
Editorial Director
Comments
 0 comments
Want to join the conversation? Please or to comment on this article.