Could 2023 be Nicola Sturgeon's last as First Minister? - Murdo Fraser
There is a photograph of Nicola Sturgeon, working on papers with her shoeless feet tucked up on the sofa, that looks as if the First Minister is recreating one of Lady Thatcher's most famous poses.
But as 2023 begins there may be another form of imitation that Ms Sturgeon might not wish to follow – the possibility of being removed from office not by the electorate but by members of her own party.
Certainly she does not start the year as strongly as she did the last. If she did, Ian Blackford would still be leading the SNP group at Westminster and would not have been usurped by Stephen Flynn. Amidst all the talk of the legality of a second independence referendum, the SNP at Westminster seems to have declared a Unilateral Declaration of Independence without letting anybody else have a vote.
Back in 1990 when she was dethroned, Mrs Thatcher faced three issues. Firstly, the fact that she appeared never willing to demit office. Secondly, on the long term issue of Europe, she spoke in a way increasingly at odds with other senior members of her Party. Thirdly, in the short term there was the unpopularity of the poll tax. The mix proved toxic and politically fatal.
Ms. Sturgeon has u-turned on hints that she might step down. Now she is pledging to go on and on, the much vaunted, or delusional, international job having not materialised.
On her core issue of a referendum there is not the unity in the SNP that there once was. Since 2014 Ms. Sturgeon has, on an annual basis, offered her party faithful another vote sometime next year, just over the hill. Now her members are asking when.
The Supreme Court, as we all knew it would, said the Scottish Parliament does not have the power to call one on its own. So now she says the next General Election will be a 'de facto' referendum. Her own party has even more doubts than the general public on that one. She is looking as though she is losing her grip on her own party's agenda.
Does she have an equivalent of the poll tax? Gender recognition does not have, for now at least, the cut-through of an issue like that. But with intelligent, principled opponents in her own Party like Joanna Cherry and Ash Regan, that does not mean that the First Minister could not get cut in a fight over it. It is certainly not an issue that is closed.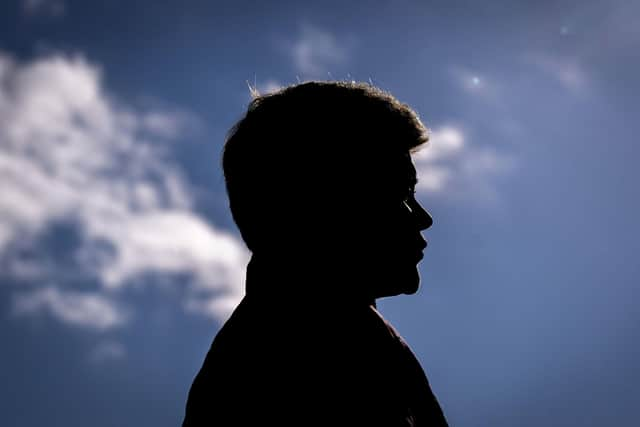 Margaret Thatcher of course was loved by her supporters and regarded as 'that bloody woman,' by her detractors. But the real moment came when Mrs. Thatcher ran out of room to manoeuvre. The old magic had gone.
Since becoming First Minister in 2014, the First Minister has shown little interest in actually governing Scotland. She has allowed our schools and hospitals to wither. Our public services and our economy have been left to rot. When called to account, Ms. Sturgeon has always used the question of a referendum as cover. Blaming Westminster has been her sword and solace. She has been able to retreat to the fortifications of her own supporters who will forgive her failings running the country in the name of the cause of independence.
But that territory is not as welcoming and fertile as it once was. Her own side question her strategy and tactics. Some doubt her commitment to the cause. Without that bolt hole, Ms. Sturgeon is exposed on her domestic performance.
Now that some of the statistics have been corrected, we now know that the NHS in Scotland is not doing better than the rest of the UK - it is doing worse. With more money to spend per patient than south of the Border – thanks to the Barnett formula - her performance has been a failure.
In the short term she and her hapless, helpless Health Minister Humza Yousaf, have avoided the cameras. But they cannot always do so.
It is now common Holyrood gossip that Ms Sturgeon appointed Mr Yousaf knowing he was not up to the job but thinking the experience would damage his chances of challenging her for the leadership.
Things have gone even worse than she must have thought. But can she do as she ought to and sack him? Would he seek vengeance for a shattered career if she did? And who would want to succeed him in such a task on behalf of such a First Minister?
Her predecessor, Alex Salmond, prided himself on leaving himself options to adapt to circumstances. On health, and with most of our public services, Ms. Sturgeon is in a cul-de-sac.
Reality is beginning to bite even in Bute House. She cannot rely on her independence army gathering around her because that which has not melted away is now split.
However the polls fluctuate, one thing remains constant – a majority of us do not want a referendum any time soon, with 52 % of us opposed to another ballot this year, however we would vote in it. But we do want an ambulance to come when we call one. A doctor's appointment when we need one. Treatment, relief, when we are suffering.
Ms. Sturgeon's supporters forgave her failings in government, because they believed in her ability to deliver their overall goal of leaving the UK. Now that seems as far away as ever. Now they doubt the route map the leader has drawn and re-drawn and re-drawn over the years. Now there is just the reality that Ms. Sturgeon has failed to govern Scotland effectively and failed to advance their cause.
Should we be imagining tears through a car window as it drives away for that last time? It is a striking image that might just be repeated earlier than we thought.
Murdo Fraser is the Conservative MSP for Mid Scotland and Fife