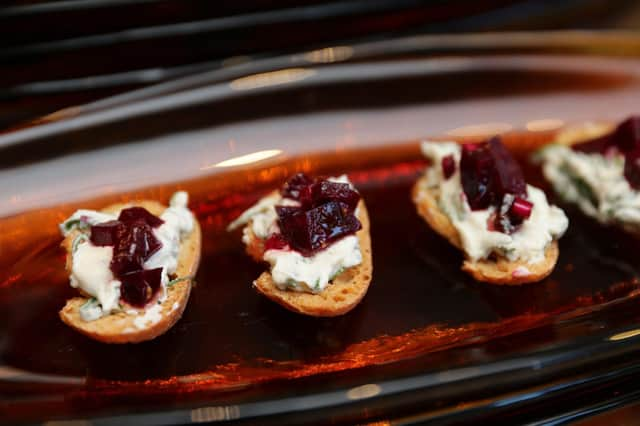 The New York City-inspired joint opened in December, conveniently right next door to Kelvinhall Underground in Glasgow, in the sizeable space which includes a beer garden at the rear. Amy Glasgow, reviewing for the Westender freezine, caught it during a busy moment and reckons the place is "definitely a bar that does food, rather than a restaurant that has a good drinks menu".
When I visited on two successive Friday lunchtimes, for leisurely sit downs, both times I saw only one other table seated. Perhaps, I thought, it was more an after-work drinks kind of joint. Slow lunch custom doesn't bode especially well for the food. But the pizza I ordered on both occasions arrived fresh, piping hot, and moreishly crisp, and it went down particularly well with a breakfast margarita tinted the same sunset hue – from blood orange juice and a splash of aperol – as the table it was placed upon.
It's a good-looking place, and relaxing too. Unobtrusive screens silently play glamourous clips and gangster movies; a cubby bar, in the front room, has a quirky tuck shop vibe. But I wonder if the bistro-style curtains on the windows make passers-by shy of trying the heavy door to check if it's actually open during the day. It looks, from the outside, more formal and fussy than it really is. Envisioning myself a repeat customer, I hope it takes off for its food alongside the cocktails.
Still thinking about that burrata, a couple of weeks later I ended up at the west end branch of popular pizza joint Paesano for the first time in a long while and was less impressed by their more rubbery offering plated with unsweet cherry tomatoes. You win some, you lose some – and the pizza still hit the spot. But it was a good reminder to seek out the new, to patronise establishments still finding their feet and doing their best to beat the tough post-Covid, high-cost-of-everything trading conditions; and all the better if they exceed expectations, instead of simply meeting them.