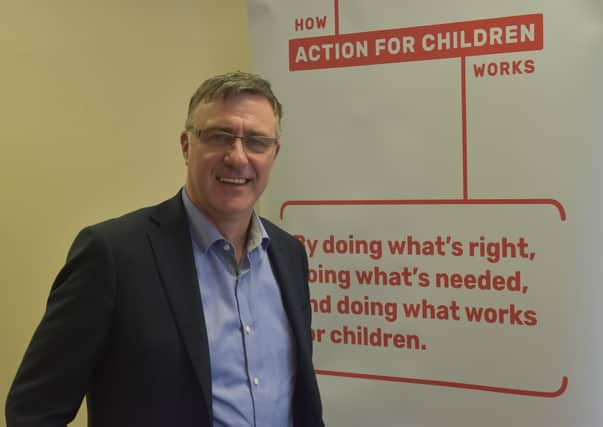 Since lockdown restrictions were put in place, demand on our 87 services across the country has increased. Many of the vulnerable families and young people we work with were already struggling and only "just coping" before the pandemic started. Many also experienced a 'poverty premium' through costly tariffs, pre-payment meters, high credit rates and inability to bulk buy food.
As such, their needs were already significant. However, there has been a substantial escalation of need, meaning many of those same families and young people are on the cusp of crisis.
In recent weeks, staff have been able to draw upon resources from our own Emergency Appeal as well as the Scottish Government's Wellbeing Fund to deliver vital assistance to these families. These funds have allowed us to engage quickly and effectively – with pace, agility and flexibility – to meet those needs and provide invaluable, and immediate, support.
Just as important has been these doorstop visits giving us eyes on those families that are considered vulnerable and who may be struggling and who require extra help. That face-to-face support has always been a key part of Action for Children's work. We pride ourselves on that relationship-based approach and while the outbreak of Covid-19 has seen us adapt our way of working, the level of support we provide has not changed.
The network of relationships which exist between Action for Children workers and families in communities across Scotland has provided a platform for engagement and trust. It has also allowed families to reach out and get support with some of the more challenging aspects of lockdown, helping to ensure that their children's needs are met.
Whether that is assisting families with shopping and picking up prescriptions, supporting autistic young people with routines and boundaries, virtual parental courses through to online learning and employability support for young people, we've adapted our methods to be there for those who need us most.
It has been heartwarming, especially in these current times, to hear about the efforts our projects across the country and how they are working. In Moray, the team at AB56 project heard from some families concerned about home schooling, so staff are now working with education locally to distribute learning packs. Our STAY project in Glasgow and Inverclyde, which supports care-experienced young people in the college setting, is distributing laptops to young people to allow them to continue their studies. At a school-based project in North Lanarkshire, staff have gone from working with the child in school to providing support to the whole family who are suffering from loss of employment and family bereavement at the same time.
Added to that, workers at projects in Upper Nithsdale, Dundee, Clackmannanshire, East and North Ayrshire, Paisley, the Borders and the Western Isles amongst many others, have been distributing food vouchers and money for heating. This is a vital help to families who had been worried about how to afford to feed the household and heat the home. That will ease worries and allow families to be able to spend time together without worrying about things that many of us take for granted. The list is almost endless, but what is endless is our commitment and drive to ensure every child and young person in the country has a safe and happy childhood and the foundations they need to thrive. That is the commitment shown day in day out by Action for Children's staff, our now collective key workers.
So, as Covid-19 continues to dominate our day-to-day lives, I remain incredibly proud of the efforts of staff who continue to work with vulnerable families and young people even during these challenging times. Like other key workers, they are providing much-needed support to those who are in the most need. These efforts are undoubtedly a key part of the collective effort to get through this pandemic and help Scotland return to normal or indeed to be part of the new normal. It is only right that they continue to be recognised and celebrated. As a nation, we owe a debt of gratitude to these selfless workers.
Paul Carberry, Action for Children director for Scotland.