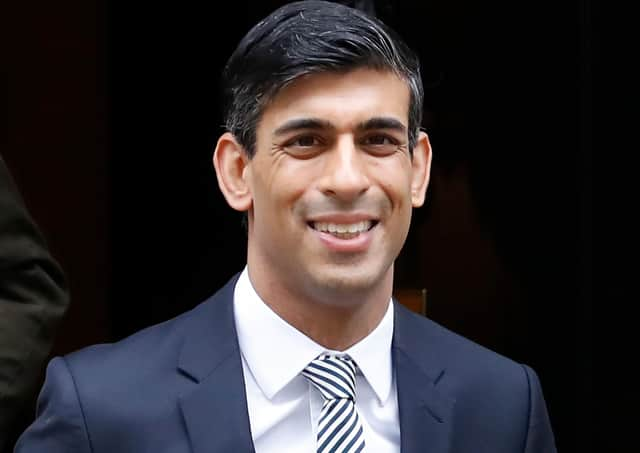 The measures introduced thus far by Rishi Sunak have been breathtakiing in their scope (Picture:Tolga Akmen/AFP)
Not surprisingly, hospitality ­businesses have been in the front line, with a total collapse in the number of bookings, and cancellations of virtually everything happening in the next three months. One Perthshire hotelier told me that in one day he had lost £80,000-worth of business.
With the Government having now said that all pubs, hotels and restaurants must close, except for those providing accommodation for essential workers, we are facing a crisis of unprecedented ­proportions.
It's not just in the hospitality ­sector that we are seeing these problems – high street retail is shutting the doors, and with workers being encouraged to stay at home unless it is absolutely necessary to leave the house, there will be a knock-on effect right across the wider ­economy.
There are some sectors doing well out of the current crisis. Food retail is booming, with the large supermarket chains currently looking to recruit thousands of additional workers. Anyone involved in home delivery services, like Amazon, are seeing a peak in demand. Online alcohol sales are going through the roof.
Government has a responsibility
Before the latest lockdown announcement, soft fruit farmers around where I live in Perth were looking to recruit seasonal workers for the summer, given that normally available labour from Eastern Europe is unlikely to be able to ­travel here in time this year.
Against this background, Government has a responsibility to try and prevent economic collapse. The measures thus far introduced by the Chancellor Rishi Sunak have been breathtaking in their scope. We have seen hundreds of billions of pounds pledged to help businesses survive, including an unprecedented commitment from the Treasury to pay 80 per cent of the wages of staff who are being retained. This measure provides not only the security needed to businesses to retain their workforce, but also assurance to individual workers and their families that their household incomes will be maintained.
The British Business Bank is, from Monday, arranging the provision of soft loans to assist businesses with cash flow issues, and in addition VAT and tax payments are being deferred. The Scottish Government has announced that business rates will not be collected for the coming year for those in the most affected sectors, including retail and hospitality.
Boris Johnson is often pilloried by his left-wing critics as a "hard-right Prime Minister", but the actions of his Government so far have ­demonstrated that this label is ­totally unjustified.
What he and Rishi Sunak have done is take measures which are emblematic of a true One-Nation Conservative administration, being prepared to use the powers of the state to intervene to protect the economy, and to provide direct assistance to affected individuals and families. It is hard to see a government of any other political persuasion being any more bold and ambitious than the current Conservative administration has been.
When we get through the current crisis, and get through it we will in due course, there is a great deal that will be different. Politics will have changed substantially, not just in the way that we view Boris ­Johnson and the UK Government, but in the way we consider the relationship between the UK and Scottish administrations.
It has been so refreshing over the past weeks to watch the constitutional squabbles disappear, and Scotland's two governments ­working together for the benefit of the people. Let's not go back to what we had before.
Our economy is going to have changed too. Already we were seeing a rapid decline in high street retail, a trend which will have accelerated dramatically during this crisis. I suspect a recovery to traditional shopping patterns is going to be a long time coming, and any government looking to reinstate business rates as they previously existed will face serious challenges. The pub and club sector, another area of the economy already under pressure, may have to find very different ­business models for the future.
For now, however, the focus is simply on keeping afloat. In that respect, we are fortunate to have a government, and a Chancellor, who are prepared to do whatever is ­necessary to keep things going.
Murdo Fraser is a Conservative MSP for Mid Scotland and Fife.