Coronavirus: OK computer, we're going live… now – Kevan Christie
Communicating with everyone through the magic of the screen is the new norm, so no pants on the head, says Kevan Christie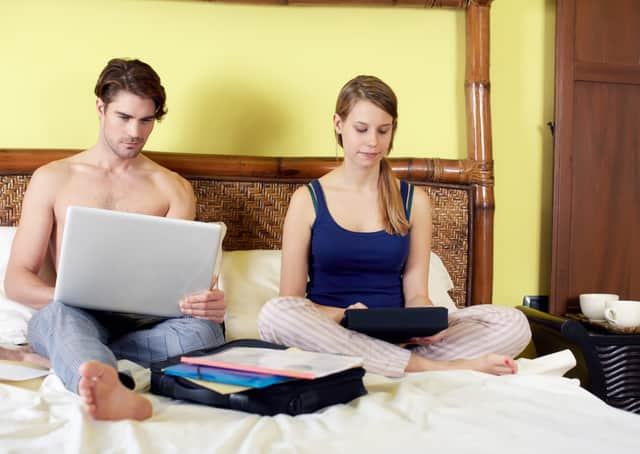 Talking remotely to family, friends and colleagues is quickly becoming the new norm.
Someone once said 'write what you know'.
Well, I'm following that maxim to the letter today dear readers, as I pen this to you live from the Man Cave in the Southfork mansion – ahead of the daily Google Hingoot meeting with the Hootsman work colleagues.
It's taken me a few days to get the hang of this malarkey but I've overcome my default setting – socially awkward, middle-aged Scottish guy – and have told my agent Fat Barry to now say yes to requests from the likes of Kay Burley to appear on Sky News, while talking to a computer screen.
I have to confess I 'virtually' learnt the hard way when a few months back I appeared in front of senior management on a Google Hingoot, fresh out the shower, sitting on the bed, hair wet, in a T-shirt and my best Alan Whickers. Thankfully not the wife's… keep it clean. "Alright Mr DeMille, I'm ready for my close-up."
But now I'm enjoying watching my dishevelled work chums wipe the sleep from their eyes and the cornflakes from their sweatshirts of a morning – while stealing a sly keek at their bookshelves and artwork.
It's a serious business looking serious and I've replaced the Martina Cole collection with a couple of Martin Amis novels to keep up appearances.
Luckily I had the good sense to take down my framed Athena 'Tennis Girl' poster that sits behind the desk chair in range of a wee camera thingy on top of the old laptop.
I'm toying with the idea of colour coordinating my bookshelves but that's a dangerous road to go down – that could end up with you ironing your own socks.
'First impressions are lasting impressions… I know.'
Anyway, having previously been used to receiving top story tips by way of carrier pigeon, the work WhatsApp group has been awash with up-to-the minute details of empty supermarket shelves and the latest businesses to close their doors during the 'you know what'.
A sensory overload with skill required to pick out the genuinely useful info from the tittle -tattle as the media springs into overdrive in a bid to live up to our newly acquired 'key worker' status.
Meanwhile, on the homefront I've taken matters into my own hands in Crossgates lately given the criminal lack of a quasi-paramilitary police force like the Guardia Civil or the Carabinieri to enforce the recent government restrictions and maintain strict order.
I can report that during my one-hour daily constitutional up to Hill o'Beath this morning on the outskirts of Cowdenbeath I spotted the following:
Three guys in Lonsdale tracksuits, no doubt purchased from Mike Ashley's Sports Direct charitable foundation talking and smoking outside the Ex-Servicemen's Club.
This was in direct contravention of the 'no more than two guys in Lonsdale tracksuits shall congregate anywhere' rule brought in this week and was duly noted your honour.
A total of 14 folk out walking their recently purchased dogs with at least five of the beasts falling into the 'Devil Dug' category and a couple or three lycra-clad cyclists, giving it their best Lance Armstrong while no doubt looking for a project to manage.
I ventured to keep order while bellowing 'Morning!' to anyone who dared come within my self-imposed 15-metre exclusion zone and made to swat away intruders with a copy of the Daily Mail I had tucked under my right arm. Good for morale.
Unfortunately I had to cut short the exercise when running out of pavement on my way up to the Mossmorran chemical plant to keep a watching brief on proceedings should they decide to start the flaring again on the fly.
I about turned lest I soiled the handmade Spanish loafers I was wearing and gave the local shop where I normally buy my Scotch pehs a bodyswerve as there were way too many people in there – not observing the two-metre rule.
I have now reported all and sundry via the Poileas Alba 101 community hotline which I have on speed dial – with the officer promising to do another sweep of the British Legion to make sure none of the wee stoners are round there in their Vin Diesel motors smoking the funny fags.
I can't write about what I know this week anyway – without giving the Queen of Pop Madonna a mention.
Her Madgesty did not disappoint as she answered the clarion call to jump naked into a bath full of rose petals, lavender and a full pint of semi-skimmed milk.
It was nice of her to share her bath night with us and her musings on certain things – I just hope she didn't stay in there too long before her fingers went a wee bit wrinkly.
No the self-isolation, social distancing, schtick is all I've got in the locker this week folks.
It's not bad at the minute while the novelty of working from home is still fresh but that's bound to change a bit in the coming weeks with the underpants going on the head and the pencils up the nose.
It's a weird time for us all but 'this too shall pass' and in the meantime we're going to all have to get used to communicating with friends, family and workmates through a computer screen.
At least now we have a heightened sense of what we're missing.
Stay safe and wash yer hands.
Want to join the conversation? Please or to comment on this article.