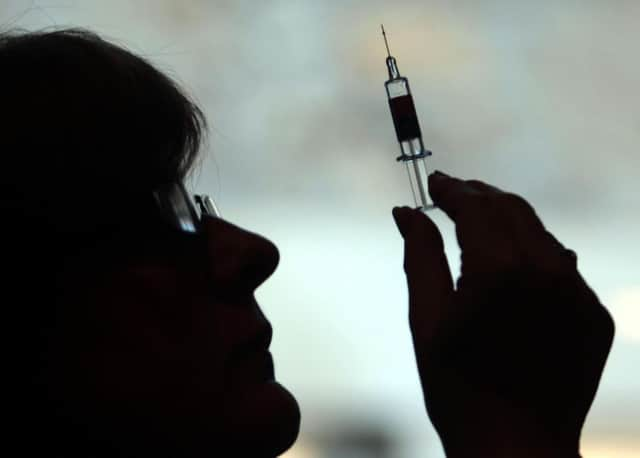 The UK Government has signed deals for nearly 200 million doses of various Covid-19 coronavirus vaccines in development. (Picture: David Cheskin/PA Wire)
After what has been a torrid, anxiety-ridden year so far, it is heartening to find a little hope in the news that the University of Oxford's work to produce a Covid-19 coronavirus vaccine is on the right track.
The vaccine, produced from a genetically engineered virus that causes the common cold in chimpanzees, has been shown to produce antibodies and T-cells capable of fighting the virus.
It is, however, very early days, and scientists still do not know if the response is sufficient in order to protect people. The study's main purpose was to establish whether it is safe to administer the vaccine; not whether it can prevent those who receive it from falling ill.
The reality is that the odds are stacked against the trial. For all the great leaps made by science in recent decades, the creation of vaccines remains a notoriously difficult endeavour, with 95 per cent of all attempts doomed to failure.
That explains why the high-profile Oxford trial is merely the tip of the iceberg in the search for a vaccine. There are around 140 candidate vaccines currently at the preclinical evaluation stage, with 23 clinical trials underway, according to the World Health Organisation (WHO).
That, in turn, might explain why so many countries are embarking on a strategy akin to spread betting in order to try and secure a successful vaccine as and when it becomes available. In addition to the 100 million doses it has ordered from the Oxford trial, the UK Government has signed deals for a further 90 million doses of vaccines being developed by pharmaceutical firms BioNtech, Pfizer, and Valneva.
Only a handful of nations can afford to commit major sums of money to such speculative investments, and in a world where narrow nationalist interests increasingly prevail, that is a worrying prospect.
If it seems overly cynical to think that the wealthiest nations will reap the greatest benefits of a vaccine when fighting a vicious new infectious disease, the way in which the world dealt with the last pandemic ought to offer a dose of reality.
With the H1N1 swine flu killing hundreds of thousands of people, Australia was the first nation to roll out a mass immunisation programme thanks to a vaccine breakthrough by CSL, a firm specialising in blood plasma products.
It was CSL, a private firm, which had agreements in place to distribute the vaccine across not only Australia, but the likes of New Zealand, Singapore, the US, and Canada. In turn, each of those governments entered into manufacturing contracts with pharmaceutical companies to produce the vaccines.
The result? Nearly £90m in H1N1-related revenue for CSL, and a wait of several months for those poorer, developing nations, who were by and large forced to rely on donations of vaccines and antiviral drugs from leading companies and a handful of rich nations.
Such a system was imperfect and unfair a decade ago, and it is hard to see how things have not got significantly worse since then. One of the most substantial donations of swine flu vaccines came from the US, which under President Obama, distributed 10 per cent of its vaccine supply. "The US recognises that just as this challenge transcends borders, so must our response," read a White House statement.
Having already severed its ties with the WHO, it is difficult, if not implausible, to imagine the Trump administration emulating such an approach. It has pumped significant sums towards the creation of a vaccine, and purchased virtually all of the world's stocks of Remdesivir, a drug shown to help people recover faster from the disease. Its isolationist stance means it is unlikely to measure the success of that investment by any metric other than profit or pride.
Similar questions must be asked closer to home. Kate Bingham, chair of the UK Vaccine Taskforce, has insisted the UK Government is not pursuing a strategy of so-called 'vaccine nationalism', and that its efforts are designed to ensure that all those who need a vaccine, no matter where they are in the world, receive it.
Unfortunately, it is not in her gift to make such decisions, and having opted out of the European Union's vaccine scheme, the UK is effectively entering into competition with such multilateral efforts.
Even if a vaccine is offered for sale on the open market, there is every chance that poorer countries will be priced out. Luigi Ceccaroni, a volunteer who signed up to participate in the publicly funded Oxford University trial, has raised some prescient questions around the distribution agreement signed by the university with AstraZeneca.
That agreement has not been made public, and both the university and AstraZeneca have only said they will operate on a not-for-profit basis for "the duration of the coronavirus pandemic". There is a significant difference, however, in how long the pandemic lasts, and how long the Covid-19 virus remains a threat. AstraZeneca has said it is "too early" to know if a vaccine will be needed on a regular basis in years to come, and that "it is too early to comment on pricing post-pandemic."
These twin dangers of profiteering and vaccine nationalism threaten to complicate and prolong the already considerable task of reducing coronavirus transmission. It not only carries the risk of bringing about countless avoidable deaths in poorer countries, but of causing continued economic pain with further disruption to global supply chains.
Sadly, it is purchasing power, and not the risk of transmission, that will determine who will benefit from the first successful vaccines. The prospect of a collective, equitable approach to a global public health crisis is even more remote now than it was during the swine flu pandemic. The rise of nationalism has played a large part in this grim trend, and the world's poorest are the ones who will suffer.
A message from the Editor:
Thank you for reading this story on our website. While I have your attention, I also have an important request to make of you.
The dramatic events of 2020 are having a major impact on many of our advertisers - and consequently the revenue we receive. We are now more reliant than ever on you taking out a digital subscription to support our journalism.
By supporting us, we are able to support you in providing trusted, fact-checked content for this website.