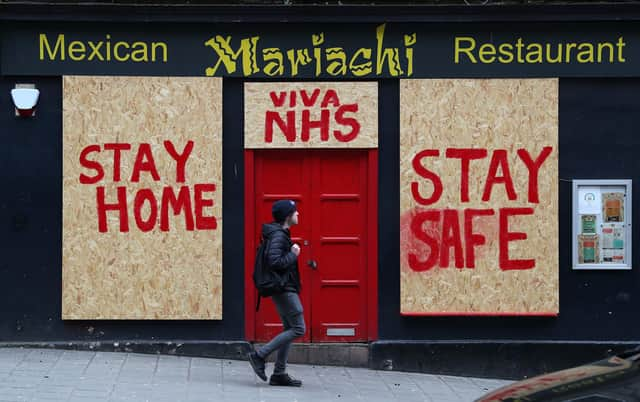 A boarded-up restaurant in Edinburgh has been painted with a message supporting the NHS as the lockdown continues (Picture: Andrew Milligan/PA Wire)
Week six of the lockdown and, after the latest grim coverage on the nightly news, we may be losing the will to live. What is the point, as the harrowing interviews with relatives of the care home bereaved continue one after another?
In this daily cascade of tears and grief, we are left helpless and numbingly depressed, barely able to absorb any other item of news after a particularly intrusive close-up of a family's loss.
At this stage, we could do with a more calm analysis of the Covid-19 numbers, and less emoting, particularly by the BBC, whose nightly interviews with mourning relatives have become almost too pitiful to watch.
There is not a household that does not have huge sympathy for the loss suffered by relatives, particularly the old and vulnerable. But it is the constant repetition of interviews with the bereaved that has turned this into a continuous incantation of helpless grief.
We know how awful it is, but this repetition has become unwatchable, like an extended broadcast from a funeral home. At this stage, what we need is a more dispassionate discussion of the numbers and trends – and why care homes have become so vulnerable.
The rolling weekly average looks to be coming down. But earlier this week University of Cambridge statistician Sir David Spiegelhalter claimed that more people may be dying of coronavirus in care homes than in hospitals already. He said the numbers of care home deaths are still climbing as government statistics show hospital fatalities are trailing off and spoke of "massive, unprecedented spikes" in the number of people dying in nursing homes.
So are we really at or past the peak? If we have reached a peak when was it exactly? In terms of numbers of deaths – critical in the debate over the timing of the end of lockdown, the peak was reached several weeks ago – in London on April 4, and for the country as a whole on April 8.
Data from the Oxford University's Centre for Evidence-Based Medicine (CEBM) suggest that infections peaked on March 18 and that new infections have been dropping for well over a month now – since before the lockdown began. Yet if this is the case, it begs searching questions as to the necessity of blanket lockdown. Instead, the nightly news has featured the police chasing people from parks and beaches.
A day after the April 8 peak, Sir Patrick Vallance, the Government's chief scientific adviser, told the public that the peak was still two weeks away and deaths would continue rising until then.
But if the peak occurred on April 8, what of the admonition, rammed home nightly, that a lockdown was necessary to bring the epidemic under control? And what justification now applies to its extension? If, as widely quoted, there is an average of 21 days between infection and death in fatal cases, then peak infection in the UK occurred on March 18 and in London on March 14 – the latter a full ten days before lockdown. So how, on this view, could lockdown be credited with bringing infections down?
Meanwhile, advisers such as Professor Neil Ferguson, lead author of the Imperial College London report, has recently reiterated his dire predictions of 100,000 dead if lockdown is loosened even for those at low risk. Thus the elderly and those with medical conditions are to remain in lockdown and instructed to self-isolate for many months ahead.
Finally, what of the five tests and, in particular, number five which says that ministers must be confident that any adjustment will not risk a second peak? This test, said to be the most important, originally said: "Confident that any adjustments to the current measures will not risk a second peak of infections." But it has now emerged the guidance has been tweaked to read: "Confident that any adjustments to the current measures will not risk a second peak of infections that overwhelms the NHS."
Without discussion and explanation, we are in Lewis Carroll land here. "When I use a word," Humpty Dumpty said, "it means just what I choose it to mean – neither more nor less."
But "the question is," said Alice, "whether you can make words mean so many different things."
You see what I mean about the need for more discussion, less emoting?