Coronavirus: After outbreak ends, will we realise true message of Trainspotting? – Jim Duffy
When Covid-19 coronavirus is no longer a major risk, will we return to being addicted to consumerism, wonders Jim Duffy.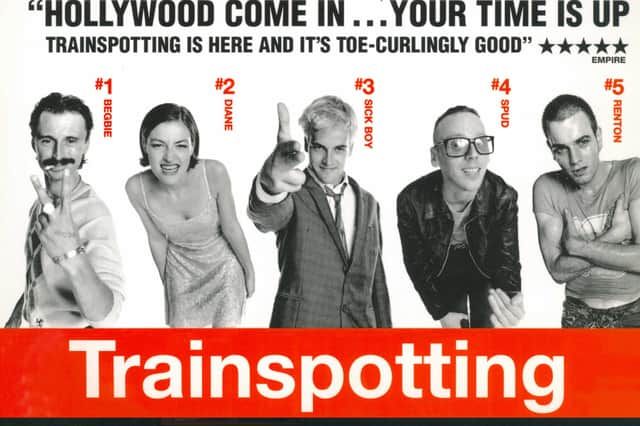 In true Trainspotting style... Choose life, choose politicians, local councillors and First Ministers. Choose a flat, a house and a big crazy mortgage. Choose cheap credit, payday loans, and digital banks with luminescent cards. Choose online gambling, porn sites, wife swapping and ISAs. Choose pet insurance, personal contract hire on your car, a good divorce lawyer and home improvements. Choose Loose Women, Homes Under the Hammer, Amazon Prime and box sets. Choose private schools, golf clubs, store cards and Primark. Choose wacky-baccy, Columbian marching powder, a dram or a pint in Wetherspoons, knowing that one addiction will get you through. Choose online shopping, Sonos, electric cars and smartphones, sucking the life out of your creativity. Choose Facebook, Instagram and Twitter where human bile, frailty and mental health are all put to the test. Choose life...
But, while we hunker down during the coronavirus outbreak, I am deciding not to choose this life when it is all over. As life may never be the same again.
It is amazing when you look at your existence, what it has been, the plans you have made and how that is all up in smoke as we fight a pandemic. Many of us will have some time to reflect as we get marooned in our homes, willingly or not.
And at this time, maybe we can take an hour to reflect on what 'good' looks like for each of us – on the other side. Here is my attempt.
As I poured my coffee this morning, I took time to smell it, appreciate the process and be thankful for electricity, the kettle and clean cup and the salty butter on my toast.
Things that I simply have taken for granted as I seek to consume and progress elsewhere in this world. It made me think. We use coffee etc to get us stimulated for the day ahead.
But, the work that has gone into ensuring we have fresh or instant coffee with milk, sugar etc, while switching on a kettle that boils in three minutes is actually staggering. Maybe we will be more appreciative of these little things – on the other side.
While I am not a big social media fan, not being on it has made me realise that conversations with those around me is so important. People spend so much time replying to posts, liking memes and having an opinion on what is basically crap, that they are missing out on the people in front of them.
Of my 346 friends on Facebook when I chucked it, only four have ever reached out to see how I am. Says it all really. I bet you would have a similar experience if it was switched off.
People would focus more on the human life around them, not on pieces of code. Perhaps, you will take more time to think about and enjoy conversation, while getting loved ones and friends off tablets and smartphones. Time to get in 'the now'?
The world has changed so much that I do get anxiety from time to time. The main driver of this is the United States. It reminds of the Razorlight song aptly called America, where the lyrics go like this: "All my life, watching America. All my life, there's panic in America..."
None more so now. But, as we watch the US look inwards with what I can only describe as a fool leading it, I am not prepared to accept this moving forward. I cannot sit and shake my head idly. So, I am going to do my best to help America be at its best again. Helping out others, caring for its citizens, working with its allies and looking outward. This is vital – on the other side. And I think it will have a good outcome for our kids. Don't you?
Food is such an important part of our lives. Mind you, it seems toilet paper is even more coveted. But, our relationship with food has been transformed with celebrity chefs, cooking programmes, online vouchers, buy-one-get-one-free deals and huge supermarkets stocked with everything we want. Not what we need. And this is a crucial question – on the other side.
We consume like there is literally no tomorrow. This is putting pressure on the planet, which means there may be no tomorrow – ask Greta Thunberg. So, what will your relationship with food become? Will you think more about provenance, profits, producers and how much you actually need? I'm already cutting my portion sizes.
And the big one for me is one that really does make me struggle with my thoughts. I love entrepreneurship, its creativity and the potential it has for re-imagining our lives. It creates wealth and employment. But, I'm currently struggling with the huge gaps between those who have and those who have not.
When a mother who works two jobs as a cleaner needs to self-isolate and cannot pay her bills, while a multi-billionaire has exactly that – billions in cash – I worry. I'm not condemning them for creating wealth, we need them. But, it makes me think about how better we could all work together to redistribute wealth more fairly. Anything is possible right?
And that is the thought I would like to leave you with on this Friday as we enter a new phase of a global pandemic in which our lives are changing and will change like never before. Anything is possible and the rules of the game can be changed for the better – on the other side. Will you go back to "normal" or will you examine how you view your existence and try to make it better?
Choose life – maybe? Create a better life – I hope so!