Coronation cannot distract from Conservative election nightmare - Brian Monteith
Saturday's Coronation of Charles III could not have come at a better time for Rishi Sunak, but today is Monday, and already focus is returning to the second worst English council elections for Conservatives in a generation.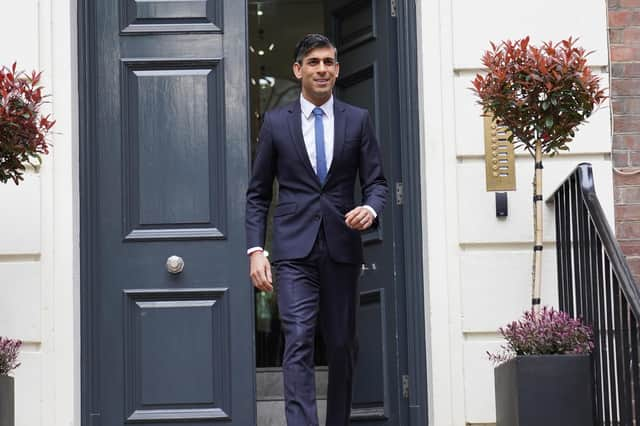 Politicians of all colours are always thankful for distractions that take the focus away from bad news of their own making. "Look there's a squirrel", and everyone turns to look, while the guilty politician makes off, laughing.
"There's a dead cat on the table" and immediately the conversation switches to the metaphorical dead cat and the moment to hold the politician accountable for incompetence, or worse, is lost.
Saturday's inclusive Coronation for our times should have been a red squirrel and dead cat all at once for Rishi Sunak, but so bad was Thursday's Conservative performance that even the Coronation – with all of its surprises and controversies – has not been enough of a talking point to prevent a speedy return to analysing what those council elections mean for next year's general election.
The welcome addition of gospel music, the appearance of all Christian leaders and the meeting with other faiths' representatives opened up the Coronation for our larger, broader population who have Charles III as their king too. The (rather rushed) addition of crowning Camilla Queen, rather than her remaining as Queen Consort, might also be thought as controversial. Yet for all the joy and splendour of seeing the event in HD full colour with a kaleidoscope of close-ups, compared to the grainy black and white images of 1953, we will this week return to the precariousness of Rishi Sunak's own reign.
Were the results really that bad? Yes, and there's no disguising it. With one final set of Council results left to declare the Conservatives lost 960 councillors and control of 22 councils from where they started.
Beforehand Professor John Curtice stated the Conservatives losing as many as 700 councillors was "quite possible" – which suggested the real expectation of Conservative HQ was for losing much lower than the 1,000 it had been briefing as its worst case. But that worst case has as good as been obtained. To give this loss some context, the day before the voting David Campbell Bannerman, Chairman of the Conservative Democratic Organisation, reminded supporters the party should have been looking for gains, not losses, as the council elections were following the worst ever result of losing over 1300 councillors in May 2019 when Theresa May was leader.
Now the Conservatives are being defeated in all regions by all parties – while their own unmotivated supporters are clearly sitting at home scunnered by the boorach of Sunak's own making. Labour was, unsurprisingly, the main beneficiary, yet the Liberal Democrats and Greens also prospered. While Labour strategists expect the public to see Sir Keir Starmer as the main vehicle to unseat a Conservative administration when the moment comes, there is no doubt there will be constituencies where the Liberal Democrats are currently placed second that could now remove sitting Tory MPs.
Denying Conservatives seats will only help Labour. Add to this the polling in Scotland showing Labour as the main beneficiary from disenchantment with the SNP and Labour is heading towards forming the next government, but not resoundingly so – a hung parliament is currently the most likely outcome.
Sunak's team has been generous in blaming Boris Johnson and Liz Truss for the government's current predicament but this is disingenuous and based on the slenderest of facts. It was the disembowelment of Johnson by Sunak and his team when the Conservatives were only 2 per cent behind Labour in the polls that initiated the bloodletting. Then came their subsequent undermining of Truss that so destabilised and contributed to the public looking on aghast at a parliamentary party disconnected from the realities of post-Covid lockdowns.
The spiralling inflation, the climbing NHS waiting lists, the need for economic growth to return all required to be dealt with – but their focus was putting Sunak in power, cosying up to the European Union and raising taxes on the basis of unreliable modelling that foretold an economic catastrophe of unrealised deficits and a recession that never arrived.
There are, however, some chinks of light. The Conservatives gained 15 additional council seats in Leicester and 16 more in Slough – where Labour had wanted to raise council tax by 10 per cent for the second year in a row. Also, the retreat in the former Red Wall constituencies was not universal with 10 council seats gained in Stockton-on-Tees and gains also in Oldham, Burnley and North Tyneside.
Conservatives can, after all – with the right politicians, right messages and right policies – get themselves elected. A recognition that the public finances were not as bad as was painted, that specific taxes that cause the economy to accelerate and revenues to climb can and should be made as early as possible. There is no reason to wait until next March.
At the beginning of the year I wrote that the May council elections would be the point when Sunak's premiership would likely reach its nadir and a bad result could put his administration into a tailspin, causing MPs to question if he should lead them into a general election. While restlessness abounds I see no appetite among Conservative MPs for further self-immolation, instead there is a hunger for Chancellor Hunt to go immediately into campaign mode and pivot towards the very policies Rishi Sunak originally promised when he fought Liz Truss for the leadership.
Unfortunately Sunak does not yet inspire, he is a smooth technocrat, more a Chief Finance Officer than an ebullient entrepreneur like Sugar or Branson. To save the Conservatives Sunak has to now throw caution to the winds.
Brian Monteith is a former member of the Scottish and European Parliaments and editor of ThinkScotland.org
Comments
 0 comments
Want to join the conversation? Please or to comment on this article.