Consensus-based politics and people power are vital to our security and economy in an uncertain and changing world – Stewart McDonald
This week I visited Castle Precision, a fantastic family business in my constituency which manufactures complex components for, among others, the highly technical aerospace and defence sectors.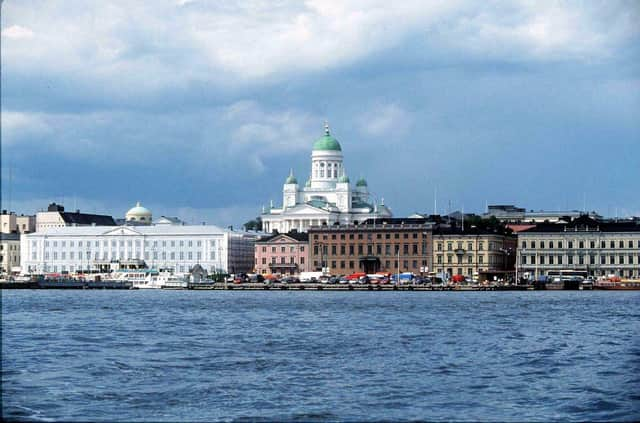 As I heard about their recent introduction of a four-day week and embrace of the modern apprenticeship programme, I was struck by the fact that much of what happens on the shop floor today would be unrecognisable to the man who founded it as textile machinery firm in 1951. Yet even as the nature of the company's work has changed, the family has made sure that the fundamental values which underpin it have remained the same. As the world transforms before us, there is much that our political institutions could learn from this approach.
Samuel Huntington, the late director of Harvard's Centre for International Affairs, wrote in 1968 that the "primary problem of politics is the lag in the development of political institutions behind social and economic change". Last week, he seemed to be proven right. While the UK Government has historically struggled to engage with its imperial past in a clear-eyed and impartial fashion, the Vatican last week formally renounced the so-called "doctrine of discovery" used to legitimise the colonisation of Africa and the Americas and, just days later in a far cry from David Cameron's 2015 call for us all to "move on from this painful legacy and continue to build for the future", Buckingham Palace announced its support for a study exploring the historical relationship between the monarchy and the slave trade.
I cannot be the only person to whom it seems remarkable that the Vatican and Buckingham Palace – two institutions whose continued existence depends on being seen to transcend politics and other temporal matters – seem more in tune with the public mood than the democratically elected government. Yet while this problem, as Huntington noted, is not unique to the United Kingdom, it matters to all of us when our democratic institutions always seem to be two steps behind.
Just look at the Online Safety Bill which has, in one form or another, been winding its way through the Palace of Westminster for five years since Theresa May first turned her eye to online harms. When drafting began on the Bill, I had never heard the phrase 'generative AI' and deepfakes were something which could only be made with advanced software. Today, because of them, the online space this Bill seeks to regulate will have transformed beyond all recognition before it is even passed.
We know that our institutions are capable of moving with a rapidly changing world when they need to. The security landscape was transformed overnight following the unprovoked and illegal Russian invasion of a sovereign European state; in response, Nato established the world's first multi-sovereign venture capital fund to develop new equipment and technologies and founded a brand-new tech start-up accelerator – launched last week in London – to support the firms developing these technologies. And, of course, the alliance also welcomed Finland as a member this week, representing a true milestone in the history of Euro-Atlantic security. Sweden will follow in the coming months.
I welcome every single one of these steps towards a safer and more peaceful Europe. But, if our states and societies are to remain safe, peaceful and prosperous in the decades to come, we cannot wait for crises to catalyse change. During my visit to Castle Precision, I heard how globalisation means that the firm competes less with its rivals in the UK or even Europe, but with firms across the world in countries with governments who have been much more proactive in helping their small-to-medium enterprises thrive and innovate. India's special economic zones are one example, where firms benefit from competitive infrastructure, duty-free exports and other tax incentives.
Look anywhere around the world and it is clear we're entering a new age of government intervention. Just look at the United States: $400bn-worth of state intervention in the economy greeted with applause by the private sector and a statement from the head of the UK Institute of Directors saying that "the UK deserves nothing less than its own version of the Inflation Reduction Act". While the UK cannot match that Act's scale, there is nothing to stop policymakers in Edinburgh and London making ambitious, strategic and long-term investments in the economy and fully committing to creating the conditions for a healthy market economy and democracy to thrive.
We are not short of inspiration for how to do that: we might look to Norway– repeatedly ranked number one in the world for press freedom by Reporters Without Borders – where the state gives public subsidies to print media across the country to ensure a geographically and ideologically diverse newspaper landscape, or to Germany, where legislation grants workers the right to a number of seats on large firms' decision-making boards. Meanwhile, in Finland, the government brings its biggest firms together several times a year to discuss the private sector's role in crisis preparation and to make sure every part of society is ready for every eventuality.
The common thread in all of these countries' approaches is their effort to decentralise political and economic power and pursue a long-term, consensus-based approach to government. Living in an age of such profound economic, social and geopolitical insecurity should surely inspire much better policy planning than we've been used to so far. Our institutions, businesses and people are crying out for it. Politics must catch up.
As the tumultuous path of the Online Safety Bill makes clear, the challenges of the coming decades will not be solved by legislation or direct government intervention alone, but by giving citizens and communities the power and resources to tackle these problems themselves. This is no small task: as the Conservative party's treatment of our public realm has so painfully illustrated, it takes far longer to grow something than to destroy it.
Stewart McDonald is SNP MP for Glasgow South
Comments
 0 comments
Want to join the conversation? Please or to comment on this article.