Confederation of British Industry (CBI) is bruised, but not broken and Scotland needs us more than ever – Tracy Black, CBI Scotland director
Allegations about the conduct of some within CBI do not mean the organisation is all bad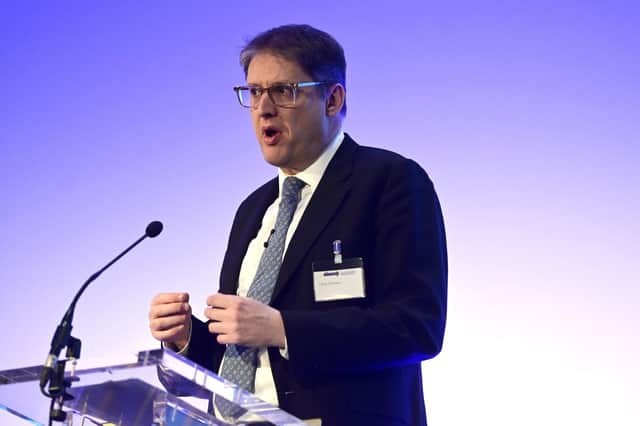 It's no understatement to say that I was stunned to hear of the allegations raised by the Guardian some weeks ago about conduct within the CBI. I'm still working over in my head how these things, particularly the most serious allegations, could have happened in an organisation that I know to be kind, compassionate, and full of first-rate female leaders.
That some go back a number of years and have only just come to light is no excuse. Neither is the fact that many organisations are facing similar or related challenges. Rebuilding our credibility will not be an easy job, but it starts by owning our failures and being clear and honest about the way forward. As our new director-general, Rain Newton-Smith, said: "We can, we must, and we will do better."
What I do want to challenge is a portrayal of the CBI as somehow all bad, rather than tainted by the behaviour of a small number of people. Many staff, members and stakeholders have spoken to me at great length to say that – in their experience – the "toxic culture" written about in the press feels wide of the mark. While I share that view, I fully accept that toxic elements found their way into a couple of offices outside Scotland, causing untold distress. Work is already underway to make sure that can never happen again.
For me, there's great sadness in knowing that people – for whatever reason – didn't feel they could come forward and make use of the processes we had in place. Perhaps we had become complacent about culture, trusting in its positivity as we focused our efforts elsewhere on the fast-paced external environment. Addressing that drift is key, and we do that by making culture a goal in and of itself – one subject to constant attention and refinement.
So, what does change look like in practice? Rest assured that the things people value most about the CBI – our reach, our research and our convening power, will not change. Despite a tough few weeks, the CBI's membership remains large and diverse. Our economic policy unit draws on half a century of proprietary economic data to produce respected surveys and analyses, taking the pulse of UK business and informing sound decision-making.
I also firmly believe that the CBI performs a vital function in speaking up for all business, right across the economy. It's no coincidence that every advanced market economy has an overarching business voice that can advocate with government, and beyond, for policies to support enterprise, sustainable growth and improve living standards. Whether working on bespoke projects, or lifting the voice of members and partners, the CBI's ability to cut through agendas and deliver change is unparalleled. It's an approach we've applied successfully to a range of business-critical issues, from climate policy to prompt payment, through the pandemic and beyond.
What is changing is the way we operate. The completion of an extensive and unflinching investigation by a specialist law firm delivered a set of recommendations for improving culture and process. Those will be implemented and followed through in full. To support that action, we have engaged a first-rate culture change consultancy and hired a new interim chief people officer to embed a 'people first' culture across the board.
In terms of immediate steps, governance is being overhauled to ensure greater accountability, recruitment is being reviewed to focus on core values, and members and other businesses are being offered greater opportunities to shape our direction. Nothing is off the table when it comes to promoting inclusivity at every level.
Winning back trust begins within the organisation and works its way outwards, once members and stakeholders see the decisive steps we are taking. But it also means taking a cold, hard look at our member offer – to make sure it remains, compelling, relevant, and fit for purpose in a more digital age.   
We are confident in our track record of delivering for members. From capital expensing regimes to childcare reforms, furlough to energy support, we're proud to have been at the forefront of policies that protect jobs, keep businesses afloat and contribute billions of pounds to the economy. Even so, we can't afford to be stuck in the past. The economy changes, and we must change with it.
While the CBI Scotland team will remain across core issues like business rates, energy transition and access to people and skills, they will also work tirelessly to identify and nurture the trail-blazing firms and institutions that will shape our country's future. To deliver the kind of sustainable economic growth we need for the future, we need more than established businesses – we need to be at the forefront of innovation and disruption.
With a new First Minister in Bute House, a defining general election looming, and huge uncertainty still circling the economy, it feels like there is real work to be done – particularly at a Scottish level. Ensuring business has a seat at the table when it comes to determining and delivering Scotland's economic policy is perhaps more important now than ever. Our decades-long battle against low productivity won't be resolved without the strong and decisive leadership the CBI can provide.
The CBI's core goal is to champion business as a force for good, not just economically but socially and environmentally. To do that again, with credibility and authority, we must reclaim our reputation and purpose. We cannot change what has happened, but we can be honest about what needs to be done moving forward. That begins with humility, and by showing how a modern organisation should act when it fails to meet the standards it sets for itself. As an organisation we are bruised, but not broken.
Tracy Black is director of CBI Scotland
Comments
 0 comments
Want to join the conversation? Please or to comment on this article.