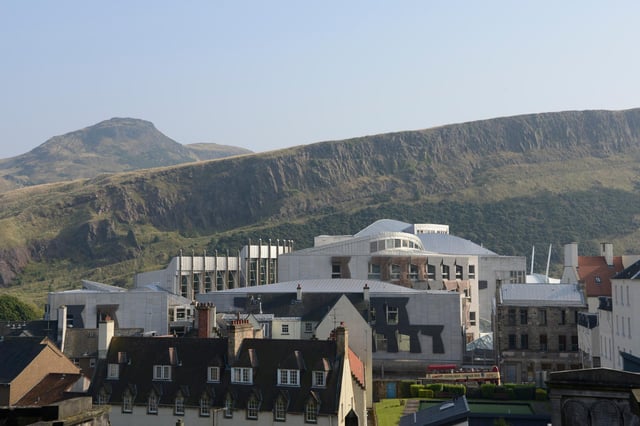 Christian Aid is joining widespread calls for the Scottish Parliament to pass a Wellbeing and Sustainable Development Bill.
The forthcoming Holyrood election on May 6th therefore represents a huge opportunity for us to reconsider Scotland's role in, and contribution to, this interconnected world.
Christian Aid engages across the political spectrum to seek positive change. We do so because our work alongside communities to tackle the root causes of poverty, for 75 years, tells us that poverty is political, and does not happen by accident. Our experience, in 27 countries spanning Africa, Asia and Latin America, tells us that poverty tends to be the result of unequal access to power and resources which are often linked to, or are a consequence of, political decisions.
In looking at where and how decisions taken in Holyrood can affect global poverty, it is worth broadening the discussion far beyond what might be called traditional 'aid'. Christian Aid has long understood that the role of politicians and governments in tackling poverty goes far beyond providing funds for international programmes, however welcome and vital that may be.
To truly tackle the root causes of global poverty, diverse issues - far beyond aid budgets - such as climate change, gender inequality, conflict, migration, trade policy and many more, must be addressed. Christian Aid therefore supports a government-wide approach that considers the impact of decisions across all departments on the world's most vulnerable children, women and men. This kind of approach is often referred to as one of 'policy coherence'.
For example, a policy coherent approach might identify Scotland's education policies as key elements of the country's overall contribution to international development. Educating our young people to be informed, engaged, active global citizens will stand us in good stead for the collective decisions and actions we take over the decades to come.
Similarly, climate change is another of the Scottish Parliament's most important areas of responsibility in terms of addressing global poverty. People living in poverty around the world tend to be the most vulnerable to the effects of climate change and have fewest resources with which to adapt, despite having done least to cause the problem.
Christian Aid is therefore calling on decision-makers to embrace the transformational policies required to deliver on Scotland's ambitious climate targets, as well as sharing positive examples of progress in Scotland - such as the rapid de-carbonisation of the electricity generation sector - that can resonate around the world, especially with the UN Climate Summit, COP26, coming to Glasgow in November.
Education and climate change represent areas in which progress is already being made in embedding a policy coherent approach. To build on that progress, Christian Aid is joining widespread calls for the Scottish Parliament to pass a Wellbeing and Sustainable Development Bill, that would ensure that all public bodies set objectives towards sustainable development outcomes, taking into account the impact on people and environment, both in Scotland and in low-income countries.
Importantly, such an approach appears to have widespread public support. Polling commissioned by Scotland's International Development Alliance in November found that almost three-quarters (73%) of Scots think it is important that the Scottish government ensures the global effects of policy decisions made in Scotland are taken into account.
Christian Aid has just published its manifesto recommendations, including on policy coherence, climate change, sustainable economy, education and international development funding. We are working alongside Scotland's International Development Alliance to host an online hustings event in March to engage the political parties on these issues – to which members of the public will be welcome. Please join us in reconsidering Scotland's role in a sustainable, just, interconnected world.
Find out more about the manifesto recommendations and hustings event at:
Chris Hegarty - Senior Policy, Advocacy and Communications Advisor, Christian Aid Scotland