Climate change: Why pumped hydro storage is vital to cutting carbon emissions and could create thousands of green jobs in Scotland – Mark Wilson
The devastating impact of Covid-19 is unrivalled in its multifaceted impact – touching our health, our family relationships, our financial security and the very way we live.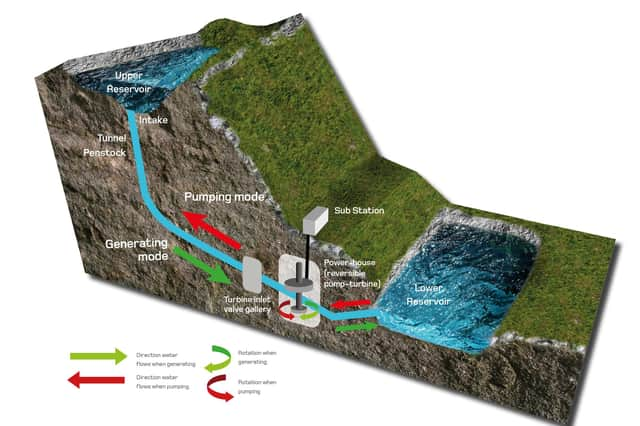 Yet it is sobering to think that this natural catastrophe could be eclipsed by the man-made catastrophe of climate change, one Sir David Attenborough describes as an "escalator to extinction".
Covid-19 may dominate the headlines, but the climate emergency hasn't gone away. We need urgent action to deliver the Paris Agreement's goal of keeping the increase in global temperature to below two degrees Celsius if we are to avert rising sea levels, extreme weather conditions and devastating consequences for billions of lives.
Yes, our politicians are wakening up to the crisis. UK Energy Secretary Alok Sharma, president of the Cop26 summit in Glasgow, admitted: "The world faces the prospect of catastrophic climate change and we have no time to lose if we are to avert it."
Prime Minister Boris Johnson unveiled a "world-leading" green revolution to reduce greenhouse gases by at least 68 per cent by 2030 as part of the roadmap to achieve net-zero emissions by 2050.
However, it is one thing to acknowledge the problem and set out lofty goals, another to fund the nuts and bolts. The National Audit Office (NAO) warned if the government is to get to net zero by 2050, changes will be expected to the way electricity is generated.
NAO head Gareth Davies said: "While emissions have reduced steadily in recent years, achieving net zero is an enormously challenging long-term project, which will require well-thought-out, cross-government coordination to drive unprecedented changes across society and the economy."
At the heart of the war on climate change is the need for an acceleration in clean renewable energy sources such as water and wind.
Renewables made up over 70 per cent of global power capacity additions in 2019. But the pace to clean power needs to quadruple by 2030 if we are to meet those Paris goals.
But the sun does not always shine and the wind does not always blow. In November, the UK fired up three of its last remaining coal power plants to keep the nation's lights on as the country's wind turbines slowed.
Wind and solar are intermittent and can only provide constant power when backed up by storage. In order for the country to reach 100 per cent renewables, we need to store the energy for when it's needed.
The solution lies with one of Scotland's greatest natural assets – our water – and the construction of pumped hydro storage plants. Pumped storage is a way of turning electricity into potential energy and then back again into electricity.
The system uses electricity to pump water from a lower reservoir to a higher reservoir at times when there is more energy being produced on the grid network than is needed. This energy is stored until it is required, when the water is allowed to flow back through a hydro-turbine, generating electricity to meet sudden or predicted spikes in consumer demand.
This cycle of pumping and generating repeats on a daily basis as required. Pumped storage utilises excess generated electricity when consumer demand is low and generates electricity when demand increases.
It can be used at very short notice to provide a reliable and flexible balancing service to the electricity system operator and be combined with intermittent renewables to deliver reliable power to customers.
Essentially, in the new world of renewables, it replaces the need for fossil fuel to keep our lights on.
Pumped storage hydro, such as our planned £600 million Red John scheme near Dores, Loch Ness, is not at the top of the green agenda – but it is the heavy artillery in the war against climate change.
The recent Jacobs report said pumped hydro is the lowest cost solution for balancing intermittent renewables, mainly wind.
Together with our own projects there are currently plans for four gigaWatts of pumped storage hydro in Scotland – enough to provide clean power to four million homes – as well as creating over 10,000 good paying jobs and injecting over £3 billion into the economy as we come out of Covid.
However, these large infrastructure projects need to overcome barriers to investment.
As a matter of urgency, we have asked the government to look at existing market mechanism such as the capacity market or "cap and floor" and make the necessary adjustments to recognise long duration storage. Offering investors financial visibility on major infrastructure projects that are key to climate change makes sense and, in the long term, saves the taxpayer money.
At the moment, wind farm operators are actually paid by the government to switch off their turbines when the grid faces being overloaded. Figures provided by the Renewable Energy Foundation (REF) show constraint payments totalled £650 million over the last decade as compensation to wind farm owners for discarding 8.7 teraWatts of electricity.
In some cases, wind farm operators have been paid more to switch off than produce power.
Our call for changes in the regulations to unlock investment has been echoed by the Scottish government in their Climate Change Update: Securing a green recovery on a path to net zero.
They asked the UK government to bring forward mechanisms, similar to those available for interconnectors, which will enable the substantial investment needed to develop pumped storage. They added: "We will work with the developers to ensure that this can deliver sustainable and secure jobs and supply chain benefits to Scotland's rural areas."
The challenge in rebuilding our economy post Covid-19 and delivering climate change is unprecedented. Yet the two are not mutually exclusive.
Pumped storage hydro will deliver real jobs and investment for the Scottish economy – while providing the firepower in the war against climate change. A war that, for our children's sake, we cannot afford to lose.
Mark Wilson is CEO of Scottish pumped hydro storage innovators Intelligent Land Investments Group.
A message from the Editor:
Thank you for reading this article. We're more reliant on your support than ever as the shift in consumer habits brought about by coronavirus impacts our advertisers.
If you haven't already, please consider supporting our trusted, fact-checked journalism by taking out a digital subscription.
Comments
 0 comments
Want to join the conversation? Please or to comment on this article.