Climate change: Want to help Scotland prepare for its new climate? Here's what to do – Iryna Zamuruieva
How many of us know exactly what climate change means for our own community? From my experience, not enough.
Its launch marks the end of a year of collaboration with leading contributors including the Highlands and Islands Climate Hub, the Development Trusts Association Scotland, and the Scottish Communities Climate Action Network.
The launch of the routemap follows a number of impactful climate and social resilience community projects already taking place around the country. One regional project is 'Highland Adapts' which set up an 'Open Map Platform' to prompt people to share details of how they have experienced changing weather and climate conditions in the area, and what needs to be done to combat them.
Another is by the Outer Hebrides Community Planning Partnership whose work on North Uist saw various community groups leading a massive 'participatory mapping' project to visualise people's knowledge and see where and what climate change means for the islands. What makes these projects different and powerful is that they're led by community members with expert local understanding and lived experiences, who have used this to ensure specific, tailored actions are able to protect their place against the changing climate.
Our aim is to spark a wave of similar projects the length and breadth of the country. Taking simple actions such as fitting insulation or ensuring an area is managing its flood risk could make a huge difference to Scotland's national climate adaptation and resilience.
For those in need of inspiration, the Highlands and Islands Climate Hub's Culduthel Woods Gathering is one highly achievable option. Last summer, the gathering attracted more than 200 local people to celebrate their ownership of this much-loved and spectacular woodland in Inverness, as part of the Highland Climate Festival.
The Culduthel Woods Group is a local charity, run entirely by volunteers, to protect and improve the forest, promoting education and encouraging community actions to keep them tidy, safe and beautiful. This project is about caring and making a difference – the essence of what communities all over Scotland can realistically do on a daily basis, when it comes to climate change.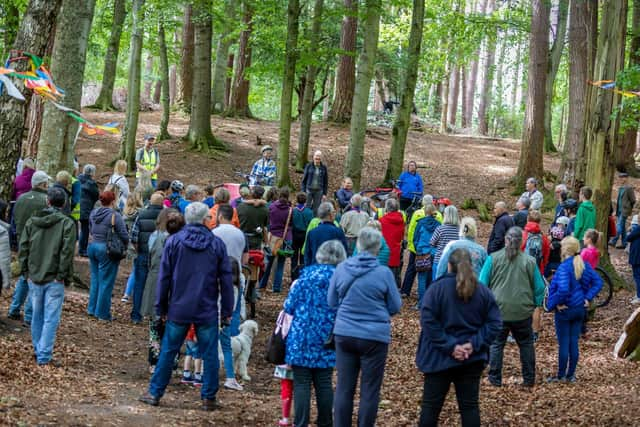 The routemap is a step-by-step guide aimed at helping everyone achieve local climate-adaptation goals. It can be broken down to three basic stages: firstly, prepare for changes to weather patterns by finding out what others in your area are doing; secondly, understand what climate change is happening in your own community; and thirdly, know how to act, dependent on your resources and priorities.
Its first page is led with a huge interactive tree illustration, with branches showing where to go in the routemap, leading to information and options across specific subjects. We clearly need to start at the roots and, hopefully, this tool will help us reach the tree tops.
Iryna Zamuruieva is a climate resilience manager at Sniffer, who led on the Community Climate Adaptation Routemap
Comments
 0 comments
Want to join the conversation? Please or to comment on this article.