Climate change: Rome burning in summer heat means fiddling over food emissions has to stop – Philip Lymbery
United Nations holds food summit in Rome amid a heatwave so hot that it prompted labourers and factory workers to ask to be furloughed
Against this backdrop, I found myself sweltering in Rome at the flag-lined headquarters of the United Nations Food and Agriculture Organisation (FAO) for a UN Food Systems Summit. Two years ago, I was an ambassadorial 'champion' for the previous summit, so was keen to be part of the latest gathering of world leaders.
Extreme heat helped bring home the stark reality that food is the biggest single contributor to global warming. UN Secretary-General António Guterres used his opening speech to further make the point: "Unsustainable food production, packaging and consumption are feeding the climate crisis, generating one-third of all greenhouse gas emissions, using 70 per cent of the world's freshwater, and driving biodiversity loss on an epic scale. We need food systems that can help end the senseless war on our planet. Food systems transformation is fundamental to reducing carbon emissions and limiting global warming to 1.5 degrees Celsius."
On that day in Rome, it seemed like the world was listening, but will they now act? An unexpected victim of climate change could be the iconic Mediterranean diet itself, typified by spaghetti, couscous, and pizza. Wildfires, drought, and flooding are "threatening the foods that make up the basket of ingredients for the Mediterranean diet", warned Roberto Occhiuto, president of the southern Italian region of Calabria.
The governor of Medinine, Tunisia, Ben Zayad, echoed the sentiment, saying: "We are facing challenges, particularly in the Mediterranean… and we have to respond in order to protect our food systems." A real sense of immediacy was in the air. Italian Prime Minister Giorgia Meloni also championed the Mediterranean diet, which she described as inexpensive and based on seasonal ingredients "respecting the territory and its biodiversity".
True for some ingredients maybe, but in the "land without animals", as I refer to Italy's agricultural heartland, damaging industrial animal agriculture – anything but respectful to the land and its biodiversity – is rife.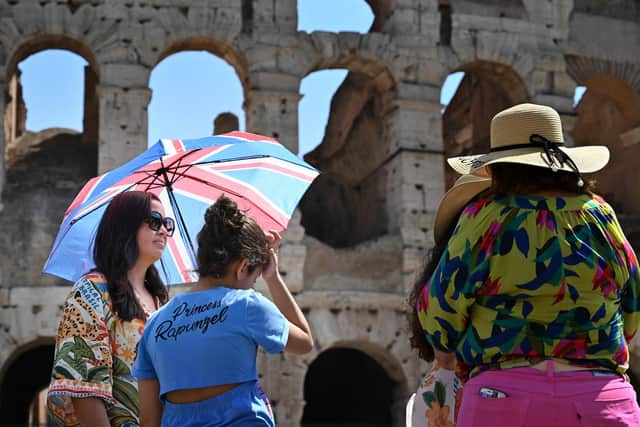 As temperatures rise, so too do the stakes. Later this year, world leaders will be meeting again, this time in Dubai, for the next round of climate talks. The hope is that Rome reaching boiling point will have helped put food firmly on the climate agenda.
Worth noting then that new research from Oxford University shows reducing meat consumption can play a key role in curbing greenhouse gas emissions. Consumers in Scotland, England and Wales cutting down on the amount of meat they eat could be equivalent to taking eight million cars off the road. Now that seems a point worth driving at.
Comments
 0 comments
Want to join the conversation? Please or to comment on this article.