Climate change: Rishi Sunak must reject Rosebank oil field and join the countries calling for fossil fuels to be urgently phased out – cross-party group of politicians
Politicians from all the main political parties have written an open letter to Rishi Sunak calling on him to prioritise action on climate change
Dear Prime Minister, We are writing to you with an urgent call to action. In just 129 days, world leaders will gather in Dubai for the United Nations climate summit COP28. Since countries last gathered in Egypt for COP27, the impacts of climate breakdown have become frighteningly common, with experts predicting a temporary overshoot of the 1.5C limit between now and 2027. Going forward we cannot be complacent in tackling climate change, for there is simply no time left to waste. Instead, we must step up, work together, and strengthen the momentum to keep 1.5C alive.
COP28 in Dubai this November must be the moment that the global community agrees to urgently phase out fossil fuels. For this to happen, the UK has an important role to play in leveraging its international influence, and working constructively with all parties, to help secure an agreed package that clearly names the requirement to phase out all fossil fuels and set goals for the upscaling of renewables. There must also be a clear commitment to ensuring that fairness and justice run at the heart of the global energy transition, and a clear focus on addressing the root cause of the climate crisis: fossil fuel production. And, above all, there can be no room for distractions or false solutions.
Working to guarantee a successful outcome at COP28 is not just essential for the health of people and the planet, but economically the right thing for Britain. As the Office for Budget Responsibility advised last week, continuing to rely on gas at the current level will come at double the cost of transitioning to net zero. Equally, as you were recently warned by top energy companies: backing away from green policies would be catastrophic for the economy. We know that pursuing a clean energy economy brings with it the potential to create jobs, address regional inequality and, perhaps most importantly in the context of extraordinarily high gas prices, it can provide permanent energy affordability and security for the whole country. This is why over 95 per cent of voters placed their confidence in parties committed to reaching net zero by 2050 or sooner at the last election.
The UK has a proud, cross-party, history of being a first mover on green issues. From being the first country in the world to pass a Climate Change Act in 2008, to the first major economy to legislate for net zero by 2050 in 2019, we should be proud of this record. And let's not forget the outcomes at COP26, which happened under the UK's leadership, that helped to make significant advancements towards protecting nature and reducing greenhouse gas emissions. However, the Climate Change Committee's recent 2023 Progress Report to Parliament is unequivocal that mixed signals on the UK's commitment to serious climate action are undermining this work, damaging our reputation, and risks us permanently surrendering our status as a world leader on climate action.
Now is a crucial moment for you to demonstrate to the world that the UK is not demoting itself to become a passive observer in international action on climate change, that we remain a trusted partner and committed to delivering on our promises. Therefore, we are asking you to:
● Attend the COP28 summit in person and appoint a Secretary of State-level UK Climate Envoy ahead of the United Nations General Assembly in September. This would send a clear statement to the world that tackling climate change is a priority for you and your government and will help to ensure that the UK is properly represented in critical global climate discussion. Your championing of COP28, and your attendance, would encourage other heads of state and governments to do the same.
● Support our allies in calling for an end to the fossil fuel era and move more quickly towards a clean energy world by joining other countries such as Denmark, France, Germany, and others in championing the need for an "urgent phase out of fossil fuels". As recommended by the CCC, the UK should also set out a clear position and plan to move beyond oil and gas through a just transition, and strengthen the UK's language on this in all international climate fora, such as the G7, G20 and the UN Secretary General's Climate Ambition Summit in September, which we also hope you attend. Doing this will drastically improve the chances of a meaningful outcome in Dubai later this year.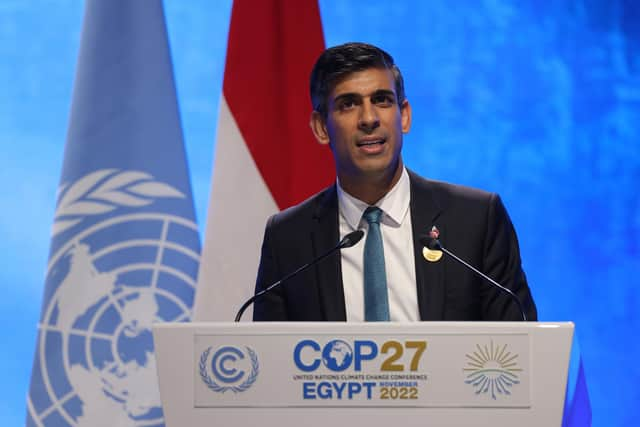 ● Demonstrate leadership by taking action at home including by rejecting the expansion of new fossil fuels which the CCC is clear are not compatible with net zero. In line with the report's arguments, Lord Deben, the CCC's outgoing chair, has asserted that new fossil fuel developments are both "unnecessary" for the UK and a "bad example" to the world. In light of this, we believe that the government must reject new fossil fuel infrastructure including the Rosebank oil field which will do nothing to enhance energy security because the field is 90 per cent oil, likely for export, and therefore won't save households money on their energy bills either. Instead, the government should concentrate its efforts on making action on net zero easier, including by lifting the ban on onshore wind, embedding a net-zero test across government and within the planning system, and accelerating the rollout of energy efficiency measures which will bring bills down permanently.
● Not to forget nature. There is no pathway to a zero-carbon society without nature, no better ally to fight climate change than forests, peatlands, and other ecosystems. The UK must reaffirm its commitment to the Glasgow Leaders Declaration and continue accelerating momentum to halt and reverse forest loss and land degradation by 2030.
Prime Minister, we want you to know that in working to achieve net zero both at home and abroad, you have the support of an overwhelming majority of not just Parliament, but the country too. We also want to remind you that consistently prioritising climate action is a job for all governments today, not tomorrow.
We look forward to seeing how you respond to the asks we have set out and hope that, come November, the UK government is once again positioned as a climate leader on the world stage backed up by the delivery of an ambitious agenda at home.
Caroline Lucas MP chair, All-Party Parliamentary Group on Climate Change, Rt Hon. Hilary Benn MP Former Secretary of State at Defra, Rt Hon. Lord Goldsmith, Former International Environment Minister at FCDO, Daisy Cooper MP Liberal Democrat, Deputy Leader, Wera Hobhouse MP, Liberal Democrat Spokesperson for Energy and Net Zero, Baroness Parminter, chair, House of Lords Environment and Climate Change Committee, Olivia Blake MP, Pauline Latham MP, Rt Hon. Lord Randall, Clive Lewis MP, Nadia Whittome MP, Baroness Boycott, Zarah Sultana MP, Rachael Maskell MP, Baroness Bennett, Rebecca Long-Bailey MP, Tommy Sheppard MP, Baroness Young, Christina Rees MP, Martyn Day MP, Baroness Willis, Barry Gardiner MP, and Lord Teverson.
Comments
 0 comments
Want to join the conversation? Please or to comment on this article.