Climate change is one reason why Scotland is drawing closer to Arctic nations – Angus Robertson
There was a flurry of activity on social media last week showing the wonderful dance of the Northern Lights stretching across Scotland.
It was a timely reminder of just how close Scotland is to our Arctic friends and neighbours, to see the same bright lights of the Aurora Borealis they are so often blessed with. Scotland is the world's most northernly non-Arctic nation and there is growing international recognition of the constructive role we can, and are, playing as a close sub-Arctic neighbour. Scottish waters stretch 200 miles into the Norwegian Sea and similarly into the North Atlantic Ocean. So from an Arctic perspective, Scotland's location at the edge of Europe is far from peripheral. Quite the opposite.
We are in a key strategic position connecting the European Arctic with central Europe and North America. And as I mentioned in last week's Scottish Parliament debate on Arctic Connections, our geographic proximity is a key asset in developing collaborations with the Arctic region. Indeed, present-day links build on centuries-old ties that remain visible across the country in our heritage, architecture, culture and place names. For instance, Sutherland, which means 'south land', comes from the Viking era and underlines how Nordic countries have seen us as their close southern neighbours for centuries.
Scotland's compass has long pointed north in search of beneficial partnerships and knowledge to realise opportunities and, increasingly, address global challenges. With its sparsely populated regions and abundance of natural resources, Scotland's largely rural profile is similar to that of the Arctic. This creates common ambitions, such as those concerning a sustainable blue economy and green energy production.
But there are also shared issues arising from rurality, particularly in relation to connectivity, resilience, climate adaptation, depopulation and public service delivery. Scotland has developed a wealth of expertise in such issues and by exchanging knowledge with our Arctic partners we can develop joint solutions that deliver prosperity and well-being for our communities.
Scotland was a valued contributor to the European Union's Northern Periphery and Arctic (NPA) programme with more than 40 per cent of the projects in the 2014-2020 round having at least one Scottish partner. The UK Government's decision to step away from the NPA and other European programmes is yet another example of the harm caused by Brexit. However, the Scottish Government is exploring channels to continue our association with the NPA and other programmes. In 2019, the Scottish Government published its first Arctic policy framework and since then, we have intensified engagement with domestic and international stakeholders to open new avenues for Scottish-Arctic cooperation.
Earlier this year, I was in Tromsø for the annual Arctic Frontiers conference where I took part in a session on rural repopulation with Norwegian Prime Minister Jonas Gahr Støre and Alaskan Senator Lisa Murkowski. And later this month, on March 17, we will partner with Arctic Frontiers to host a one-day forum on Scottish-Arctic collaboration at the Aberdeen Science Centre.
The Arctic Frontiers Abroad conference is an important moment for us to engage with the opportunities and challenges we share with our northern neighbours. The conference will focus on renewable energies and the blue economy and what better place than the energy capital of Europe to host such an event? Internationally recognised speakers will participate in a series of panel discussions in the Aberdeen Science Centre. I welcome everyone with an interest to register, for free, to join us at the conference to learn more about the opportunities our Arctic connections can provide.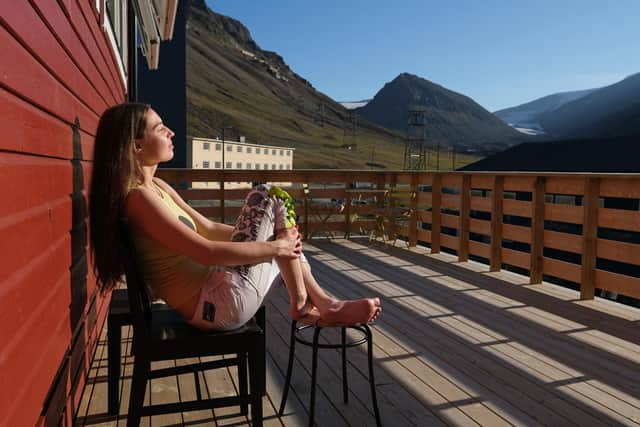 Perhaps the best examples of how Scotland's collaboration with Arctic partners has progressed at pace in recent years come from the academic sector. When our policy framework was published in 2019, Scotland had two members in the University of the Arctic, an international network of institutions producing research in and about the region. Today, nine Scottish universities are members and we have more than Sweden and any other non-Arctic nation, with the exception of China. I am confident more Scottish universities will join.
We also helped fund the establishment of a Scottish Arctic Network which brings together researchers from across Scotland. In 2024 the University of Edinburgh will host Arctic Science Summit Week, one of the world's largest gatherings of research organisations involved in the region. Scotland is establishing itself not just as a valued contributor to such collaboration but also as a host of dialogue.
Supporting research and making best use of available scientific evidence is critical to tackling the dramatic changes the Arctic is experiencing. Melting glaciers, rising sea levels and the escalating pace at which the region is warming illustrates the devastating effects of climate change. But these changes do not stay in the Arctic; they reach our islands and coastal communities too. As a pioneer of renewable energies and decarbonisation, Scotland can offer expertise and help to catalyse international efforts. Tackling the climate emergency has become the single most important element in Scotland's partnership with Arctic nations.
The green shift is also an economic opportunity, including and perhaps especially for our partnership with Arctic nations and regions. Together, they represent more than a quarter of our exports and there is potential to increase this further.
Our draft Energy Strategy and Just Transition Plan underline opportunities to work with our northern neighbours to create shared strategic advantage and establish regional infrastructure to meet domestic and international renewable energy demand. In addition, our Arctic policy framework and the new National Planning Framework 4 highlight how Scotland can serve as a sub-Arctic marine transport and logistics hub. We are strategically located and have a wealth of relevant expertise to not only strengthen our role as a key partner for the Arctic but also become a shareholder in its future.
Angus Robertson is SNP MSP for Edinburgh Central and Cabinet Secretary for the Constitution, External Affairs and Culture
Anyone interested in the Arctic Frontiers Abroad conference can find more information at eventbrite.com
Comments
 0 comments
Want to join the conversation? Please or to comment on this article.