Artificial intelligence is the new apocalyptic talking point. The likes of Elon Musk and Professor Geoffrey Hinton, recently of Google and known as the "Godfather of AI", have warned it poses a danger if unchecked and unregulated.
But behind all the rampant science-fiction headlines, we tend to forget that it is an environmental cataclysm that is up first in humanity's problems. This week, the Climate Emergency Response Group published a report warning that the Scottish Government "has made only limited progress" when measured against their 2019 recommendations to address climate change. The UK Committee on Climate Change likewise concluded Scotland was still "off-track" and that achieving its legally binding 2030 emissions reduction target was "at significant risk".
Màiri McAllan, the new Cabinet Secretary for Net Zero and Just Transition, has conceded that billions of pounds of funding are needed to clean up the economy to achieve the Scottish Government's ultimate goal of net zero by 2045. Former First Minister Nicola Sturgeon previously said the bulk of the spending would need to come from the private sector rather than the Scottish Government. In a challenging fiscal environment, it would be remarkably easy for big businesses to put green ambitions on the back-burner. Given the degree of leadership and investment required, the question becomes 'what is in it for them?'
Most consumers in Scotland are now actively seeking out companies that prioritise sustainability. People are even willing to pay for more environmentally friendly and socially responsible products and services. Companies that fail to meet these expectations risk losing customers to more sustainable competitors.
Most of us now take it as a given that companies, particularly drinks and food manufacturers, will emphasise their green credentials and net-zero ambitions. But the cost-of-living crisis is biting. Research by consultants Accenture last year revealed that half of Scots say rising costs make them prioritise price over environmental sustainability when they shop.
However, consumers also called out the role of businesses, with over half of respondents agreeing that companies are not doing enough to limit carbon emissions in products and services. And only one in ten said environmental factors were unimportant when shopping.
Scotland's green ambitions are contingent on businesses offering a competitive message about their stand-out green offering, investment and vision that will attract customers. According to the same study, 58 per cent report they would shop more sustainably if there were more precise advice on packaging around how to recycle. Additionally, 57 per cent of respondents noted they would do more to recycle if there were rewards and incentives for doing so.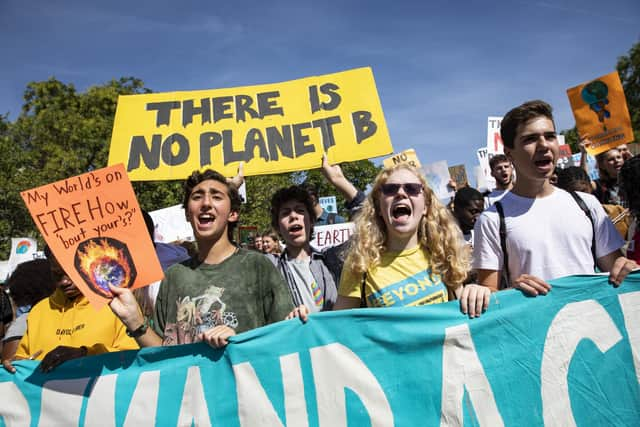 Suppose big business is to foot the climate bill. In that case, they must adjust how they shout from the rooftops and woo customers in a crowded virtual and social media space when everyone considers themselves up on their green credentials. Which firms can out-green the others is critical.
The costs involved to drive sustainability and responsibility are massive when considering commercial output. The Scotch whisky industry alone provides £5.5 billion to the UK economy, it directly employs over 11,000 people in Scotland, and 44 bottles of Scotch whisky are exported worldwide every second.
Consumers and stakeholders are more likely to favourably view a company if it is seen as environmentally friendly and socially responsible. Brand loyalty and environmental thought leadership go hand in hand to persuade consumers to adopt a net-zero ethos.
Last year, whisky maker Chivas Brothers, for example, announced plans to invest £88 million in two of its Speyside-based single-malt distilleries. The investments in Aberlour and Miltonduff support the upgrading of "sustainable distillation technologies", serving to reduce energy consumption and, thereby, carbon emissions. The move will also increase its total production capacity by 14 million litres of alcohol annually.
The rapid scaling up of action must start now. The social, economic and environmental costs of the transition to low-carbon and climate-resilient technologies are massive. If businesses are to shoulder the burden, they must invest not only in their green credentials but their methods of articulating precisely what they are doing. Understandably, explaining new carbon-cutting technologies is critical. Showcasing people, values and tackling 'green' fatigue is paramount.
At the moment, the AI focus is something new with all its dangers and challenges. It is the first time we have seen something like this. That appeals to social media, news outlets, columnists, academics and, also, consumers and investors.
With that in mind, businesses with net-zero ambitions must continually reinvent how they market themselves to combat a sense of boredom with sustainability and responsibility issues. Many people assume something is being done and, therefore, that is all that needs to be done. But that is a dangerously complacent attitude. Worse still, we may forget that although governments set the targets, it is private enterprises who are the ones who need to invent the solutions while protecting their profits in increasingly challenging times.
The hardening reality is the Scottish Government has not made enough progress in tackling climate change. If the new First Minister accepts that, he then needs to realise that while he may set the nation's expected destination, he cannot ask Scottish businesses to sacrifice everything for nothing. Perhaps ironically to some, it is consumers – or rather their spending power – who hold the secret of how Scotland can achieve its net-zero ambitions if companies can be persuaded to increasingly try to out-green each other.