Climate change, energy prices and national security are now all intertwined and politicians must rise to the challenge – Stewart McDonald
The United Kingdom's energy market is "is no longer fit for purpose". These are not my words, or those of some other recalcitrant opposition MP, but words taken directly from a recent report from the National Grid. Where do we go from here?
The transition to net zero will be one of the defining challenges of our lifetimes. Getting there will not only require cross-party collaboration and an honest discussion about the path ahead, but a radical reimagination of our energy markets. We are not short of inspiration: we need only look at the European Union's proposals to reduce the link between electricity prices and fossil fuel prices, or the National Grid's suggestion for a complete redesign of our domestic electricity pricing mechanism.
The UK Parliament's new Energy Security and Net Zero Committee, tasked with scrutinising the new government department, must do its job in providing robust scrutiny, but also play a constructive role in moving the government in the right direction, showing that good jobs, an affordable and resilient energy market, the transition to net zero, and national security are all intimately intertwined. As Ed Matthew, an energy policy expert at the thinktank E3G, noted, "for energy security, for net zero, for energy bills… the solution is the same – we need a bold new infrastructure programme to insulate every UK home within a decade and massively accelerate the switch to electrified heat".
The past two years have made these linkages very clear, highlighting just how porous the border between domestic and foreign policy has become in today's interconnected global economy. With weaponised interdependence and geopolitical competition now a cemented feature of world affairs, and one that reaches into every home and business across the country, business as usual is simply not an option. Russia's illegal invasion of Ukraine and the growing boldness of China have highlighted the geopolitical need for a just transition, and a long-term energy security strategy. With western nations now being forced to review energy supplies, it would be short-sighted and dangerous to replace a dependency on one authoritarian state with another.
Yet that is exactly what happened in the West: in March 2022, the then Foreign Secretary stated that the UK had woken up to the need to reduce its "strategic economic reliance on authoritarian regimes" following the Russian invasion of Ukraine. Yet in the weeks and months that followed, western leaders went cap-in-hand to a government which had just executed 81 men in 24 hours because, in the words of former Cabinet minister Sajid Javid, "whether we like it or not, Saudi Arabia is one of the world's largest oil producers". This is no substitute for an energy security strategy.
As we saw with the attack on the Nord Stream pipeline, energy is on the frontline of grey-zone and hard aggression. The threats are complex and evolving, with the tactics deployed growing in sophistication and boldness. Earlier this month, Swedish authorities charged with investigating the sabotage said it would be "difficult" to confirm who was responsible. Mats Ljungqvist, the prosecutor leading the investigation, said: "We don't rule out anything, but that it is a state actor who is directly or at least indirectly behind this is, of course, our absolute main scenario."
Any modern energy security strategy is fundamental to national security, which should be comprehensive enough to support and protect our own assets but also allow us to be a credible partner in the like-minded, global coalition pursuing energy security that isn't underwritten by authoritarian leaders and hostile states. This means close collaboration not just with our partners here on the continent of Europe – although be in no doubt of their critical importance – but nations such as Japan and South Korea who, in fairness, the government are proactively building new alliances with.
That energy policy has become increasingly securitised is perhaps nowhere more obvious than in the Biden administration's US Inflation Reduction Act, a bill passed last year that targets $400 billion in spending on a clean-energy transition, flexing American economic muscle in the pursuance of geopolitical strategy and economic growth.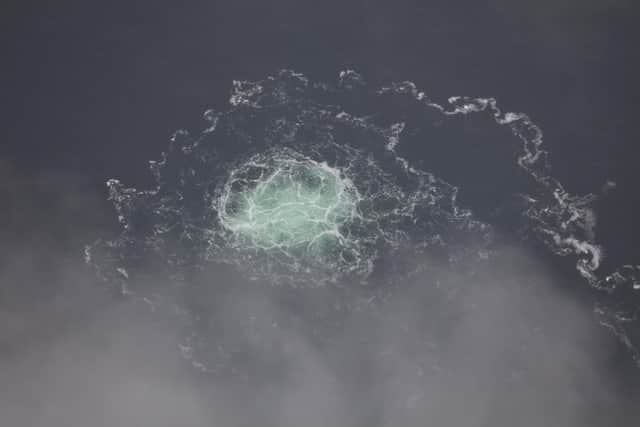 The transition towards net zero can drive economic growth and create good jobs, but this requires strategic investment in infrastructure, technology, and a well-crafted plan that has political buy-in from all political parties. Despite the divisions of modern politics, I believe this to be eminently possible.
With the UK Government setting out its response to the US Act later this year, those of us on the opposition benches must meaningfully engage in what we want that response to look like. Whilst we shouldn't blindly copy Biden's plan, which would be neither possible nor desirable, we simply cannot ignore it, not least because the EU is a player here too. With two major power blocs – one of which is on our doorstep – setting new standards, rules and norms in what is the very definition of strategic economic thinking, we need to up our game if we are to be part of it.
The development of new infrastructure and technologies will create opportunities for businesses and workers alike, and, if politicians can meet the moment, we'll have real opportunities to drive up living standards and secure good, well-paying jobs across the country, whilst pursuing our security interests. It requires all of us in politics to approach energy security policy with the collaborative and cross-party spirit it needs if we are going to get the right results for the country. We are, after all, talking about a global emergency. The future has arrived early.
We are waking up to these global challenges, but we must go further, faster and with demonstrable urgency. We are living through a time when the political and economic structures of the 21st century will be born and those of us privileged enough to be today's politicians must not waste the opportunity we have to shape them.
Stewart McDonald is SNP MP for Glasgow South
Comments
 0 comments
Want to join the conversation? Please or to comment on this article.