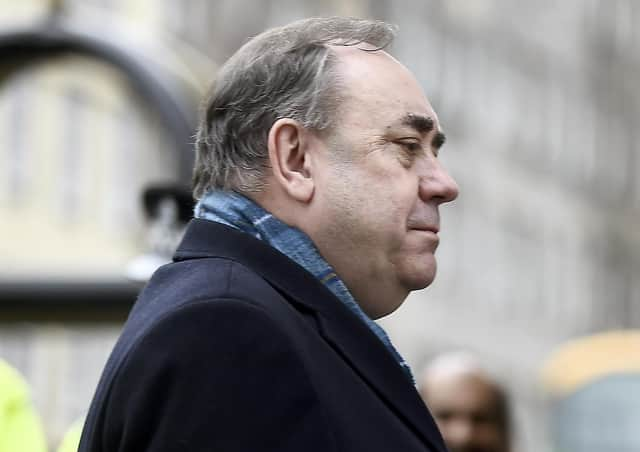 Alex Salmond was cleared of sexually assaulting nine women while he was Scotland's first minister (Picture: Lisa Ferguson)
The Permanent Secretary was clear. Sitting back in his beautifully appointed office, which reeked of the Scottish establishment, he carefully guided my colleague and I through the ministerial code.
"My door is always open," he said, as he explained that, while we were appointed to serve ministers, we were not expected to be at their beck and call.
"Any problems, any behaviour that makes you uncomfortable, any unreasonable requests, come straight to me", he said, dismissing us to begin our careers as chief press officers for the then Scottish Government.
Scotland was a different country nearly 20 years ago. Devolution was barely three years old, the Labour Party ruled from Westminster to Holyrood, the economy was strong, and there was hope in the air. Things were, slowly, getting better.
I never had any cause to report a minister's behaviour to the then Permanent Secretary, Sir Muir Russell, or his successor, Sir John Elvidge. Nor, as far as I know, did any of my colleagues.
Don't get me wrong, working with politicians is tough. They are demanding. They are not always right; some aren't even very bright. Many are not particularly nice people.
But the only thing I dreaded from Jack McConnell, the First Minister I worked for, was the disappointment in his voice when something had gone wrong. When he went quiet, you knew you had made a bad call.
He and his ministerial team lived up to their code. "Ministers should be professional in their working relationships with the Civil Service and treat all those with whom they come into contact with consideration and respect," it reads. It could not be more explicit.
But, as details of his behaviour while First Minister emerged in court recently, it is clear that Alex Salmond regarded the ministerial code with the same cavalier disrespect he had for many of the female civil servants and advisers who were unlucky enough to come into his orbit.
Even though he was found not guilty on sexual assault charges, some of his supporters have found it difficult to defend his behaviour towards women.
Salmond is a "creep" wrote Alex Bell, one of his defence witnesses and a former speechwriter, earlier this week.
"I'm not here to suggest he always behaved well," said his defence counsel, the ebullient Gordon Jackson QC, and former MSP. "I wish for my life the first minister was a better man," he added, almost wistfully.
I am sure there are several young women who wish, for their life, that their civil service bosses had been better employers.
They must wish that, during Salmond's imperial reign, they had been treated with "consideration and respect", not only by the man who led our country for seven years, but by the people who were paid handsomely to maintain the highest possible standards, yet failed miserably to protect more junior members of staff.
These hapless, senior civil servants failed their country too, because by turning a blind eye to Salmond's behaviour, they condoned it.
Their silence turned our government into a quasi-dictatorship, where the only thing that mattered was assuaging the mercurial moods of a demanding First Minister. Young women were simply collateral damage in their efforts to please the "boss".
Pandemic presents a new challenge
As we look forward to the second week of lockdown, there will be thousands of women across Scotland trapped indoors, all hope of escape blocked off by the pandemic.
Women's organisations, from Scottish Women's Aid to Rape Crisis Scotland, have made it clear that they are offering their services during this unprecedented period, but they have had to switch their face-to-face support to help via video, phone or email.
Lockdown is difficult for all of us. For older people like my mother, who lives alone and whose only contact with the outside world for the foreseeable future will be through her smartphone.
Or a single parent of two small children, stuck in a small flat for 24 hours a day, staring at nothing but four walls and a TV, talking to no-one but toddlers.
Imagine then, for a moment, the hell of being trapped with a man who beats you. Whose drunken tirades make you fear for your life. A man who spits insults in your face simply because he can. Who uses his physical strength to demean you, to assault you, to make your every waking moment hell on earth.
Domestic abuse soared during the lockdown in China. According to Wan Fei, the founder of a domestic abuse charity in Jingzhou, a city in Hubei Province, the epicentre of the Chinese outbreak, the number of domestic violence cases reported to the police tripled in February.
And the MP Jess Phillips warned that the threat of catching the virus could prevent women from seeking help. She wrote in the 'I' newspaper that women "suffering domestic abuse might be unwilling to seek refuge with their parents, not wanting to put their elderly family at risk," and called for major hotel chains to open their doors to women (and men) escaping violence at home.
Earlier this week, the head of Scottish Women's Aid, Dr Marsha Scott, promised that Scotland was doing its best for those women and children living in dread. "We are looking at a radical redesign of our services, under what are extraordinarily difficult circumstances", she said in a video address, but said that life was not going to return to normal any time soon.
"We are making some really difficult decisions right now", she went on, "…nothing is fixed, but we will make the new normal as functional as possible," she added. She promised that Scottish Women's Aid will continue to work with their colleagues in Police Scotland, the Crown Office and the Scottish Government so that "we can continue to respond in the most robust and confident way" to violence against women.
And she reminded us all that the Women's Aid movement had taught us that "when women are confronted with what seems like insurmountable obstacles and challenges, we find a way."
Let's hope that Scotland's civil service – the crème de la crème of our nation – will also find a way to ensure that no politician will ever again be allowed to behave as inappropriately as Alex Salmond did during his reign.
Scotland's 24hr Domestic Abuse and Forced Marriage Helpline: 0800 027 1234 or www.sdafmh.org.uk