City's 900th anniversary deserves to be celebrated in style - Susan Dalgety
​How old is this magnificent city of ours? According to the Edinburgh International Festival (EIF), which revealed its 2024 programme a few days ago, next year will see the Capital celebrate its 900th anniversary.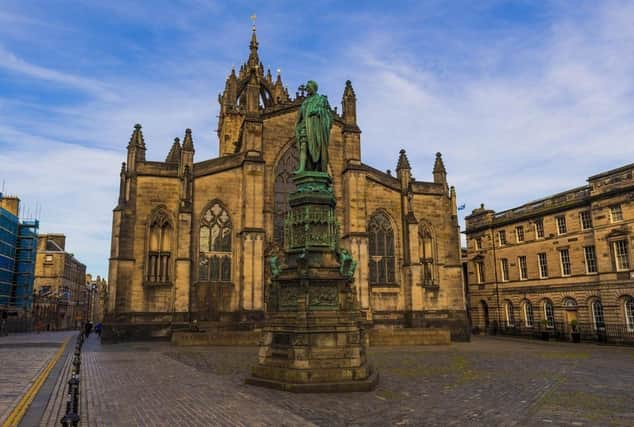 ​The Festival will explore how the city has evolved over the centuries, as director Nicola Benedetti explained: "The 900th anniversary of the city is a source of huge intrigue and interest to me, in terms of creating collective moments that really bring people together."
So far, so brilliant, I can't wait for the party. But further investigation suggests that Ms Benedetti and the Festival programmers may be a tad premature in their celebrations.
Next year sees the 900th anniversary of St Giles' Cathedral, the magnificent building at the heart of our city. According to the church's website, it was founded in about 1124, either by King Alexander I, who died the same year, or by his brother King David I who succeeded him.
The St Giles' parish was then established and the clergy given a stretch of land a little to the south of the church, where serfs (the workers) could grow crops under their supervision. From that inauspicious beginning emerged one of the finest cities in Europe. Curious that I hadn't heard of any plans by the city council to mark this historic occasion, I did a little research.
Or as my granddaughter would say, "Let's ask Mr Google". Hidden in the algorithms, I found a council paper from August 2019 that recommended setting up a working party, led by the then Lord Provost Frank Ross to "explore the possibilities of celebrations to mark the city's 900th anniversary as one of the first burghs of Scotland."
The report pointed out that as the city no longer has the relevant paperwork – the royal charter granting Edinburgh its original burgh status was mislaid centuries ago – it is hard to pinpoint the exact year it became a burgh, but it seems certain that Edinburgh was officially created sometime between 1124 and 1127. So when is the party?
Next year, according to City of Edinburgh Council, just as Nicola Benedetti said. And they reassured me the current Lord Provost, Robert Aldridge had reconvened the Edinburgh 900 working group only last week. He says "work is now underway to prepare for next year's anniversary".
According to him the programme will "examine how Edinburgh came to be over the centuries, celebrate where it is now, and reflect its future ambitions and aspirations". "I'm really excited to see what will be on offer," he added, promising details will be "set out in due course".
Better late than never I suppose, but I am somewhat mystified why a programme is not in place already. Edinburgh 900 is a big deal, and planning appears to have started more than four years ago. Surely if we are to celebrate our 900th anniversary properly the programme should be in place now – after all, it's only six weeks until the start of 2024.
And why hasn't the tourist marketing started? Edinburgh is one of the most glorious cities in the whole of Europe. Its 900th anniversary deserves to be celebrated in style, with a vibrant year-long festival of events, not something cobbled together at the last-minute.
Comments
 0 comments
Want to join the conversation? Please or to comment on this article.