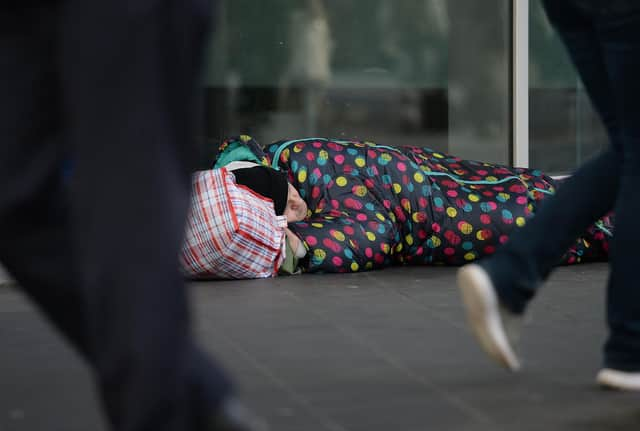 Every Christmas we provide vital services for people at one of the hardest times of the year and the festive period is always a busy one for us.
It can be a particularly difficult for someone cut off from family, and, in normal circumstances, we'd have rented out a hall – usually the Southside Community Centre in Edinburgh – to put on activities, offer support and provide food as a focal point for anyone who was isolated, lonely, or didn't have somewhere to stay.
Last year we had over 400 volunteers involved. We would sort clothes, prepare meals and put on entertainment too. Anyone could walk in. You'd be met by our reception team, who would take any wet or damp clothes and dry them, and then we would show you round.
Busy, chaotic and fun
There would be a café area, where you could get a coffee and plan when you wanted to eat. There would be hairdressers and podiatrists – homelessness can take a real toll on the feet of many of our guests, so having expert help can make a real difference – and then you could come upstairs to see the games and entertainment.
There would normally be musicians, poets and plays, as well as a small area out of the way where you could get some sleep. While that was happening we would also have a staff team to check on people, to see if we could get them accommodation.
That's what it would have looked like – it would be busy, chaotic and fun, and there would be times when it would be cheek to jowl with people.
But the pandemic changed everything.
You can probably imagine the anxiety of the Crisis team in the summer, when we started to wonder what Christmas 2020 would be like. In the end, with restrictions ramping up, we had to be very imaginative.
We have a partnership with Edinburgh Cyrenians, who have a kitchen in Leith, and very kindly let us cook there. We had some volunteer chefs, who did a lot of prep work in the build-up, and then small teams came in to prepare individual meals, before delivery all over Edinburgh and the Lothians.
Christmas dinner delivered
The meals were distributed to people living in a variety of different types of accommodation – some were in temporary accommodation, and had access to a microwave, while others would have had no access to cooking facilities at all.
In total, we sent out 150 three-course meals on Christmas Day – alongside refreshments, snacks and a cold supper and breakfast for the next day – with another 155 delivered on Boxing Day. Most of that was across Edinburgh and the Lothians, though we did also support people in Glasgow and Perthshire. At one point on Boxing Day I found myself on the phone to a pizza delivery company, to get food to someone in Glasgow.
People gave their support, however they could. Volunteers gave up their time, while others lent support in other ways. Scotmid provided £500 in vouchers, John Lewis gave us puzzles and games to distribute, Canongate Kirk lent the use of Harry Younger Hall – while the congregation collected toiletry packs – and PnD foundation – a mental health awareness group in Berwick Upon Tweed – collected over 100 boxes and bags.
Meanwhile, Operation Christmas Stocking kicked into action, seeing a group of dedicated knitters provide around 10 boxes of knitted hats, socks and other items, including blankets that were made up of blanket squares from around the world.
Remarkable volunteers
If I'm honest, there were moments during the planning when I was worried the whole thing would fall apart. We had never done anything like this, the plans were incredibly ambitious and at the same time our team was stretched.
In the end, our team of volunteers was ingenious in how they came up with new ways to engage with people. We did yoga, meditation and mindfulness, art, knitting and games sessions via Zoom. We sent out foot packs, created by podiatrists, alongside virtual support on how to use them, and created a drop-in online space for members to take part in activities or chat.
Meanwhile, we also made 45 well-being calls, for anyone who felt isolated, or just wanted a chat, over the weekend of Christmas.
It was hard, but at the same time we learned a lot. For example, the befriending phone calls are something which we won't want to lose. Inviting people to a building is great, but making sure all our members had the opportunities to get a phone call over Christmas and Boxing Day, at a time when people can feel isolated, was really important.
We will keep doing that, even if we can open a building next year, because it allowed us to interact with people all over the country.
The volunteers were remarkable. I worried in the build-up about how they might react, given the impact of the pandemic, and whether they might be anxious, or be unwilling to drive a van or do deliveries, but I shouldn't have been. They turned up and asked how they could help. In doing so they showed creativity, drive, determination and ingenuity.
The pandemic has been hard for everyone, and Christmas is one of the most difficult times of the year for people experiencing homelessness – this Christmas I saw humanity at its very best.
Grant Campbell is director of Crisis Skylight Edinburgh. If you would like to volunteer, donate or just get more information, please visit the Crisis website, www.crisis.org.uk.
A message from the Editor:
Thank you for reading this article. We're more reliant on your support than ever as the shift in consumer habits brought about by coronavirus impacts our advertisers.
If you haven't already, please consider supporting our trusted, fact-checked journalism by taking out a digital subscription.